The Cal Performances Classroom (K-12)

Overview
Follow the Cal Performances Classroom: #CalPerfsLearn | On Tumblr


What's a Cal Performances Classroom? Your classroom, of course!
The arts are an endlessly replenishable resource for a lifelong love affair with thinking, learning and feeling across disciplines and cultures. They connect fluidly with curriculum throughout the school years, and—perhaps with more endurance—they connect us to ideas and reflection on human experience that can't easily be expressed any other way.

Each season at Cal Performances, you will find a menu of compelling performances and classroom opportunities for any age. You can create your Cal Performances classroom through any or all of our artistic literacy programs for grades K–12. Cal Performances holds artistic literacy on a par with language and numerical literacy. Those who are artistically literate hold the keys to a lifelong engagement with the arts, able to unlock and make personal connections to any work of art, regardless of level of familiarity with the work and the artists.

Artistic literacy skills are developed in the Cal Performances classroom as students and teachers are engaged in the artist's process. These skills are embedded in everything we do, from pre-performance talks to community conversations to teacher workshops and artist visits to the classroom.

You can create your Cal Performances classroom through any or all of our artistic literacy programs for grades K-12:

SchoolTime Performances: Eight of our regularly scheduled performances are reprised in one-hour performances during the school day.

Teacher Workshops: Three-hour immersions into the creative process of performing artists on our stage, scheduled approximately three weeks before a SchoolTime Performance to give you plenty of time to engage your students in preparation for seeing the performance.

Master Teaching Artist Classroom Visits: For an additional fee, teachers who take a workshop can enrich their students' experience of performances by signing up for Master Teaching Artists to visit their classrooms before a SchoolTime Performance.

K-12 Artistic Literacy Engagement Guides: When you become a Cal Performances Classroom, you get access to our Engagement Guides, designed to situate you and your students into the artistic process.

AileyCamp/AileyAlums: A tuition-free six week summer program inspired by Alvin Ailey and fully funded and run by Cal Performances.




Cal Performances Classroom is made possible, in part, by Wells Fargo.

SchoolTime 2019/20
All performances begin at 11am.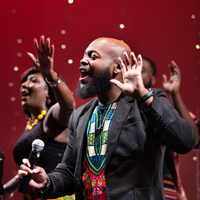 Trey McLaughlin & The Sounds of Zamar
Thu, Oct 3, 2019 at 11am
Atlanta gospel sensation Trey McLaughin and the Sounds of Zamar, his soaring 20-voice choir, bring a deep experience of musical communion to all of their concerts, cutting across cultural differences and religious beliefs with soul-stirring arrangements and fresh takes on familiar hits. With influences as diverse as Stevie Wonder, Shania Twain, Erykah Badu, and Prince, this young group is famed for its extraordinary vocal blend and chemistry.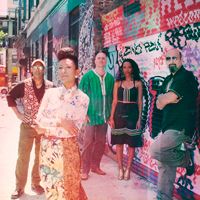 Afropop Spectacular
with Alsarah & the Nubatones and Natu Camara
CANCELLED
Fri, Nov 8, 2019 at 11am
The SchoolTime performance will feature one of these performers:
Singer, songwriter, and guitarist Natu Camara has been heralded as "the Tina Turner of Guinea" and in the 1990s led The Ideal Black Girls, West Africa's first all-female hip-hop group.

Born in Sudan and based in Brooklyn, vocalist Alsarah combines classic East African pop sounds with subtle electronics, Middle Eastern oud, driving percussion, and lilting vocal harmonies. "A sound that flows like silt through your fingers one minute and starts a fire beneath your feet the next...Alsarah has the makings of an Afropop queen" (PopMatters).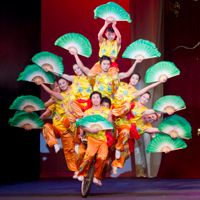 Peking Acrobats
Mon, Dec 2, 2019 at 11am
This spellbinding troupe of China's most gifted tumblers, contortionists, jugglers, and gymnasts returns by popular demand, with breathtaking feats and daring maneuvers steeped in 2,000 years of folk tradition. Accompanied by live music performed on an assortment of Chinese folk instruments, the acrobats dazzle with tumbling, trick cycling, and balancing acts, among other routines. "The Peking Acrobats regularly passed from the seemingly impossible to the virtually unbelievable" (Los Angeles Times).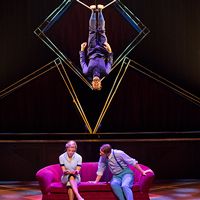 Cirque Éloize
Hotel
Mon, Feb 24, 2020 at 11am
Enter the elegant lobby of Cirque Éloize's newest show, Hotel, and you'll meet a cast of captivating characters, from a juggling janitor and a hapless tightrope-walking bellhop to a starlet flying through the air on a trapeze swing. A pioneer of contemporary circus arts, Cirque Éloize delivers uproarious comedy through a mix of acrobatics, aerial routines, and live music, in a show about the unexpected encounters that fuel every memorable traveler's tale.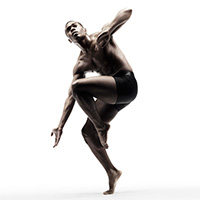 Alvin Ailey American Dance Theater
Wed, Apr 1 and Thurs, Apr 2, 2020 at 11am
The Alvin Ailey American Dance Theater has cultivated the best and brightest choreographers working today—gifted artists exploring themes of hope, sorrow, joy, and resilience. A shorter piece from the company's repertoire will accompany Revelations, Alvin Ailey's masterwork that "becomes brighter, its brilliance more memorable, every year" (The New York Times).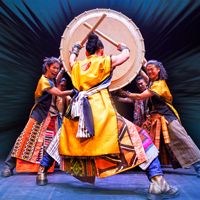 Yamato: The Drummers of Japan
Passion
Wed, Apr 8, 2020 at 11am
The youthful drummers of this mesmerizing Japanese company celebrate the unbridled passion and boundless energy of traditional Japanese drumming, playing with infectious spirit and masterful coordination on massive drums. "A genuinely theatrical experience, delivered with balletic grace and infectious humor" (The Times, London).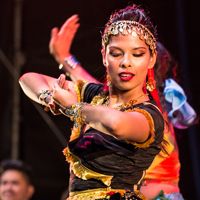 Bollywood Boulevard
A Journey Through Hindi Cinema Live
Fri, Apr 10, 2020 at 11am
Drama and romance! Spectacular dance routines! Hit songs! The lush visual spectacle and exuberance of Hindi cinema come to life onstage in this colorful theatrical tribute, which takes audiences on a journey from the birth of India's famous film industry to Bollywood's present-day blockbusters. "A spectacular display" (News India Times).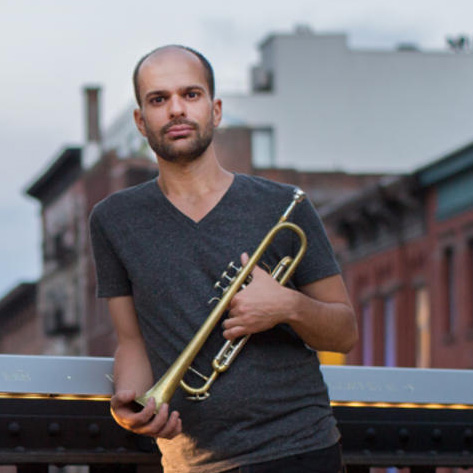 Amir ElSaffar's Rivers of Sound Orchestra
Wed, Apr 15, 2020 at 11am
Trumpet player and composer Amir ElSaffar has long explored the connections between Iraqi maqam and jazz improvisation in his expansive compositions. For this tour, he brings together 17 musicians from Middle Eastern, South Asian, and Western jazz traditions in a kaleidoscopic new program. "A towering statement of purpose—wise to many traditions, even while it remains accessible to anyone" (Pitchfork).





Download the 2019/20 Cal Performances Classroom brochure


Download the 2019/20 Cal Performances Classroom order form
Teacher Workshops
Get the most out of your SchoolTime matinee experience! Cal Performances' master teaching artists create and present teacher workshops that are interactive and engaging explorations of the artworks presented at SchoolTime performances. Customized for each program, workshops are inquiry-based and flexible for adaptation in your classroom. You'll also leave each workshop with a special Teacher Engagement Guide designed to support transfer of the knowledge and skills back to your classroom.

Choral Music: From One to Many
Wed, Sep. 18, 2019, 2:30–5pm
Willard Middle School
2425 Stuart Street, Berkeley
SchoolTime: Trey McLaughlin & The Sounds of Zamar (Thu, Oct. 3, 11am)
Trey McLaughlin & The Sounds of Zamar deconstruct songs, reassembling them into whole new works with parts for each member of the 20-voice choir. We'll explore McLaughlin's process of arranging music—listening closely, choosing highlights, assigning parts (within the choir's vocal range and focusing on moments of harmony, unison, call-and-response, and balance)—and imbuing performances with expressive quality and energy.

Dance: The Language of Gesture
Wed, Feb. 12, 2020, 3–5:30pm
Wilson Temporary Campus
7150 Portola Drive, El Cerrito
SchoolTime: Alvin Ailey American Dance Theater (Wed, April 1 and Thu, April 2, 11am)
Choreographers study everyday gestures and then enhance, intensify, and link these movements together into dances that tell stories, express ideas, and evoke emotions. Learn how to "read" dance by examining physical expression and movement, and then how to "write" your own choreographic phrases.

Contact eduprograms@calperformances.org or Rica Anderson, Education Programs Manager at 510.642.6838 for more information.


Download the 2019/20 Cal Performances Classroom brochure


Download the 2019/20 Cal Performances Classroom order form
Master Teaching Artists
Teaching Artists have a double professional identity: they are trained and practicing artists, and they are skilled to teach through a variety of learning experiences that open the arts to a deeper understanding and provide a pathway for reflection and connection. They have expertise in their artistic profession and expertise in creating environments that invite learning and meaning-making through and with the arts.
At Cal Performances, we are privileged to work with some of the Bay Area's best
Master Teaching Artists
at the peak of their artistic and teaching practice. Our Teaching Artists work with K-12 classrooms, with campus curriculum, and with an array of education, social service, health, community and business partners. Our roster includes nationally and internationally respected Teaching Artists who are leaders both in their art forms and in the Teaching Artist Field. You will meet them at the Teacher Workshops, and you can bring them to your classroom to work with your students directly.
Only teachers who attend a Cal Performances Teacher Workshop can schedule a Master Teaching Artist visit.
K-12 Engagement Guides
The practice of good teaching and learning aligns with rigorous artistic inquiry, and you'll be able to guide your students step-by-step through an artistic challenge that will introduce them to creative thinking and problem-solving similar to that of the working artist. Each engagement guide includes project-based learning, reflection and frames for making personal and meaningful connections to the work of art. Engagement Guides are posted 3 weeks before the SchoolTime Performances so you have time to prepare yourself and your classroom for a deeper experience. Check here for updated materials 3 weeks before the performance date.
AileyCamp
A tuition free summer program inspired by Alvin Ailey and fully funded and run by Cal Performances. Dance instruction in four disciplines—modern, ballet, African, and Jazz—is complemented by personal development and creative communication classes that develop self-esteem discipline and critical thinking in youth ages 11-14.
More about AileyCamp