COVID-19 Protocols and FAQs
Safety First.
Then let the Music (and Dance and Theater) begin!
Welcome back! Cal Performances is greatly looking forward to the return of audiences to our performance venues. As the start of our indoor season draws near, we are busy making sure that everything is just right for your safe return to the hall and to the joys of live performance. Below, please find the latest information on our COVID-19 Health and Safety Protocols for the re-opening of our performance spaces!

Proof of Vaccination is required for entrance
Given current public health directives from state, local, and university authorities, proof of full vaccination (defined as two weeks after your final dose) will be required for all patrons for entry to all Cal Performances venues until further notice. If you have questions about attending with a child under the age of 12, please call our Ticket Office at least one week prior to the performance (510.642.9988) to discuss options.


Mask-wearing is required indoors
A mask will be required in indoor spaces at all times (including throughout the performance) in accordance with City and University policies. We also strongly encourage mask-wearing in outdoor venues.

Before You Arrive
Plan ahead! We highly recommend that you plan to park and arrive at the performance venue at least one hour prior to performance time, as there may be lines to enter the facility. For the fastest entry times for all, be sure to have your Proof of Vaccination method (see below) and photo ID handy and ready to display at the venue. In addition, take a moment to have your e-tickets readily available for smoothest entry to the venue.
If you are sick or have been experiencing COVID-19 symptoms, have been in contact with someone known to be or suspected to have been infected with COVID-19 within the last 10 days, or are subject to a quarantine or isolation order, please stay home and do not attend the performance. We are happy to exchange your tickets or issue a full refund if you contact the Ticket Office up to three hours prior to the performance.
As You Arrive
We offer a wide variety of options for showing proof or vaccination at the venue as listed below; however, we highly recommend that you arrive at the performance venue at least an hour prior to performance time, as each method increases the time it takes to enter the venue, and there will likely be lines.
Proof of Vaccination Check Stations
Proof of Vaccination (POV) check stations will be found outside of the venue and separate from the scanning of your ticket. Check stations will open beginning one to two hours prior to performance curtain time (please look for your performance reminder email from us with specifics about your event). Wristbands will be provided following POV check, allowing you to leave the area prior to the performance and return without having to go through the check line once again.
Doors to the performance venue will open beginning 30 minutes prior to curtain.
Acceptable methods for Proof of Vaccination
All methods, except the CLEAR Health Pass, will require that you display a valid photo ID. We highly recommend one of the following digital methods:
CLEAR Health Pass: To ensure a faster and easier process to enter the venue, Cal Performances is grateful for the assistance of our promoter partner at the Greek Theatre, Another Planet Entertainment, in allowing our patrons to implement the FREE Health Pass by CLEAR for entry to Zellerbach Hall. See complete instructions on how to download the Clear App and obtain your Health Pass.
For UC Berkeley faculty, staff, and students ONLY:  A green Campus Access Badge via the UC Berkeley Mobile app (not eTang).
A personal digital COVID-19 vaccine record issued by the State of California, or similar documentation issued by another state, local, or foreign governmental jurisdiction
An authentic digital record that includes a QR code scannable by a SMART Health Card reader that accurately displays client name, date of birth, vaccine dates, and vaccine type. More information and download >
Other acceptable forms of POV:
Vaccination Card issued by the CDC or a foreign governmental jurisdiction that includes the name of the person vaccinated, the type of vaccine provided, and the date(s) the dose or doses were administered.
A photo or copy of a Vaccination Card either as a hard copy or stored as a photo on a phone or electronic device.
Documentation of vaccination from a healthcare provider.
In the Performance Venue
Mask Requirements
In accordance with City of Berkeley and University policies, a face covering that completely covers your nose and mouth and has ear loops (or similar) to hold it in place must be worn at all times in the venue (including throughout the performance).
Food and Drink
At this time, food and drink are not available for purchase at our venues.  Additionally, outside food or drink will not be permitted in the venues. You are welcome to bring your own beverage to consume in the "outside lobby" area on Lower Sproul Plaza before the event or during program intervals. Water stations will also be provided on the plaza.
We are working on restoring our Café service within the new guidelines outlined by City of Berkeley Public Health, and will notify patrons when indoor refreshments are available again.
In the meantime, see an updated listing of local restaurants close to our venues. If you want to grab a meal or a snack before the performance, you have the option to get your Proof of Vaccination wristband first. POV check station will open one hour prior to curtain time. As the City of Berkeley's POV requirements also apply to all dining and bar establishments, we recommend that you keep your POV and photo ID handy if you leave the area for refreshments.
Ventilation
The ventilation systems in Zellerbach Hall and Zellerbach Playhouse have been thoroughly inspected and evaluated by a professional engineering firm, confirming that the HVAC system in both halls is working optimally to maximize indoor air quality and meet the current standard recommendations from ASHRAE (the American Society of Heating, Refrigerating, and Air-Conditioning Engineers) and the CDC. To ensure the freshest air quality, Zellerbach Hall and Zellerbach Playhouse ventilation systems will operate for a minimum of two hours before and two hours after every performance. Additional HEPA filtration units will also be present in some areas of the hall as identified as part of this evaluation for additional support ventilation.
Seating Capacity
At this time, our venues are available at 100% capacity for indoor performances. While currently there are no state, municipal, or campus capacity restrictions on our venues due to social distancing mandates, we retain the ability through e-ticketing to make necessary widespread changes to our venue configurations should current public health conditions and guidelines warrant reductions in available seating. Ticket holders will be notified via email should conditions change.
Personnel
All of our staff, volunteers, and artists are required to fully follow all City of Berkeley and/or UC Berkeley proof of vaccination protocols when working in our venues.
Program Books
Please pick up a program handout in the lobby before entering the hall. Full digital program notes and additional content can be accessed easily by scanning the QR code printed on the handout or by visiting our Program Notes page. All guests are asked to darken their phone's screen completely during the performance itself.
Enhanced Cleaning and Sanitation
Most of our restrooms are equipped with touchless fixtures. Additional custodial staff will wipe down high touch areas in the bathrooms and other public spaces before, during, and after a performance. Hand sanitizing stations will be readily available throughout the hall for guest use.
Compliance
Performance ticket holders who do not comply with these policies will not be admitted or may be asked to leave the performance.
Refund Policy
We've temporarily updated our ticket refund and exchange policies in response to these protocols to give you as much flexibility as possible. Should, for any reason, a change in policy or public health conditions make you uncomfortable with your ticket purchase, or you are displaying symptoms, we will be happy to offer an exchange, credit you for a ticket donation, or issue a refund upon request.
UC Berkeley does not promise or guarantee that all patrons or employees on site are vaccinated. Unvaccinated individuals may be present as a result of exemptions, exceptions, fraudulent verification, or checker error.  None of these precautions eliminate the risk of exposure to COVID-19.
Health Pass by CLEAR app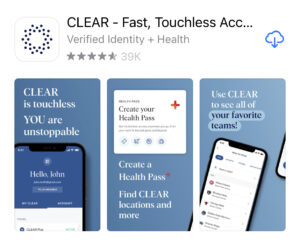 To ensure a faster and easier process to enter the venue, Cal Performances is very grateful for the assistance of our promoter partner at the Greek Theatre, Another Planet Entertainment, in allowing our patrons to implement Health Pass by CLEAR for entry to the concert.
HOW TO DOWNLOAD THE CLEAR APP AND OBTAIN YOUR HEALTH PASS
Before you start, have your photo I.D. and proof of vaccination or negative test documentation handy, as they will be needed to obtain your Health Pass. To get started, download the app, either scan the QR code below, provide your mobile number to receive a one-time SMS, or locate the free CLEAR app directly from the app store on your mobile device.
If you get an error message that says "There is an existing membership associated with this email address" when setting up your account, you can try with a different email address.
Need help?  Call 855-CLEAR-ME or contact clientservices@clearme.com for assistance.
2021/22 Season Frequently Asked Questions (FAQ)
Have a question? Chances are we have an answer.