Dining
Café Zellerbach
Avoid the pre-performance rush, park just once, and let the day melt away by starting your evening off with great wine and food—conveniently located right in Zellerbach Hall! Join us upstairs prior to the performance for dinner, or a snack with a glass of wine. The Café is open for all Cal Performances shows (and select non-Cal Performances events) in Zellerbach Hall, and pre-performance dining for evening performances begins 90 minutes before curtain (matinee and select evening shows will only have walk-up service and the limited menu).
For the most relaxing experience, we recommend that you make reservations online or by calling our Ticket Office at 510.642.9988.
Please note that the Café does not validate parking for the Telegraph-Channing Garage.
Cal Performances' Spillproof Souvenir Cup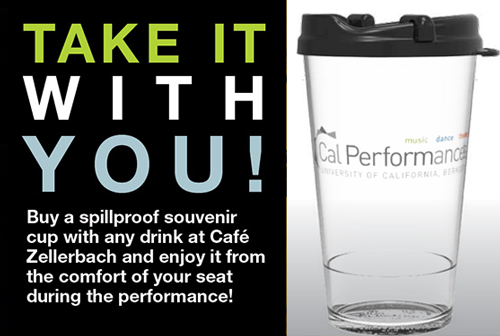 What you need to know about our new spill proof cups:
Can I bring a drink into the theater without one?
In order to preserve the performance hall and ensure a good experience for all patrons, only drinks in the special spill proof Cal Performances cups can be brought into the performance.
Do I have to buy a spill proof cup to buy a drink?
No, you may still purchase a drink without purchasing a souvenir cup. However, you will be asked to drink up before you enter the performance space!
Can I get refills?
Absolutely! In fact, your Cal Performances souvenir cup can be brought back all season long to use when you purchase a beverage at Café Zellerbach.
Can I bring in my own spill proof cup?
No, only the Cal Performances souvenir spill proof cup will be allowed into the performance hall.
Can I bring my own drinks in my reusable cup?
No, beverages must be purchased at Café Zellerbach in order to be brought into the performance hall.
Will allowing drinks into the performance space damage the hall?
We care about the upkeep of our performance spaces second only to our customers' experiences! These special cups are sold at major venues across the country and have been designed to minimize spills that may lead to damage of our spaces.
Can I put the spill proof cup in the dishwasher?
Yes. The bottom of the cup reads "Top Shelf Dishwasher Safe."
Restaurants Rewards Program
For a more formal dining experience in Berkeley, take advantage of our Restaurants Rewards program, special discounts on dining for Cal Performances event patrons. Show your Cal Performances tickets for that afternoon/evening's performance at one of the following restaurants and receive the listed discounts or special offers. Please call for a reservation in advance (you do not need to mention the discount when making your reservation) and also be sure to note The Fine Print below before redemption.
Julia's at the Berkeley City Club
10% discount *

2315 Durant Ave
510.280.1547
Reservations required 24 hours in advance
Lounge Hours, Tue–Sat, 4:30–8 pm
Restaurant Hours: Tue–Sat, 5–9:30 pm
A modern American restaurant influenced by French and Spanish culinary influences. The inspiration at Julia's begins with the bounty of seasonal produce and artisan products available to us in the Bay Area. Combined with the beautiful atmosphere and refined service, Julia's looks to create a memorable dining experience for all of our guests. An easy walk to Zellerbach Hall, Zellerbach Playhouse and the First Congregational Church. Visa, Mastercard, Amex and Cash accepted.More information: berkeleycityclub.com* Discount applicable on food only
Gather
10% discount *

2200 Oxford Street at Allston, Berkeley, CA 94704
Gather is located on the first floor of the David Brower Center across the street from the west side of UCB
510.809.0400
Hours: Dinner and Bar open daily 5–10pm; Weekend brunch from 10am–2:30pm
An unmitigated hit with locals since it opened in December 2009, Gather Restaurant features contemporary California cuisine that is equally appealing to both omnivores and vegetarians. The kitchen and bar maintain a deep commitment to local and sustainable sourcing. The restaurant is adorned with reclaimed wood and other materials that have literally been "gathered" from around the Bay Area. The full restaurant menu is available in the bar which focuses on organic spirits and cocktails, plus biodynamic wines.More information: gatherrestaurant.com* Discount applicable on food only
The Musical Offering
10% discount

Classical Record Shop & Café–Bistro
2430 Bancroft Way (Directly across the street from Zellerbach Hall)
510.849.0211
Toll-free: 1.888.298.1079
Hours: Mon–Fri, 10 am–8 pm; Sat, 11:30 am–8 pm; and Sun, 11:30 am–5:00 pmA rare sensory experience. This unique combination café and classical music store offers fine-dining on select Cal Performances and Zellerbach Hall event nights, and is directly across the street. Reservations are strongly recommended. Validated parking is available for Sather Gate Garage on Channing near Telegraph Ave.More information: musicaloffering.com
The Fine Print
Discount applies to food & beverage purchase only, unless otherwise noted — not on tax or tip.
Discount can be used by Cal Performances event ticket-holders for that evening/afternoon's performance only.
Discount may not be combined with any other discounts offered by the participating restaurant during the same meal.
Please note that these offers are not available on the following dates: major holidays, including Christmas Eve; Christmas Day; New Years Eve; New Year's Day; Easter; Valentines Day; Mothers Day. For any other holidays, please inquire at participating restaurant in advance.
Please notify your wait-person of your discount when you are seated and be sure to make arrangements at that time for completing your dining experience in plenty of time to make your event curtain time.
Other Dining Links
For an additional selected list of restaurants by the Downtown Berkeley Association, close by the UC Berkeley campus, visit Downtown Berkeley: Dining. Please note, the authors are responsible for the information provided and opinions expressed.
Telegraph-Channing Garage Restaurant Validations
Many restaurants around Telegraph Avenue offer half-price validated parking, with minimum $5 purchase, at the Telegraph-Channing Garage (entrances on Durant Avenue and Channing Way; between Telegraph Avenue and Dana Street). To find restaurants that participate: after parking your car, go to the first floor of the garage near the teller window where they have a full, current list available for perusal.