UC Berkeley Student Discounts, Employment, and more!
Cal Performances is one of the world's premier performing arts presenters for music, dance, and theater—and it's located right here on the UC Berkeley campus! We present up to 100 performances each season and offer special discounts and opportunities to encourage UC Berkeley students to join our adventurous audiences.
Every show. Every seat. 50% off.
Get Social
Follow us to be in the know and for behind-the-scenes videos and photos.
Join Our Email Club
Email Club is the best way to find out about student discounts, upcoming events, and more.
UCB Student Post-performance Receptions
Meet fellow arts-lovers at these 4 events!
During our 2023–24 season, we've planned four post-performance receptions to celebrate the UC Berkeley students in our Cal Performances community and to provide a space to connect with other students who share an affinity for live performance! A reception with free refreshments will be held immediately following each of the four performances listed below on the Zellerbach Hall Mezzanine (second floor) for UCB student ticketholders and their guests.
Receptions will be held after:
The Triplets of Belleville Cine-Concert on Oct 21, 2023
San Francisco Symphony's performance on Nov 10, 2023
Cécile McLorin Salvant's performance on Jan 25, 2024
The Joffrey Ballet's performance of Anna Karenina on Mar 15, 2024
An RSVP is not required to attend. All UC Berkeley student ticketholders are invited. We encourage you to check out our Golden Bear Circle program for extra discounts on tickets to the cine-concert, SF Symphony, and Joffrey Ballet events.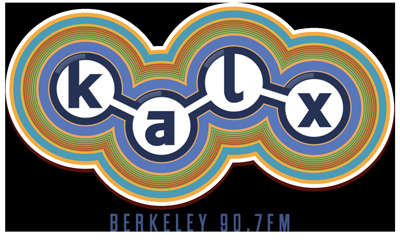 Radio Partner for the 2023–24 Student Receptions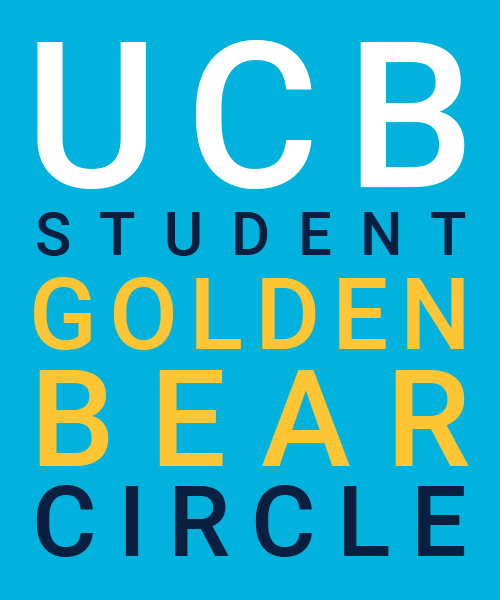 Golden Bear Circle
$10 premium seats
For just $10 per ticket, UC Berkeley students can secure some of the best seats in the house for 10 or more of our most anticipated performances of the 23-24 season. Come solo or bring a friend (limit two tickets per student). A limited number of premium tickets will be available at the special $10 price for Cal Students on a first-come, first-served basis. And be sure to join Email Club to get the schedule announcement direct to your inbox. Tickets go on sale at noon around two weeks before each performance.
Performance
Performance Date
Buy Tickets/
On-Sale Date
The Triplets of Belleville Cine-Concert
Oct 21, 2023
EVENT PAST
Sheku Kanneh-Mason, cello
Nov 1, 2023
EVENT PAST
John Cameron Mitchell and Amber Martin in Cassette Roulette
Nov 4, 2023
EVENT PAST
San Francisco Symphony
Esa-Pekka Salonen, conductor
Carey Bell, clarinet
Nov 10, 2023
EVENT PAST
American Railroad; Silkroad Ensemble with Rhiannon Giddens
Nov 17, 2023
EVENT PAST
Renée Fleming, soprano
Feb 9, 2024
On sale noon Jan 26, 2024
common ground[s] by Germaine Acogny & Malou Airaudo; The Rite of Spring by Pina Bausch
Feb 16, 2024
On sale noon Feb 2, 2024
Taylor Mac & Matt Ray's Bark of Millions: A Parade Trance Extravaganza for the Living Library of the Deviant Theme
Feb 23, 2024
On sale noon Feb 9, 2024
Baldwin and Buckley at Cambridge; Elevator Repair Service
Mar 1, 2024
On sale noon Feb 16, 2024
The Joffrey Ballet: Anna Karenina
Mar 15, 2024
On sale noon Mar 1, 2024
Mahler Chamber Orchestra; Mitsuko Uchida, piano and director; José Maria Blumenschein, concertmaster and leader
Mar 24, 2024
On sale noon Mar 8, 2024
Alvin Ailey American Dance Theater
Apr 2, 2024
On sale noon Mar 20, 2024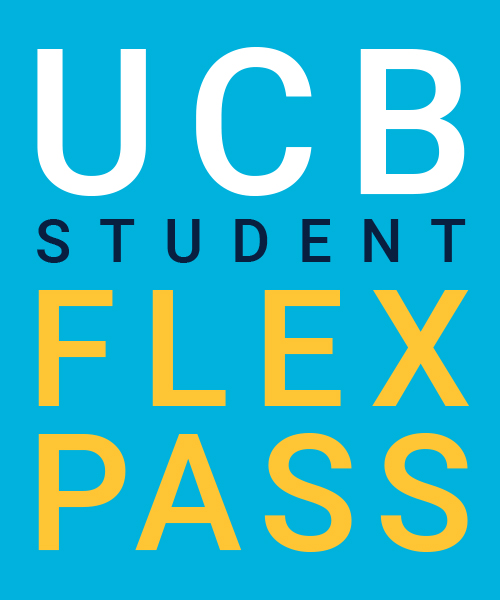 Student Flex Pass
4 performances for only $60
6 performances for only $90
8 performances for only $120
Buy in bulk and you can get four, six, or eight tickets to world-class performances for just $15 per ticket! Tickets can be redeemed at any point during the season, so you can find shows that fit your schedule.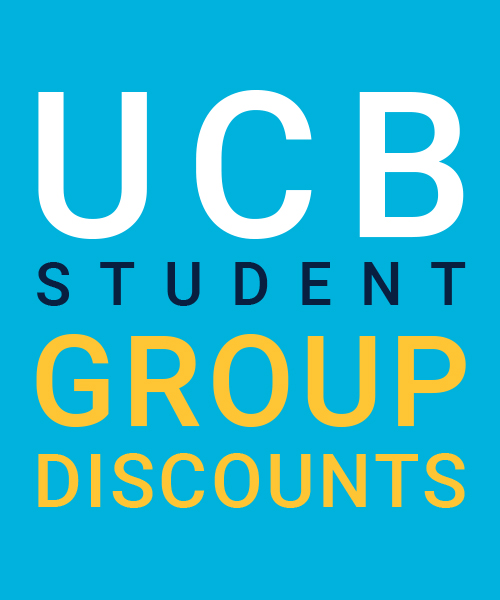 Student Group Discounts
$15 Tickets for Groups of 10+
From classroom enrichment outings to a special get together for campus student organizations, Cal Performances offers UCB student group rate pricing of $15 per ticket for select performances to groups of 10 or more. Get your friends, sorority, fraternity, club, or classmates together and share an experience you'll never forget.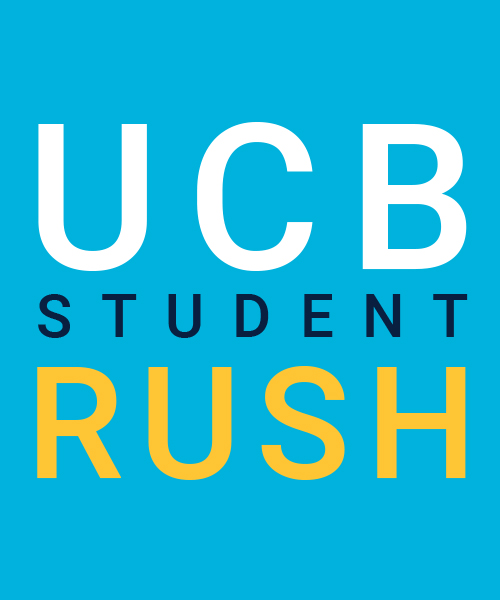 UC Berkeley Student Rush
For select performances, Cal students can purchase deeply discounted tickets—as low as $10—beginning an hour before the performance.
To find out if rush tickets will be available for a particular show, call 510.642.9988 beginning three hours prior to the performance.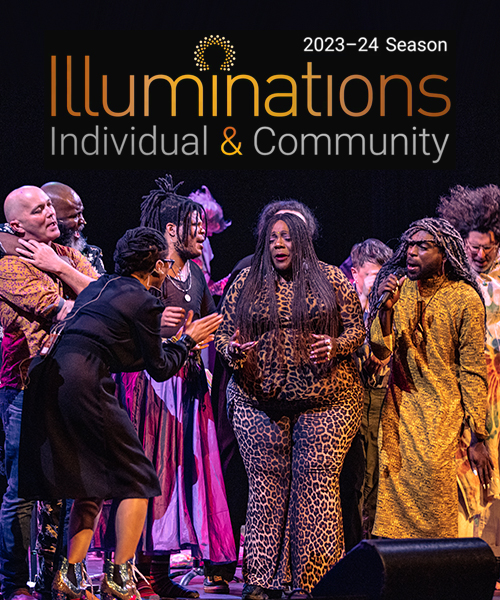 Illuminations: Connecting Performing Arts & Campus Learning
Illuminations puts the groundbreaking scholarship of UC Berkeley and the world-class music, dance, and theater presented by Cal Performances in conversation with one another to shed light on pressing themes with the power to transform our understanding of the world and shape the future.
This year's Illuminations theme—"Individual & Community"—will empower us to explore the tensions that come into play while balancing the interests of the individual with the interest of the group. Through performances and public programs presented in cooperation with our many partners at UC Berkeley, this season Cal Performances investigates how our allegiances and alliances influence our lives as individuals and as members of complex and often overlapping communities.
Help Make the Performing Arts Happen
Work With Us
Cal Performances employs student workers in a variety of departments, including the ticket office, front-of-house, marketing and communications, and education! All work is paid and part-time, and open to all currently enrolled students, including those participating in work study programs. Additional benefits of working at Cal Performances include:
Enjoying free access to the world's finest music, dance, and theater performances
Gaining experience and insight into what it takes to present live performances of the highest caliber
Joining a community of other students and staff with your shared interests
Developing transferable skills and growing your responsibilities over time
Work hours are flexible and typically align with UC Berkeley's academic year.
See current student job openings
Volunteer
Want to be part of the magic, but need a bit more flexibility with scheduling? Cal Performances relies on the generosity of more than 200 volunteers each season to serve as ushers at all of our performances. Volunteer for as many performances as you'd like and gain free entrance to see world-class talent while you're already onsite!