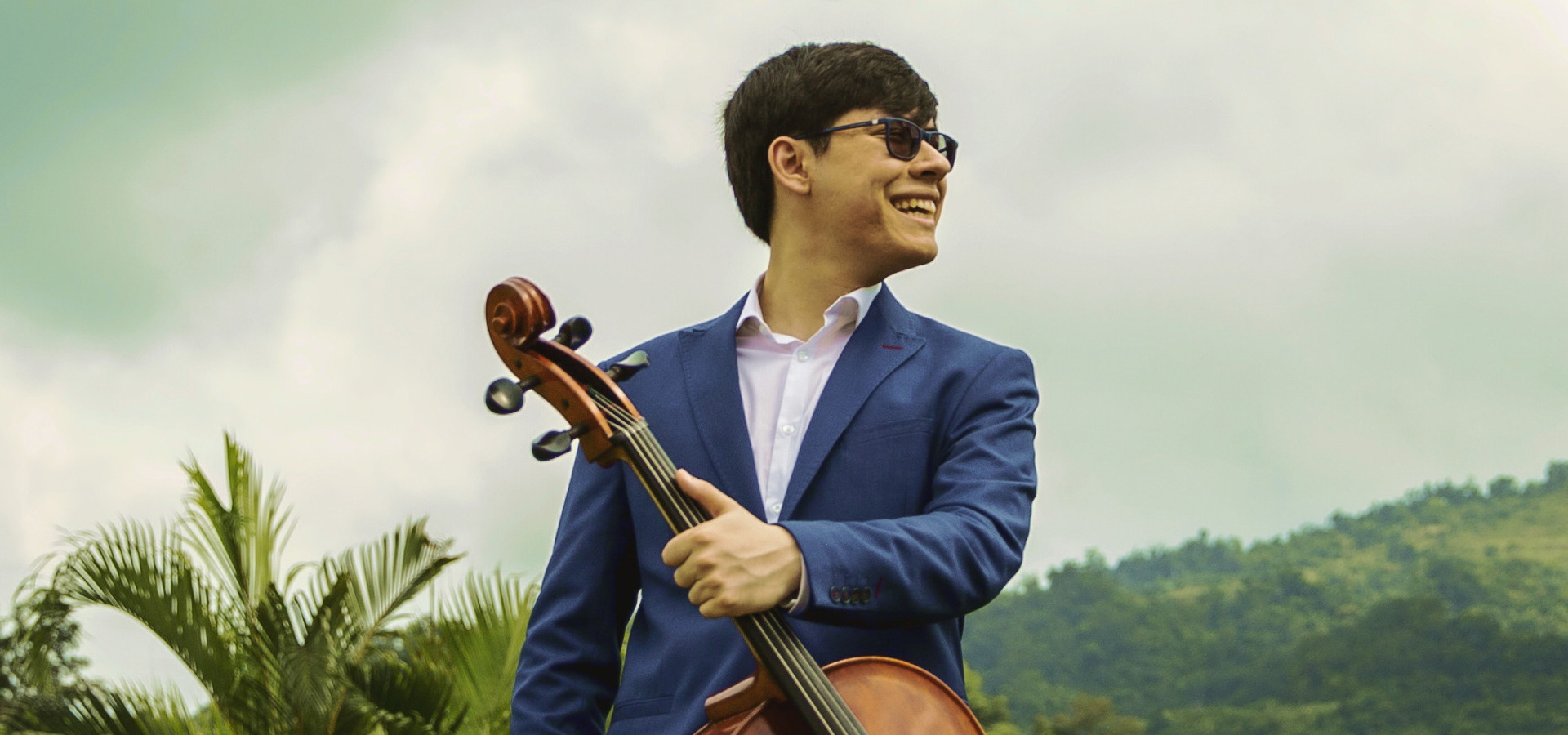 The "Musical Mandate" of Groundbreaking Cellist Zlatomir Fung
In this exclusive interview, award-winning cellist Zlatomir Fung talks balancing competitions and recitals.
November 15, 2022
At 23 years old, cellist Zlatomir Fung has won international recognition for his profound musicianship.
By Krista Thomas, Cal Performances' Associate Director of Communications
Over the past few years, he has made history as the youngest (age 20) musician, and first American in four decades, to win First Prize at the International Tchaikovsky Competition (Cello Division); he has received the Borletti-Buitoni Trust Fellowship and an Avery Fisher Career Grant; and he has toured in the United States, Europe, and Asia with renowned orchestras and as a recitalist. This Sunday (November 20), Fung offers the Bay Area an exciting opportunity to experience his virtuosity firsthand as he makes his Cal Performances debut.
Equally noteworthy to his 2019 victory at the Tchaikovksy competition are the nearly two decades of extreme dedication and attentiveness to his craft that preceded and enabled this particular accomplishment. Fung began playing the cello at age three and, showing early promise as a thoughtful and natural musician, participated in his first competition at only 11 years old.
"From the beginning, the most important aspect of the competition was my relationship with my progress and motivation," said Fung. "As a very goal-oriented individual, competitions gave me a strong sense of purpose and focus for my improvement as a musician."
As reported by Musical America, Fung's attachment to the cello flourished substantially around this time. When he moved with his family to Boston at age 12, he was newly inspired by the local musical scene and began for the first time to seriously consider a career as a musician. With the change of scenery came fresh opportunities for deepened engagement, including enrollment in a New England Conservatory prep school program. As he fantasized about a future performing on grand concert stages, his fascination with great artists such as Edgar Moreau motivated him to build and refine his craft.
Fung continued competing into high school, earning prestigious awards that included top prizes at the 2016 George Enescu International Cello Competition, 2015 Johansen International Competition for Young String Players, 2014 Stulberg International String Competition, and 2014 Irving Klein International Competition. He was also recognized as a 2016 US Presidential Scholar for the Arts and earned the 2016 Landgrave von Hesse Prize at the Kronberg Academy Cello Masterclasses.
In 2017, he went on to study cello performance at the Juilliard School under the mentorship of Richard Aaron and Timothy Eddy. It was at the end of his second year at Juilliard that Fung competed in the 2019 International Tchaikovsky Competition, one of the most important international classical music competitions, which is held every four years to reward and reveal new talent among musicians ages 16 to 32 (cello division).
Though he was already something of a musical sensation at the time, Fung's record-breaking win was a game-changer for his career, "open[ing] several doors… regarding personal connections, publicity, and international exposure," he shared.
Following this win, requests for recital engagements from performing arts presenters rapidly increased, and Fung was faced with the challenge of balancing schoolwork with both music competitions and performances. Though a transition from competitions to recitals often happens more gradually and later in a performer's career, for Fung, the overlapping engagements have proven a natural complement to one another.
"In many competitions I competed in, recital rounds were an essential part of the experience. They also happened to be my favorite part: I had more control over the repertoire and the possibility of crafting a varied experience for the audience and the jury," Fung said. "My mentality during competitions and my mentality in other performances and recitals are mostly the same [in that] I strive to create the most immersive and transporting musical experience possible for the audience."
This "immersive experience," which serves as a hallmark of Fung's performances, is well-documented, and speaks to his technical mastery as well as his acute interpretations and artful programming. The young artist has been described as having a "rare… Midas touch: he quickly envelops every score he plays in an almost palpable golden aura" (Bachtrack). Fung has also been lauded for his "impeccable intonation and thoughtful phrasing" (Baltimore Sun), which create a richness of performance likened to "his own musical mosaic" (Benicia Herald).
Ahead of his Cal Performances debut, Cal Performances Executive and Artistic Director Jeremy Geffen shared his own excitement about the opportunity to host Fung. "Introducing the next generation of artists Cal Performances' audiences didn't yet know they couldn't live without has been a hallmark of our series for decades," said Geffen. "Though we're always excited to support artists on their ascent, I am particularly thrilled to present Zlatomir Fung, an artist in whom virtuosity, intelligence, preternatural emotional maturity, interpretive insight, and the 'x factor' all find their nexus!"
Fung is admittedly "particularly passionate about programming" and, though a true lover of classical repertoire, creates layers of meaning by pairing canonic pieces with newer works. For his Cal Performances recital, Fung has crafted an eclectic and engaging program that matches cello showpieces by Beethoven and Dvořák with an arrangement of Ives songs and two contemporary works: Judith Weir's Unlocked, which was inspired by American folk songs, many of which were contributed by Black prisoners in Southern jails, and a cello sonata with distinct blues sonorities by George Walker, the first Black composer to win a Pulitzer Prize for Music.
Of his meticulously crafted programs, Fung said, "I enjoy bringing lesser-known works together with staples from the repertoire. The ability to shape the arc of an entire concert experience—a whole afternoon or evening with an audience—lends recitals a more authorial feel and gives [me] space to create an entire world for the audience to fall into."
Though Fung greatly appreciates the "tremendous honor" of his past competition awards, he is ultimately focused on the "larger musical mandate," and the opportunities afforded—particularly through recitals—to shape our relationship to important works.
"The awards are only the beginning," Fung said. "The actual work and meaning lie in the art itself. As a young musician starting out, I want to bring an energetic, exuberant, and original voice to my work. One day, I hope to have done enough meaningful musical work to make my awards only a footnote in my biography."