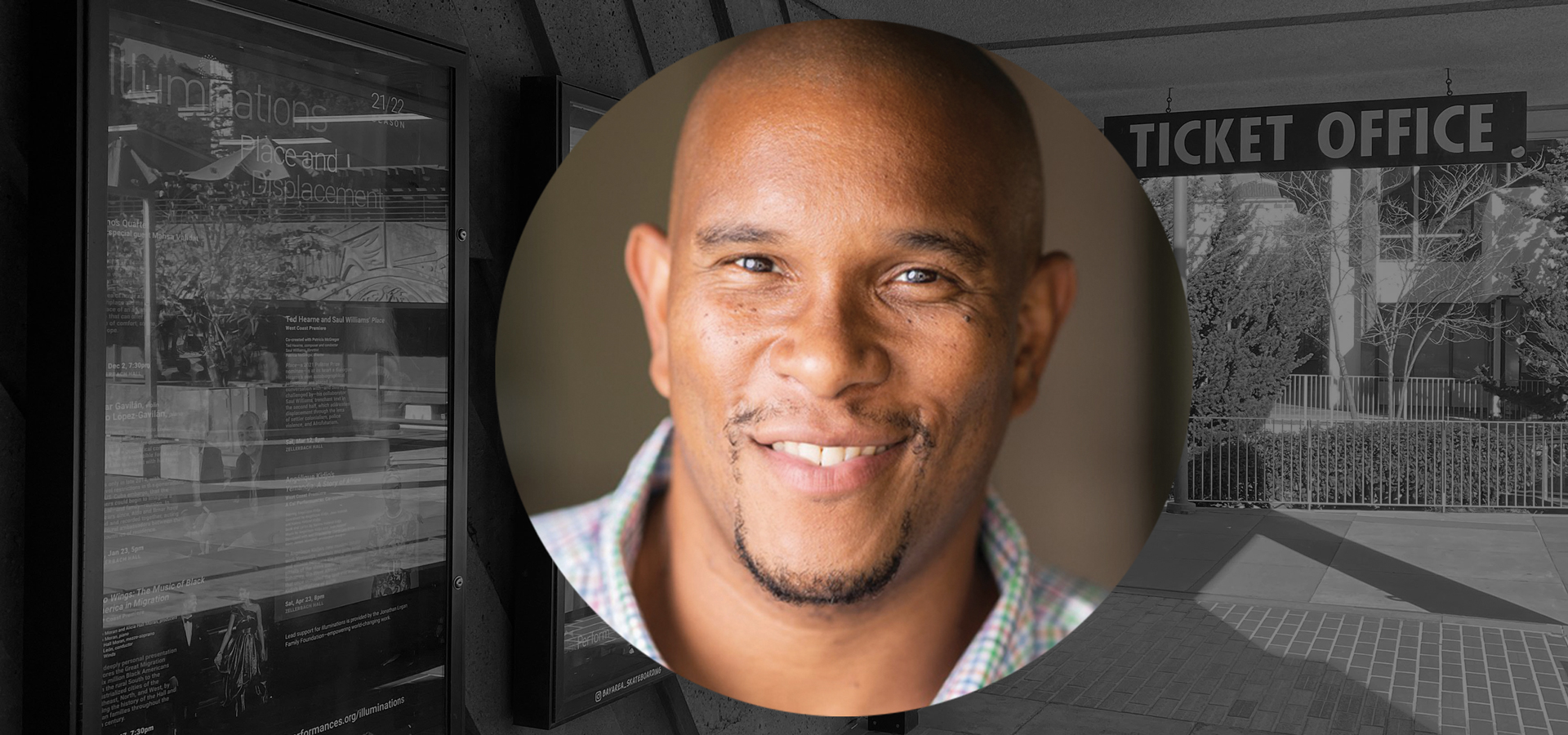 Malcolm K. Darrell: The Inspiring Journey of a Former Student Worker
From Cal Performances student worker to Disney creative director.
December 16, 2022
Malcolm K. Darrell reflects on how his time at Cal Performances continues to shape his career.
By Krista Thomas, Cal Performances' Associate Director of Communications
There are many staff members who make the work Cal Performances does possible, about one-third of whom are students! Even after these student workers graduate, their impact on us—and, in some cases, the arts world even beyond—can be extraordinary. In this article, we're spotlighting a former Cal Performances student worker whose career trajectory and, more importantly, his passion for community and for encouraging the growth of others, serve as ongoing inspiration.
—–
From a very young age, Malcolm K. Darrell showed a predisposition for the arts. "To tell the story of how I ended up at Cal Performances, I'd have to start in first grade," said Darrell. "My mother saw I was a very inquisitive, very precocious child, and knew I could get some of that energy out via performing."
Trusting her son would flourish in an arts space, Darrell's mom enrolled him at 32nd Street/USC Performing Arts Magnet elementary school in Los Angeles, where the family lived. By the age of 12, Darrell had taken elective classes in film and media, visual arts, Hungarian dance, West African dance, and Jalisco dance, and was part of a choir that performed for a variety of esteemed guests (including British royalty!). By the time he graduated from high school at Hamilton Academy of Music, another incredible arts school, Darrell had played in award-winning jazz ensembles and acted in school productions that incorporated real Broadway sets, costumes, and choreographers.
"My time in elementary, middle, and high schools cemented for me the importance of being cultivated by and immersed in the arts," said Darrell. "I really appreciated those years at arts schools. But, when it came time to apply for college, being from a working-class family, I wasn't convinced I'd have the ability to make a stable career out of it, so I applied to schools and planned on simply taking advantage of opportunities in the arts to complement my learning."
In the summer of 1996, Darrell made the move from southern to northern California to begin his freshman year at UC Berkeley, where he was enrolled in a work/study program. When he first saw an opening in the Cal Performances box office, he was thrilled at the opportunity to both support and watch the performing arts. "I was excited, and the only expectation I had was that having work experience from a legitimate arts institution would look great on my resume," he said. "I had no idea how that job would change my life."
According to Darrell, his time at Cal Performances shaped his trajectory, both in terms of his career and his artistic sensibilities.
"Because of my job, I saw some of the most memorable performances of my life in Zellerbach Hall. Robert Cole, then-director of Cal Performances, brought fascinating artists from all over the world," he said. "Because I was able to see such inclusivity and creativity reflected on the stage at such an early point in my career, I had the unique advantage of understanding all the arts had to offer; this was clearly evident in all the jobs I've held since leaving Cal Performances."
Decades later, one specific memory still stands out. "I thought I liked dance already, but I fell in love with dance in a different way at Cal Performances. There was one piece by Alvin Ailey American Dance Theater called Slaves. I remember sitting in the back orchestra and watching this piece, and just being in a puddle of tears thinking, 'How did dance do this to me?' Companies like Alvin Ailey, Nederlands Dans Theater, and Mark Morris Dance Group changed my understanding of what dance could be," said Darrell.
During his four years at Cal, Darrell was promoted to Box Office Assistant Manager, took on an extra job working the stage door, worked as Robert Cole's assistant, and was even invited to serve as a student representative on the Cal Performances Board of Trustees. Serving on the board was yet another moment that, because of Darrell's determination, catalyzed a new path forward.
"When I applied and was selected for the board, I was blown away. It really boosted my confidence. But there was a moment in that first or second board meeting when I looked around the room and saw one Asian woman, and me, and, other than that, a real lack of representation," he said. "I thought to myself, 'This organization has such stunning diversity on stage; why does our board not look like that?'"
Though Darrell had always felt that the staff around him were deeply invested in his success, he recognized a serious need for change at the level of the institution and the field more broadly. "In that moment, I decided I wasn't going to pursue being a performer, because I felt the world had enough people who looked like me performing. The real question for me became, 'Are there enough people who look like me behind the scenes?'" he said.
Though Darrell continued with a performing arts major, he shifted his emphasis to business management in the arts and began taking classes on topics like psychology and leadership. Upon graduation, Darrell returned to Los Angeles for a job at the legendary Center Theatre Group's education department, connecting local schools with arts opportunities. Cal Performances continued to follow Darrell, however, and within just two years, he was called by a former box office manager and offered a supervisory position at UCLA's box office.
"What I learned at Cal Performances prepared me to serve in that role. Throughout my foundational training at Cal Performances, I took a lot of pride in being of service to our patrons. I loved the work that we did and the opportunity to meet folks from all backgrounds," he said. "I believe there's a level of detail, attention, and service that you only learn when you work for an arts organization, that idea that 'the show must go on' and that we all have to work together to respond to challenges. The level of rigor, care, and creativity that is produced in that environment is unparalleled."
Darrell was unsurprisingly a smashing success in his new role and stayed with UCLA's box office until 2004, when he decided it was time to pursue his MFA degree. Darrell attended Yale and focused his studies on Theater Management. The program involved many hands-on elements, which gave him the opportunity to spend a semester working at the Association of Performing Arts Professionals (APAP), then under the direction of Sandra Gibson.
"I knew if I were to work under another leader, I wanted it to be with a person of color, and specifically a woman, since all of my other professional mentors had been white men," he said. "Sandra Gibson reminded me of the Robert Coles and Rick Andersons [a past Cal Performances box office manager] of the world: She saw something in me and was going to push me and provide opportunities."
Full of new inspiration, Darrell graduated from Yale in 2007 and went on to live a number of lives in his career, from serving as a founding general manager of Ebony Repertory Theater—the first and only professional African American theater in LA's history at that time—to working with the Kennedy Center (a lifelong dream of his) managing a massive festival to celebrate Chinese artists and their culture. Around the same time, Darrell also associate-produced Radar L.A., a new festival of contemporary theater focusing on artists from the Pacific Rim.
Eventually, as a result of his strong industry relationships, Darrell opened his own business for artist management. Though he ultimately decided that business model wasn't a great fit, he was thankful that closing his business allowed him the invaluable opportunity to spend additional time with his father, who was diagnosed with stage-four cancer just a month later.
Following the passing of his father, Darrell began to reevaluate where his career would go. "At that time, I didn't have clients or any major work prospects and, because of the economy, it was hard to find a job," he said. Darrell had a friend who was looking for a driver at that time and, though the position was far outside of his experience, Darrell was thankful for any opportunity and began driving celebrities, executives, and many other interesting people around the LA area.
One day, Darrell was scheduled to pick up the president of Walt Disney World and, naturally curious about others' backgrounds, did some extra research. Darrell was "blown away by his trajectory," having also come from a working-class family and moved up in the organization over a long period.
"I normally didn't talk to clients but I was so inspired, I wanted to share with him how incredible I thought his story was. We had an amazing conversation and he ended up asking me my own story and, later, for my CV," he said. "Within a week, I had two interviews lined up at Disney, and, after months of interviewing, accepted a position as Associate Creative Director at Disney Imagineering."
In coming back to his artistic roots, Darrell shared that his position as Associate Creative Director and later Creative Director at Disney were really made possible because of that first job in the ticket office. "It's because of Cal Performances that I had the knowledge and exposure to the arts that allowed me to become a knowledgeable creative. I'm respected for my creative input today because, at Cal Performances, I had the opportunity to hone a level of taste that sets me apart."
Darrell left Disney at the end of 2021 and now continues to design guest experiences, support community, and amplify others' voices as the Director of Experiences at Nearest Green Distillery, home to Uncle Nearest Premium Whiskey, the spirit brand created in partnership with the descendants of the formerly enslaved man Nathan "Nearest" Green, who taught Jack Daniels how to distill whiskey.
"We're the only spirit brand owned by an African American woman and the only spirit brand that has majority women chief executives," he added. "This role has been a great opportunity to shine a light on Green and finally tell his story."
Looking back on his career, Darrell sees his value of humanity and his artistic training as common threads. "Humanity is such a beautiful, glorious spectrum, and reflecting that spectrum in an artistic way can take so many different forms," he said. "The path I've taken has not been linear, but I learned so much about who I wanted to be and about who I already was as a leader at Cal Performances. Reliving these experiences now is truly a full-circle moment."
As for other students still plotting out their future, Darrell recommends, above all, authenticity and knowing your value. "Being a six-foot-four Black man in a predominantly white arts world hasn't always been easy; I had a lot of insecurities and often felt the need to diminish who I was to make my white colleagues feel comfortable. It took years to realize that who I am is a gift," he said. "People like to say humanity is a melting pot, but I prefer to say it's a gumbo: For the result to be fantastic, every individual ingredient must have its own distinctive flavor. And when we diminish one, we are diminishing the entire recipe. We all have something important to contribute, and I hope that other students carry that knowledge wherever their journey takes them."