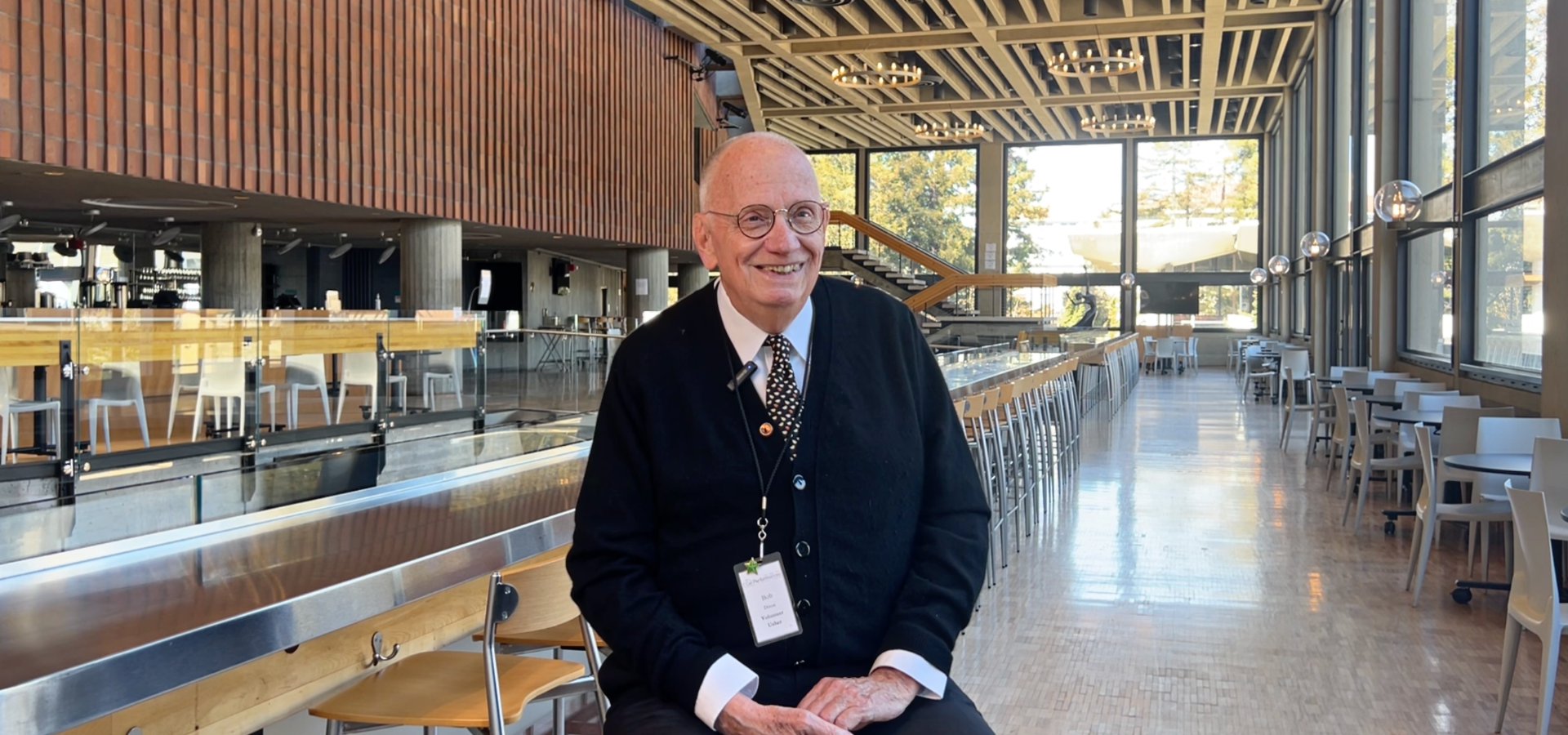 Bob Dixon on the Impact of Being a Volunteer Usher
Nearly three decades supporting the arts.
March 17, 2023
"The arts are everywhere. We have to be able to see them, or hear them, or sense them… but we don't do it unless we're introduced."
Interview of Bob Dixon. Video filming and editing by Tiffany Valvo, Cal Performances' Social Media and Digital Content Specialist.
The vast array of performances and educational and community programs Cal Performances offers to our Bay Area community would not be possible without the dedication of roughly 200 volunteers who generously give their time and talents to support the live performing arts. To spotlight the pivotal role these volunteers play—and the passion that drives them—we sat down with Bob Dixon, who has served as a volunteer usher for nearly 30 years! Bob was described by Cal Performances' current Volunteer Services Coordinator, Aidan Crochetiere, as "one of our most proactive and knowledgeable volunteer ushers" and an "invaluable resource," particularly as so many processes were tested and changed during the pandemic. On behalf of all of Cal Performances, we want to offer a big thank-you to Bob and all of our volunteer ushers for the central role they play in creating and maintaining our Cal Performances community.
Transcript
My name's Bob Dixon and I'm an usher at Cal Performances. And I've been an usher here since winter of 1994. I joined the volunteer program shortly after seeing Mark Morris' Allegro. It just blew me away. And, I came to something else a week later and one of the ushers who I knew from where I worked—I was the director at the YMCA before I retired—she said, "Why don't you volunteer?" And so I said, "Well, how do you do that?" She said, "Call this number." And that's all you had to do in 1994 was call in and there was an announcement about what shows were available.
Well, I think there were about 600 ushers, 700 ushers at that time, so there wasn't much available. So I started with the SchoolTime and I fell in love with SchoolTimes. There's something about the madness of bringing 1,800 children from almost preschool age to high school and getting them into a theater, and lights go down and there is this cheer that goes up, because they're seeing something maybe for the first time, second time, something they don't know what they're gonna experience. But how they did it and how they enjoyed it, and just that sound was enough to make me sign up for more SchoolTimes.
What do you enjoy about volunteering at Cal Performances?
I think one of the joys here is the audience. One of the things I try to do as a volunteer is recognize the audience members, so there's a number of people that come that I know by name. I'm told—I can't prove this—that if I'm not here, people will come asking where I am. It's rewarding that way. But to know that people are seeing what they want to see, they're comfortable, they know if there's changes in the house. It's special.
And also you make friends. As I age, it's very important to keep up social interactions. And the ushers here who've been here for a while and the ones who are now coming in, will find those same interactions where we check in on one another: "How are you doing?" "Where is so-and-so?" "I haven't seen so-and-so in a while." "Well I called her and she's decided to do this."
And the staff is so supportive of the volunteers. Not every place is, because they look at the volunteers as, well, "You're here, you're getting to see a show." But here, there's a real sense of, "How are they doing? Is there a reward for it in the sense of how it's working for them?" And there's feedback and there there's a lot—an ability to go up and mention what's right, what's wrong, or make suggestions. So that's what I've been doing for what, almost three decades.
What is special about volunteering on a university campus?
This is unique. And I don't think people understand it until they're part of it. The program, yes, is
part of Cal Performances, it's managed by Cal Performances management, but it's actually under the direction of people who were students and many are still students. And as an usher, I report to a student. That's who's going to tell me where I will work tonight and what I'm expected to do and who will check in on me.
As an usher who could be a grandparent or a great grandparent to one of these students, you sort of see them come in—I'll speak for myself—but I see them come in and they're a little nervous about having eight of their uncles, aunts, grandparents, and having to tell them what to do. And so the first few months, you sort of notice that. And by the end of the year, they've got it down. After two years, they're managing 1,800 people coming in here, or maybe The Greek with 4,000 or 5,000, perfectly competent, and you just see the students grow. And I think that's the reward, that's a reward you get that you don't get at other places for their volunteers.
What do you think is the value of the performing arts for audiences?
I think it's something that takes them out of themselves and see there's something to the imagination and to the way we breathe. That the arts are everywhere; we have to be able to see them or hear them or sense them, and, it's up to us to do that, but we don't do it unless we're introduced to it.
So in a way, I wasn't introduced to much except theater until college. That's when I saw my first opera, that's when I went to my first symphony… And that's why the earlier we can do it, the better it is. But also the programs Cal's got here for the students, the rush tickets and that sort of thing.
It's there, it's part of the pattern of my life to see this and hope more people do. And, the student ushers learn much. They're my boss, the students who are our bosses here for the volunteers, they're learning about the arts, too. Some are way into it. They're getting masters' degrees or doctorates, but some have never been to a performance. And so they go, "What should we see?" And every volunteer probably has a different answer for that one.