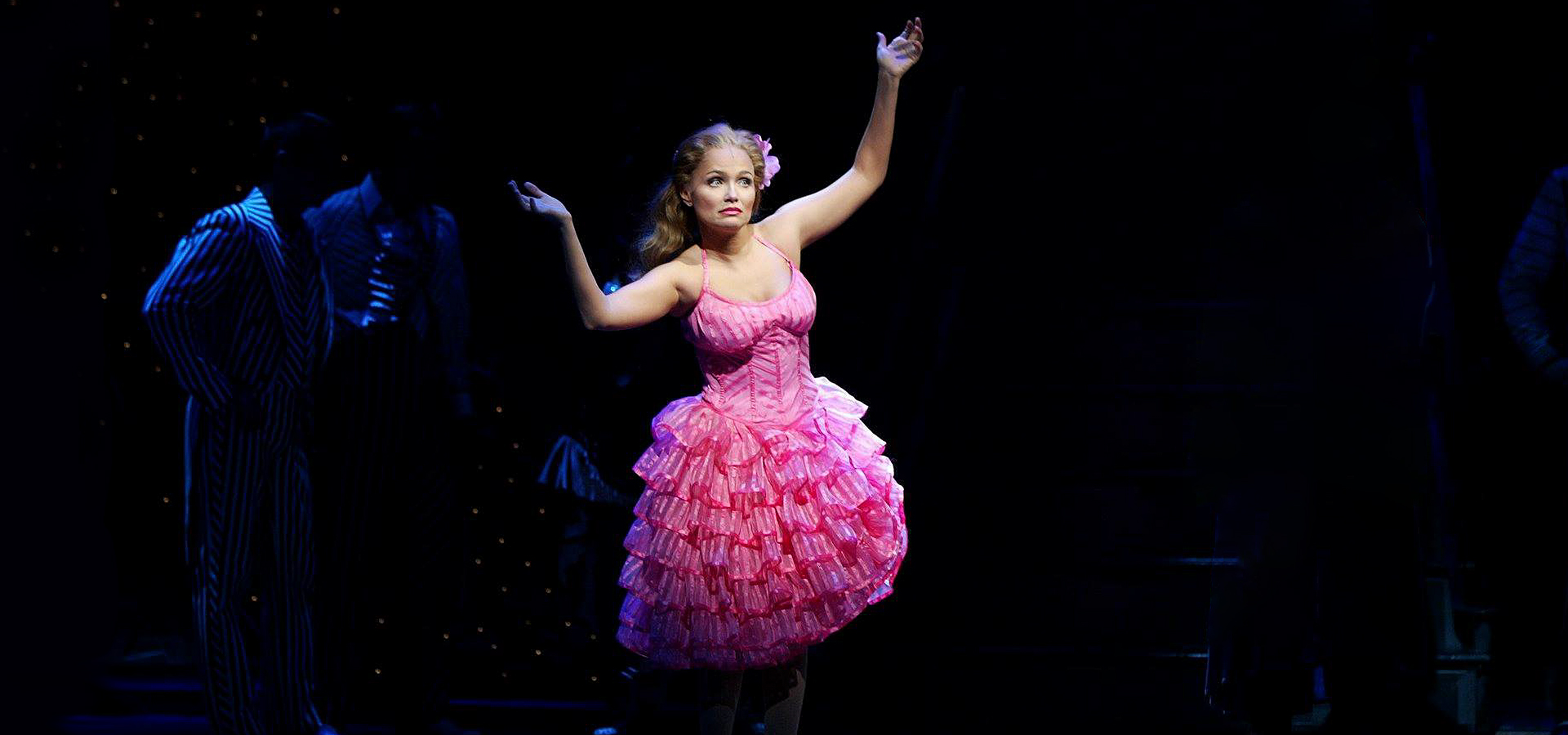 10 Fascinating Facts About Kristin Chenoweth You Might Not Know
Learn about Chenoweth's phenomenal career, from her impressive childhood singing experience, to her iconic voice acting, and a few jobs that may surprise you!
October 26, 2023
Kristin Chenoweth's Remarkable Career Journey
Kristin Chenoweth, star of stage and screen, comes to Cal Performances for one night only on November 15. In her For the Girls program, Chenoweth gives a vocal performance dedicated to the women friends and idols who musically inspire her. As we eagerly anticipate her Cal Performances debut, we're sharing 10 things you might not know about Chenoweth that underscore the uniqueness of her artistry and the vastness of her talents and accomplishments.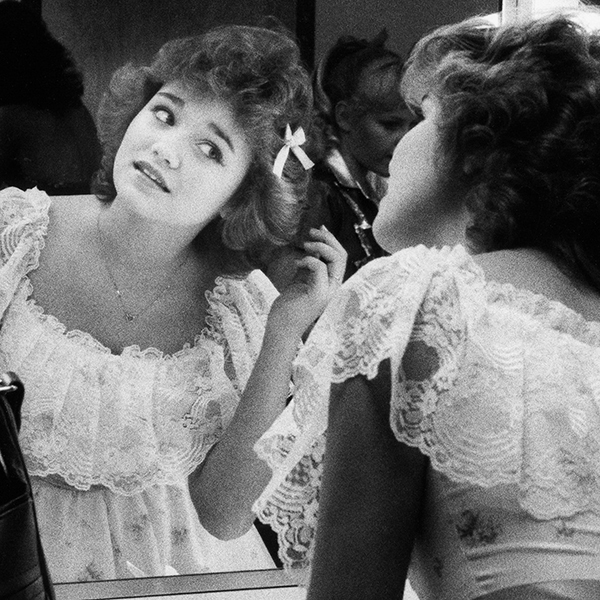 Chenoweth as a young performer in 1984. Photo Courtesy of Oklahoma Publishing Company Photography Collection/Oklahoma Historical Society.
1. She grew up singing in church.
Chenoweth was born in 1968 and was raised in Broken Arrow, Oklahoma. She grew up attending her local church and, as a child, was so determined to sing, she tried out for the adult gospel choir—which promptly earned her a solo! Soon after, she began singing for other nearby gospel choirs, too; she even performed a solo at the Southern Baptist Convention national conference when she was only 12 years old.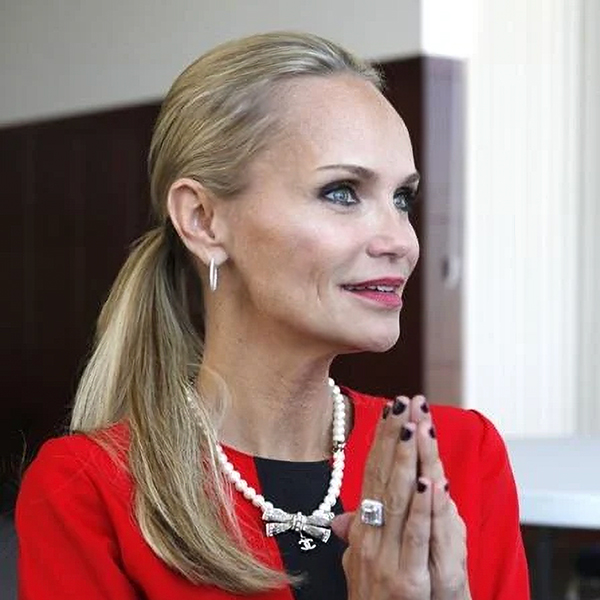 Chenoweth is interviewed before receiving an honorary Ph.D. from Oklahoma City University. Photo courtesy of Paul Hellstern / The Oklahoman
2. She has a master's degree in opera performance.
Chenoweth earned both a bachelor's degree in musical theater and a master's degree in opera performance from Oklahoma City University (OCU). Since her mainstream success, she has continued to support her alma mater by speaking at commencement ceremonies, teaching master classes, and even serving as an artist in residence. After finishing her master's degree, Chenoweth had the opportunity to go on for more schooling when she won a Metropolitan Opera competition that came with a full scholarship to Philadelphia's Academy of Vocal Arts. She ended up turning down that opportunity when she landed a job in the Paper Mill Playhouse's 1993 production of Animal Crackers. (Kristin was awarded an honorary doctorate by OCU a decade later.)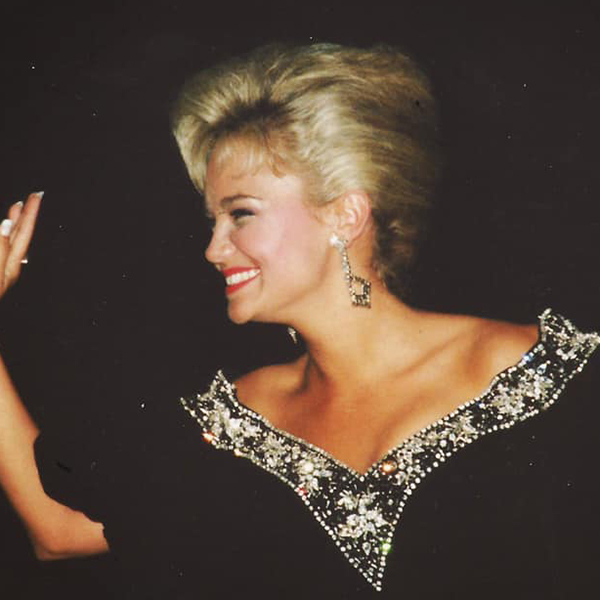 Chenoweth in a look she wore during the 1991 Miss Oklahoma Pageant. Photo courtesy of Kristin Chenoweth.
3. For a few years leading up to her career as a professional performer, she competed (rather successfully) in beauty pageants.
While pursuing her performance degrees, Chenoweth competed in multiple pageants in her home state of Oklahoma, ultimately becoming runner-up to Miss Oklahoma in 1991. Speaking about her experience with the Miss America system, Chenoweth said, "A lot of people can make fun of pageants, but… I ran for Miss OCU [Oklahoma City University] and won, and because of that, I was able to put myself through graduate school."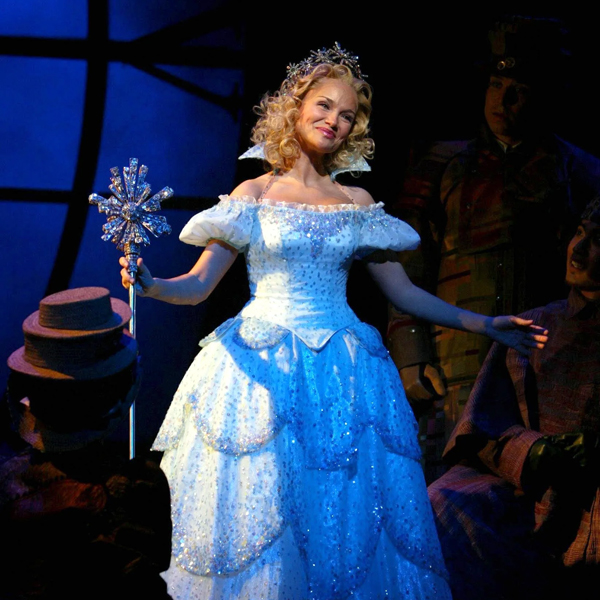 Chenoweth as Glinda in Wicked. Photo courtesy of USA Today.
4. Her role as Glinda in Wicked capped a decade of memorable, award-winning performances.
Following her first role in Animal Crackers in 1993, Chenoweth played Precious McGuire in the Kander and Ebb musical Steel Pier at the Richard Rodgers Theater in 1997, a performance that earned her a Theater World Award, an honor given each year to six up-and-coming actors and actresses. (That year, she happened to share her win with Mark Ruffalo!)
Chenoweth stayed busy in 1999, landing Broadway roles as Sally in the Ambassador Theater's production of You're a Good Man, Charlie Brown and as Louisa Goldman in the Helen Hayes Theatre's performance of Epic Proportions. Wicked made its Broadway premiere in 2003 at the Gershwin Theatre (after a successful pre-Broadway run at San Francisco's Curran Theatre), and Chenoweth's iconic performance went on to break box office records and captivate audiences around the world.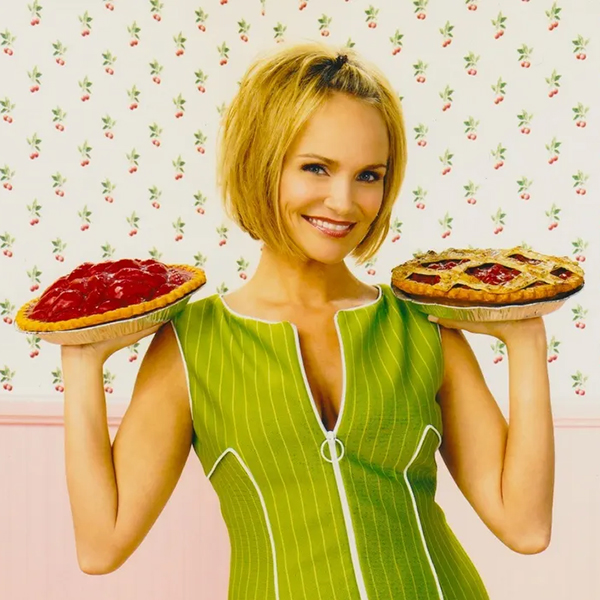 Chenoweth in Pushing Daisies. Photo courtesy of ABC/tor.com.
Many will recognize Chenoweth for her television appearances in Pushing Daisies, West Wing, and Glee, and her movie roles in RV, Bewitched, and The Pink Panther. She also has a distinctive speaking voice—one she has personally likened to that of the fictional character Betty Boop—and has been successfully cast as a voice actress in animated projects including Rio, Tinkerbell and the Great Fairy Rescue, BoJack Horseman, and The Peanuts Movie.
Chenoweth accepting her first Tony Award in 1999. Photo courtesy of Kristin Chenoweth.
6. She has won a Tony Award as well as a Primetime Emmy.
In 1999, Chenoweth won a Tony Award for Best Performance by an Actress in a Featured Role in a Musical for her portrayal of Sally in You're a Good Man, Charlie Brown. In subsequent years, she was nominated for additional Tony Awards for her performances in Wicked (2004) and On the Twentieth Century (2015). She has also been recognized as a television actress, winning a Primetime Emmy in 2009 for Outstanding Supporting Actress in a Comedy Series in Pushing Daisies, and has been nominated for four additional Primetime Emmy Awards. Other accolades include multiple Drama Desk Awards and Outer Critics Circle Awards, a star on the Hollywood Walk of Fame, and the GLAAD Media Vanguard Award. (It's also worth noting that the Broadway studio recording of Wicked, on which Chenoweth features prominently, won a Grammy in 2004.)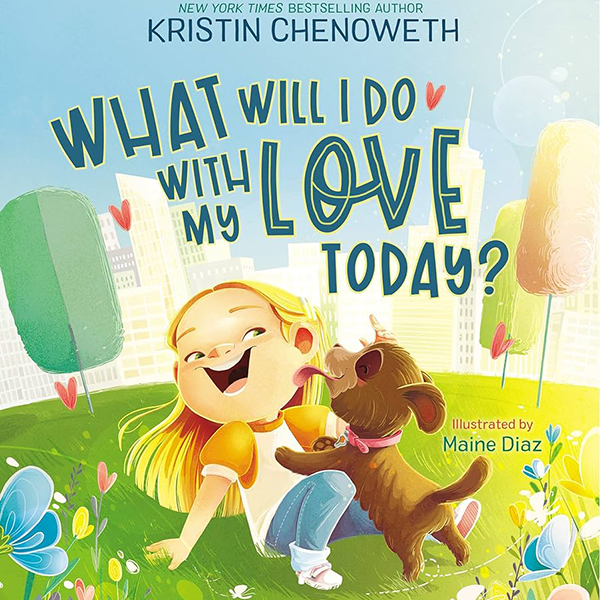 Cover of What Will I Do with My Love Today?. Photo courtesy of Barnes & Noble.
7. She is a four-time author.
Chenoweth wrote her first book, a memoir entitled A Little Bit Wicked, in 2009. The book carried a slogan characteristic of Chenoweth's standout humor and determination: "Life's too short. I'm not." (Chenoweth is 4'11''.). The book was an instant success, debuting on the New York Times Hardcover Nonfiction Best Seller List. In the past year, she has authored three additional books: What Will I Do with My Love Today?, an illustrated children's book encouraging "generosity and kindness"; I'm No Philosopher, But I Got Thoughts: Mini-Meditations for Saints, Sinners, and the Rest of Us, a book inspired by her self-reflection early into the COVID-19 pandemic that shares experiences from all throughout her life; and, newly released this year, My Moment: 106 Women on Fighting for Themselves, a book co-created by Chenoweth, actress Kathy Najimy, singer-songwriter Linda Perry, and the married duo of musician and activist Chely Wright and writer and businesswoman Lauren Blitzer. Described as a "natural extension of the #MeToo Movement," My Moment features contributions from such icons as Gloria Steinem, Lena Waithe, Joanna Gaines, Brandi Carlile, Beanie Feldstein, Cynthia Erivo, and Billie Jean King.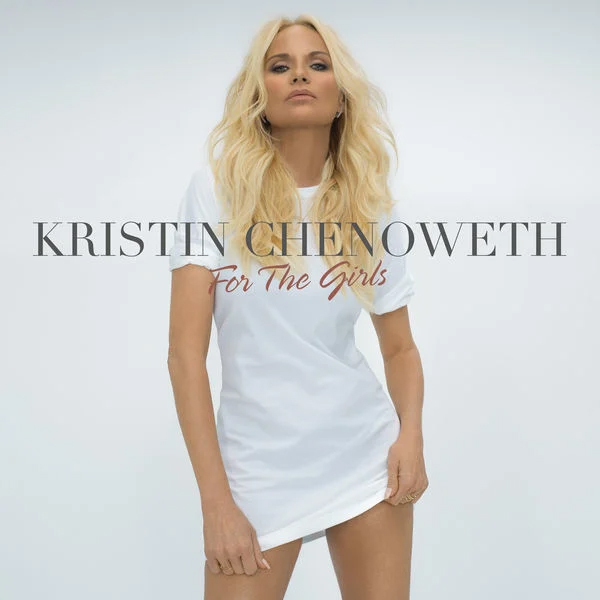 Cover of For the Girls album. Photo courtesy of Kristin Chenoweth.
Chenoweth's debut album, Let Yourself Go, was released in 2001 and was inspired by musicals from the 1930s. Subsequent albums have included Christian/spiritual albums (including two Christmas albums), a country-pop album, a jazz album, a recorded PBS concert special, and an album inspired by her female musical icons entitled For the Girls, which serves as the inspiration for her upcoming concert at Cal Performances. (Read more about For the Girls below.)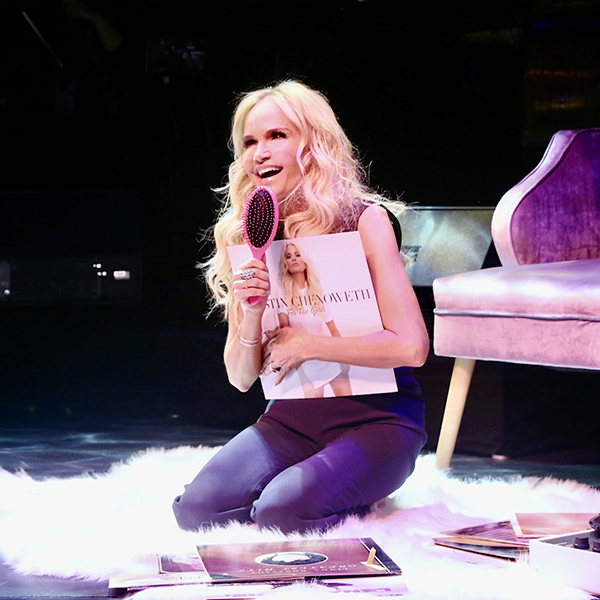 Chenoweth in her For the Girls mystical-style revue on Broadway. Photo courtesy of Playbill.
In August 2019, Chenoweth released For the Girls as a way to honor her female musical icons and friends. On her inspiration for the album, Chenoweth said, "I wanted to celebrate women who've come before me, like Dinah Washington, Eva Cassidy, Judy [Garland] of course, Barbra [Streisand]… And I think nowadays we're looking at different lanes, musically, being broken because I have a voice that kinda does a lot of different things, and it's never been celebrated. But with this record I get to have the opportunity to do it all." The album includes contributions from Ariana Grande, Jennifer Hudson, and Reba McEntire. Later in 2019, Chenoweth went on to promote the For the Girls album on Broadway by performing in a limited-time, eight-performance run of a musical-style revue created around the recording. Cal Performances patrons can expect a similar program for her Berkeley debut!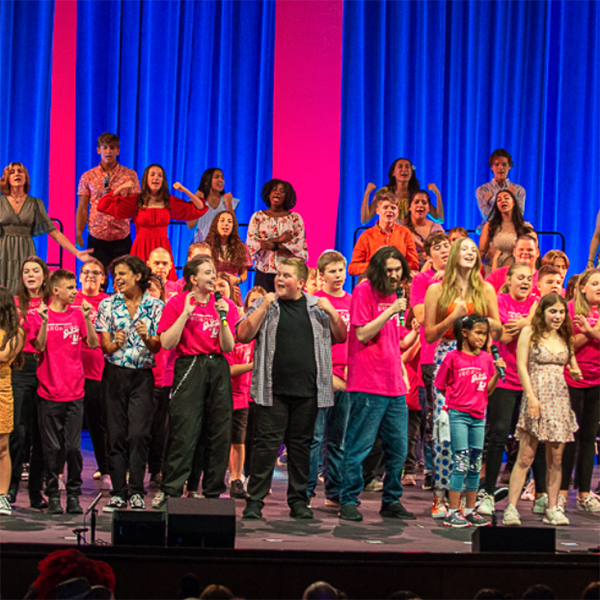 Children performing at Kristin Chenoweth's Broadway Bootcamp. Photo courtesy of Kristin Chenoweth's Broadway Bootcamp.
10. She has her own Broadway Bootcamp for children in her hometown.
Nearly a decade ago, Chenoweth formed her very own Broadway Bootcamp in her hometown of Broken Arrow, Oklahoma to train the next generation of entertainers. Kristen Chenoweth's Broadway Bootcamp is an annual 10-day program that culminates in a final showcase and awards ceremony. Through the program, high school students have the opportunity to interact with award-winning stage actors as they are trained in dancing, singing, and performing. This year's camp even featured a forum with Chenoweth's parents about what parents should know to help their children succeed in the business.
We hope you learned something new about this incredible artist and will join us when Kristen Chenoweth makes her Cal Performances debut at Zellerbach Hall on November 15, 2023. Learn more/buy tickets >