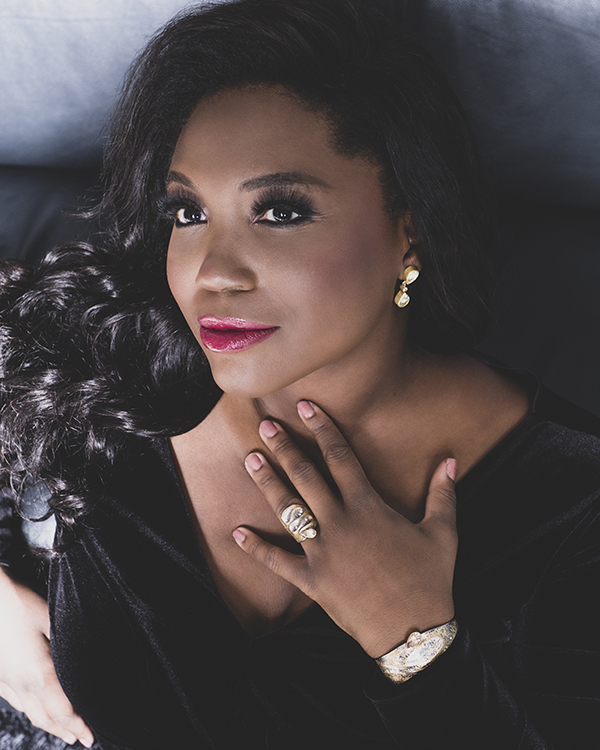 Angel Blue (soprano) has firmly established herself as one of the most important sopranos before the public today. She opened the Metro­politan Opera's 2019–20 season as Bess in a new production of George Gershwin's Porgy and Bess, a role she reprised at the Met in the fall of 2021; this production immediately followed her triumphant role debut as Destiny/Loneliness/Greta in the Met's historic 2021–22 season opener, Fire Shut Up In My Bones—the first production at the Metropolitan Opera by a Black composer. Additionally, she was the 2020 recipient of the Met's prestigious Beverly Sills Award.
This season includes a stunning range of repertoire that highlights her immense ver­satility and virtuosity on international opera and concert stages. Following her return to the Metropolitan Opera with back-to-back pro­ductions, La Traviata will play a prominent role in Blue's performance calendar in 2021/22, with productions at Covent Garden and the Verona Arena. In summer 2022, she sings the role of Marguerite in Faust at the Paris Opera. High­lights of Blue's recital and concert engagements include Knoxville: Summer of 1915 with the Philadelphia Orchestra and Yannick Nézet-Séguin, including one night at Carnegie Hall; and she appears with the Dallas Symphony Orchestra conducted by Fabio Luisi, performing in Beethoven's Symphony No. 9. Along with today's recital at Cal Performances, she gives recitals at Washington University in St. Louis and Poznan (Poland), with further engage­ments with the Philadelphia Orchestra in Sara­toga, Edinburgh, and Hamburg.
Blue was born and raised in California and completed her musical studies at UCLA.