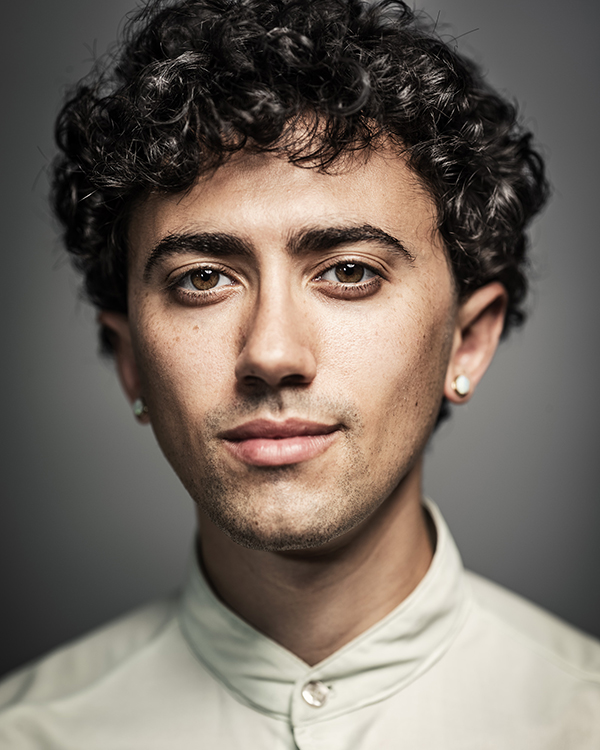 Caleb Teicher
Choreographer, Dancer
Caleb Teicher is a New York City-based dancer and choreographer specializing in musically driven dance traditions and interdisciplinary collaboration. Teicher began their career as a founding member of Michelle Dorrance's critically acclaimed tap dance company, Dorrance Dance, while also freelancing in contemporary dance (The Chase Brock Experience, The Bang Group), Lindy Hop (Syncopated City Dance Company), and musical theater (West Side Story international tour and London). As a solo performer and collaborator, Teicher is known for choreographic collaborations with diverse musical talents including world-champion beatboxer Chris Celiz, composer/pianist Conrad Tao, the National Sym­phony Orchestra, and indie rock legends Ben Folds and Regina Spektor. In 2015, Teicher shifted their creative focus towards Caleb Teicher & Company (CT&Co), a creative home for incubating new concert-dance works that spring from Teicher's unique perspective.  CT&Co's engagements and commissions expand across the US and abroad, including at the Joyce Theater, New York City Center, Guggenheim Museum (NYC and Bilbao), Jacob's Pillow Dance Festival, and Lincoln Center Out of Doors. Teicher is the recipient of a 2019 New York City Center Choreographic Fellowship, two "Bessie" Awards, a 2019 Hark­ness Promise Award, the 2020 Gross Family Prize, and a 2019 NEFA National Dance Project Production Grant. Their work has been featured by the New York Times, NPR, Forbes, Vogue, Interview Magazine, on the cover of Dance Magazine, and, most recently, on The Late Show with Stephen Colbert alongside Regina Spektor. Teicher continues to engage with dance communities as a teacher for international tap, swing, and jazz dance festivals.
www.CalebTeicher.net
Instagram: @CalebTeicher
Caleb Teicher & Com­pany (CT&Co), founded in 2015, seeks to expand the capacity of musically driven dance through innovative choreography, performance, and contextualization. The company's work represents a unique style of theatricality, humor, emotional expression, and aesthetic exploration. Whether when tap dancing with a live beatboxer or to Bach's Goldberg Variations, swing dancing to Ella Fitzgerald's famous recordings, or performing to a new contemporary score by pianist Conrad Tao, audiences have warmed to CT&Co's daring, interdisciplinary work. Past engagements include appearances at the Joyce Theater, the Guggenheim Museum (NYC and Bilbao), Jacob's Pillow Dance Festival, Fall For Dance at New York City Center, White Bird, the Celebrity Series Boston, UNCW, University Musical Society, ADF at DanceCleveland, Gibney Dance, Queens Col­lege, The Yard on Martha's Vineyard, LaMaMa Experimental Theater Club, and the American Tap Dance Foundation, among others.