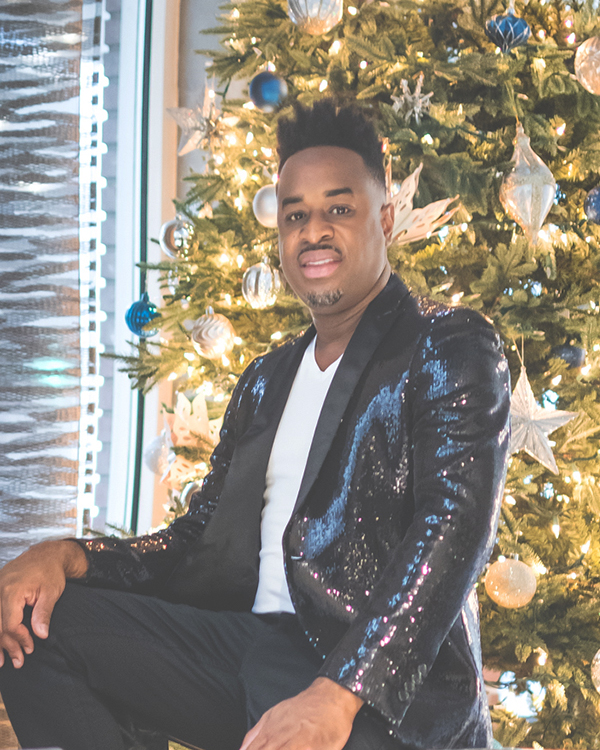 Damien Sneed
MD, vocals, piano
Damien Sneed is a pianist, organist, conductor, composer, producer, arranger, and arts educator whose work spans multiple genres. He has worked with jazz, classical, pop, and R&B legends including the late Aretha Franklin, Wynton Marsalis, Jessye Nor­man, Stevie Wonder, Diana Ross, Ashford & Simpson, Lawrence Brownlee, and many others. The multi-genre recording artist is a recipient of the prestigious Sphinx Medal of Excellence, which is presented annually to emerging Black and Latino leaders in classical music.
In recent years, Sneed embarked on a 36-city North American tour of his program We Shall Over­come: A Celebration of Dr. Martin Luther King, Jr. featuring Damien Sneed. The tour marked the 35th anniversary of Martin Luther King, Jr. Day, which was signed into law and confirmed as a federal holiday in 1983.
Joining Sneed this evening is an ensemble of accomplished performers comprised of vocalists Chenee Campbell, Markita Knight, Alicia Peters-Jordan, and, Linny Smith, and instrumentalists Alfred Rutherford (Hammond B3 organ and keys), Gabriel Michael Carter (aux keys), Ronald "CJay" Alexander (bass guitar), and Joel Tate (drums).
A graduate of the John S. Davidson Fine Arts School, Sneed has studied at some of the finest conservatories and universities, including Howard University (bachelor's degree in music, piano performance), the Peabody Conservatory of the Johns Hopkins University; New York University (master's degree in music technology: scoring for film and multimedia); and the Manhattan School of Music. Sneed has also received a doctorate in orchestral conducting from USC.
During the 2018/19 season, Sneed served as music director, composer in residence, and cover conductor for the staff of the Houston Grand Opera. He was also commissioned to compose a new chamber opera titled Marian's Song about the life of Marian Anderson for Houston Grand Opera, which had its world premiere on March 5, 2020, at the Cullen Theater at the Wortham Center. The Library of Congress commissioned Sneed to compose a brief solo piano work, Sequestered Thoughts, for its Boccaccio Project in response to the COVID- 19 pandemic, which premiered online on June 15, 2020.
For more information on Damien Sneed, please visit www.damiensneed.com.