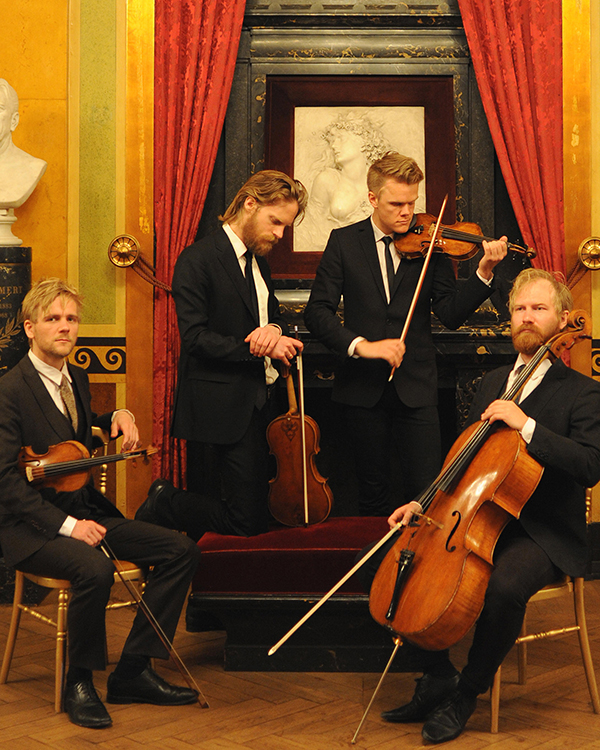 Danish String Quartet
Among today's many exceptional chamber music groups, the Grammy Award-nominated Danish String Quartet continuously asserts its preeminence. The quartet's playing reflects impeccable musicianship, sophisticated artistry, exquisite clarity of ensemble, and, above all, an expressivity inextricably bound to the music. The recipient of many awards and prestigious appointments—including Musical America's 2020 Ensemble of the Year and the Borletti-Buitoni Trust—the Danish String Quartet was named in 2013 as BBC Radio 3 New Generation Artists and appointed to the Bowers Program (formerly CMS Two).
In 2021–22, the Danish String Quartet introduces Doppelgänger, an ambitious four-year international commissioning project that pairs world premieres from four re­nowned composers—Bent Søren­sen, Lotta Wennäkoski, Anna Thorvaldsdottir, and Thomas Adès—with four major works from the masterful chamber music repertoire of Schu­bert. The first commission, composed by Bent Sørensen and inspired by Schubert's Quartet in G Major (D. 887), received its premiere in Amsterdam last fall and was heard in a Cal Performances concert on October 10, 2021.
In addition to performances that are part of the Doppel­gänger Project, the Danish String Quartet gives over 20 performances throughout North Amer­ica during the 2021–22 season. Highlights include debuts at the University of Georgia, Virginia Tech's Moss Arts Center, Shriver Hall, and Virginia Arts Festival; return trips to Bos­ton's Celebrity Series, Philadelphia Chamber Music Society, Ensemble Music Soci­ety of Indianapolis, Chamber Music Cincinnati, and University of Washington's Meany Hall; and a tour of Florida. European highlights include tours of Denmark, France, Germany, and Amsterdam.
Violinists Frederik Øland and Rune Tons­gaard Sørensen and violist Asbjørn Nørgaard met as children at a music summer camp, where they played soccer and made music together. In 2008, the three Danes were joined by Norwegian cellist Fredrik Schøyen Sjölin. Their latest album, Prism III (ECM)—featuring Beethoven's String Quartet No. 13, Op. 131; Bartók's String Quartet No. 1; and Bach's Fugue in C-sharp minor, BWV 849 from The Well-Tempered Clavier—was released in March 2021.
For more information, visit www.danish­quartet.com.
Exclusive Representation
Kirshbaum Associates, Inc.
307 Seventh Avenue, Suite 506
New York, NY 10001
www.kirshbaumassociates.com