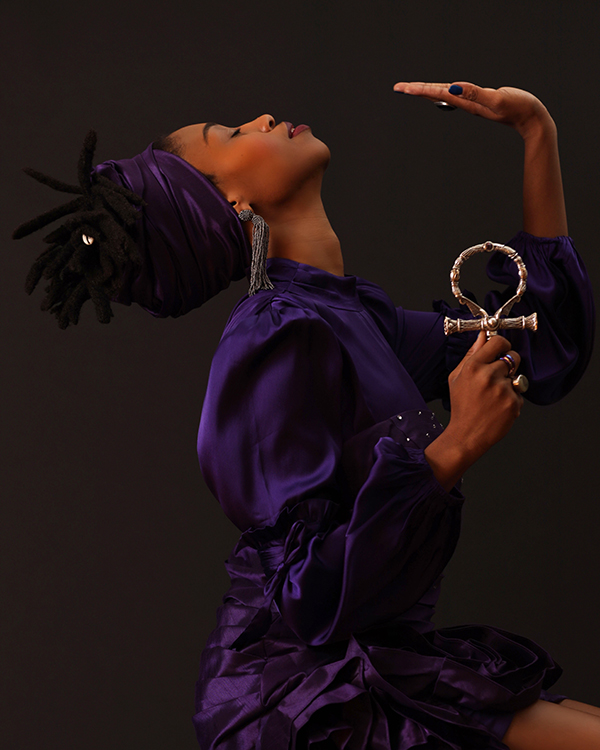 Award-winning vocalist Jazzmeia Horn confirmed her ever-expanding talents earlier this fall with the release of Dear Love, an album that sparkles with the combination of her assured delivery and spoken word segments, deft arrangements, and fiery musical ideas.
While the album provides a platform from which Horn can showcase both her perception of the world and her endlessly unfolding talents, it has also granted the composer a setting in which to expound on her own personal experiences, channeling them through a unique musical prism.
The album comes on the heels of two widely praised recordings, A Social Call and Love and Liberation, which each garnered Grammy nominations in the Best Jazz Vocal Album category. Assessing a live performance around the time her debut was released, the New York Times noted that "[Horn is] possessed of some distinctive tools, all of which were on display: a pinched, sassy tone in the highest register; a fondness for unguarded duets with her bassist… an array of rough, pealing nonverbal sounds that add drama to codas and interludes, hinting at meanings in the music that go beyond what fits on the page."
The reaction to Horn's work shouldn't be a surprise, though. By the time her first album was released, she'd already collected top honors at the 2013 Sarah Vaughan International Jazz Vocal Competition and the 2015 Thelonious Monk Institute International Jazz Competition.
Horn's talents first emerged in Dallas, Texas, and blossomed at an arts-focused high school. Through both unfettered determination and inherent skill, the young singer followed a singular path, raising funds through performance for her eventual matriculation to the New School. Once settled in New York City, Horn held down a waitstaff position during the first two years of her education, precariously balancing artistic pursuits, the demands of academia, and a thankless job.
The following years, residing in New York and touring the world revealed a restless aesthetic development that has defined Horn's still-burgeoning career. And while Dear Love might seem to be the work of an avowed veteran, the bandleader still has more of herself, her music and her ideas to explore.
"I tried to figure out how the songs can be in alignment with what's true to me and what's true in my reality as a Black woman, but then also be relatable to anyone who's not part of my culture," Horn said. "I went through my list of charts and said, 'OK, which of these songs really speaks to love in multiple ways—love for my community, love for my culture, love for my partner, love for my children, love for myself. Which one of these songs is going to speak on all of those different things?' These songs are love letters to everyone."