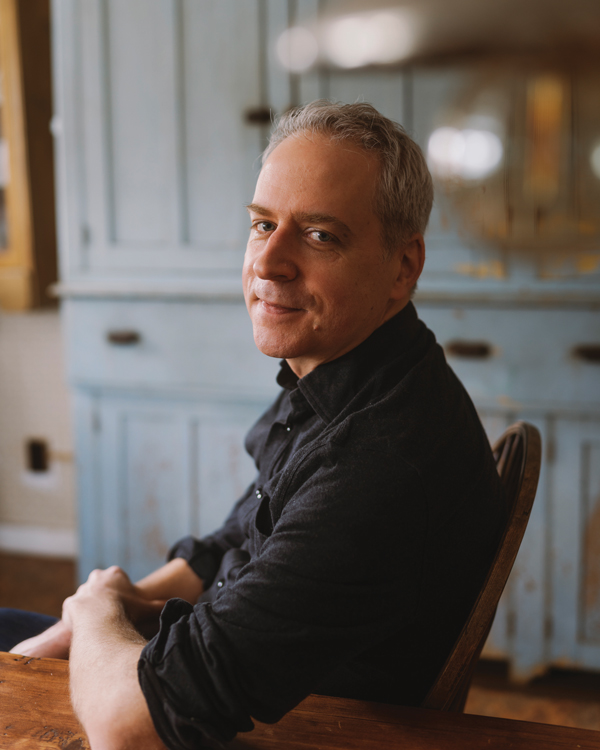 Jeremy Denk is one of America's foremost pianists, proclaimed by the New York Times as "a pianist you want to hear no matter what he performs." Denk is also a New York Times bestselling author, winner of both the MacArthur "Genius" Fellowship and the Avery Fisher Prize, and a member of the American Academy of Arts and Sciences.
During the 2022–23 season, Denk will continue his multi-season exploration of Book 1 of Bach's Well Tempered Clavier, and perform with orchestras and in recitals across UK, Europe, and the United States, including a return to Carnegie Hall play-directing Bach concertos with the Orchestra St. Luke's, and a multi-concert residency at the Lammermuir Festival in Scotland. An avid chamber musician, Denk will also embark on a US tour with the renowned Takács Quartet.
Denk's New York Times bestselling memoir, Every Good Boy Does Fine, was published to universal acclaim by Random House in 2022, with feature stories on CBS Sunday Morning and NPR's Fresh Air, and in the New York Times Review of Books, and more, with the Guardian heralding it as "an elegant, frank and well-structured memoir that entirely resists cliche. A rare feat… it makes the reader care about Denk beyond his talent for playing the piano."
Denk's latest album of Mozart piano concertos was released in 2021 on Nonesuch Records. The album, deemed "urgent and essential" by BBC Radio 3, was featured as Album of the Week on Classic FM, and Record of the Week on BBC Radio's Record Review.
Denk has performed multiple times at Carnegie Hall and in recent years has worked with such orchestras as the Chicago Symphony, Philadelphia Orchestra, New York Philharmonic, Los Angeles Philharmonic, San Francisco Symphony, and Cleveland Orchestra. Further afield, he has performed multiple times at the BBC Proms and the Klavierfestival Ruhr, and appeared in such halls as the Köln Philharmonie, Concertgebouw in Amsterdam, and Boulez Saal in Berlin. He has also performed extensively across the UK, including recently with the London Philharmonic, Bournemouth Symphony, City of Birmingham Symphony, Royal Liverpool Philharmonic, BBC Symphony, and Scottish Chamber Orchestra, as well as play-directing the Britten Sinfonia. Last season's highlights include his performance of the Well-Tempered Klavier Book 1 at the Barbican in London, and performances of John Adams' Must the Devil Have All The Great Tunes? with the Cleveland Orchestra, St. Louis Symphony, and Seattle Symphony, as well as a return to the San Francisco Symphony to perform Messiaen under Esa Pekka Salonen.
Denk is also known for his original and insightful writing on music, which Alex Ross has praised for its "arresting sensitivity and wit." Denk wrote the libretto for a comic opera presented by Cal Performances, Carnegie Hall, and the Aspen Festival, and his writing has appeared in the New Yorker, New Republic, Guardian, and on the front page of the New York Times Book Review. Denk's book Every Good Boy Does Fine was published in 2022 by Random House in the US and Pan Macmillan in the UK.
Denk's recording of the Goldberg Variations for Nonesuch Records reached No. 1 on the Billboard classical chart. His recording of Beethoven's Piano Sonata No. 32 in C minor, Op. 111 paired with Ligeti's Études was named one of the best discs of the year by the New Yorker, NPR, and the Washington Post, and his account of the Beethoven sonata was selected by BBC Radio 3's Building a Library as the best available version recorded on modern piano. Denk has a long-standing attachment to the music of American visionary Charles Ives, and his recording of Ives' two piano sonatas also featured in many "best of the year" lists. Denk's recording c.1300-c.2000 was released in 2018 with music ranging from Guillaume de Machaut, Gilles Binchois, and Carlo Gesualdo, to Stockhausen, Ligeti, and Glass. His latest album of Mozart piano concertos, performed with the Saint Paul Chamber Orchestra, was released in 2021 on Nonesuch Records.
Jeremy Denk is a graduate of Oberlin College, Indiana University, and the Juilliard School. He lives in New York City.