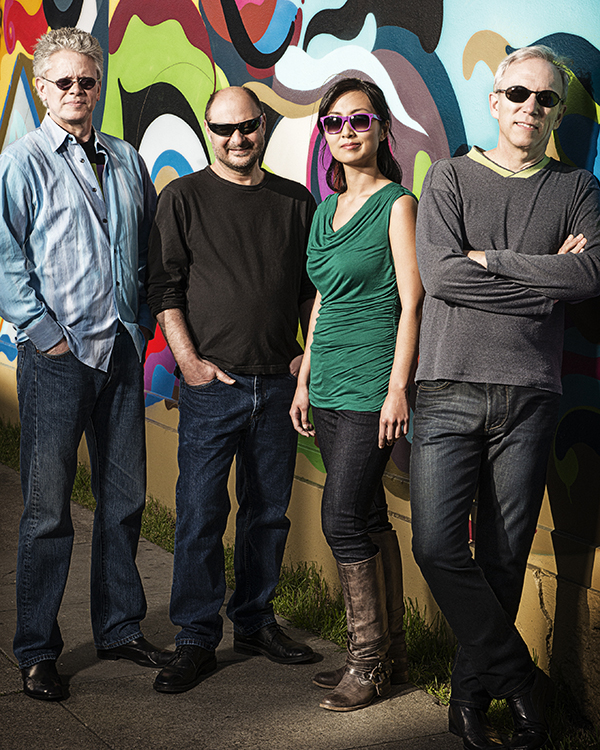 Kronos Quartet
For more than 45 years, San Francisco's Kronos Quartet—David Harrington (violin), John Sherba (violin), Hank Dutt (viola), and Sunny Yang (cello)—has combined a spirit of fearless exploration with a commitment to continually reimagine the string quartet experience. In the process, Kronos has become one of the world's most celebrated and influential ensembles, performing thousands of concerts worldwide, releasing more than 60 recordings, collaborating with many of the world's most accomplished composers and performers, and commissioning more than 1,000 works and arrangements for string quartet. Kronos has received over 40 awards, including the Polar Music, Avery Fisher, and Edison Klassik Oeuvre Prizes, some of the most prestigious awards given to musicians.
Since 1973, Kronos has built an eclectic repertoire for string quartet, performing and recording works by 20th-century masters (Sofia Gubaidulina, Alfred Schnittke), contemporary composers (Sahba Aminikia, Nicole Lizée, Vladimir Martynov, Aleksandra Vrebalov), jazz legends (Thelonious Monk, Maria Schneider), rock artists (Jimi Hendrix, Pete Townshend), and many others.
Integral to Kronos' work is a series of long-running, in-depth associations with many of the world's foremost composers and musicians. Terry Riley's work with Kronos includes Salome Dances for Peace (1985–86) and Sun Rings (2002). Kronos has also collaborated extensively with Philip Glass, premiering many of his quartets and recording an all-Glass CD (1995); with Serbian composer Aleksandra Vrebalov, who has written more than 25 pieces for Kronos; with Azerbaijan's Franghiz Ali-Zadeh, featured on the album Mugam Sayagi (2005); and with Steve Reich, whose string quartets, Different Trains (1989), and Triple Quartet were written for and recorded by Kronos.
Kronos has shared the stage with performers from around the world such as Chinese pipa player Wu Man, Azeri vocalist Alim Qasimov, Bollywood "playback singer" Asha Bhosle, tabla virtuoso Zakir Hussain, Inuit throat singer Tanya Tagaq, and visual artist Trevor Paglen. Kronos has also performed and/or recorded with the likes of Paul McCartney, David Bowie, Patti Smith, Allen Ginsberg, Angélique Kidjo, Tom Waits, k.d. lang, Betty Carter, Van Dyke Parks, and Caetano Veloso. In dance, famed choreographers Merce Cunningham, Paul Tay­lor, Alonzo King, Twyla Tharp, and Eiko & Koma have created pieces with Kronos' music.
Kronos has been featured prominently in film soundtracks, including the Academy Award–nominated documentaries How to Survive a Plague (2012) and Dirty Wars (2013). The ensemble has also recorded scores by Clint Mansell (The Fountain and Requiem for a Dream), Philip Glass (Dracula), Terry Riley (Hochelaga terre des âmes), and Jacob Garchik (The Green Fog). A Thousand Thoughts: A Live Documentary with the Kronos Quartet, written and directed by Sam Green and Joe Bini, debuted at Sundance Film Festival in 2018.i
The quartet tours extensively each year, appearing in the world's most prestigious concert halls, clubs, and festivals. Kronos' discography on Nonesuch Records is prolific and wide-ranging, including three Grammy-winning albums—Terry Riley's Sun Rings (2019), Landfall with Laurie Anderson (2018), and Alban Berg's Lyric Suite featuring Dawn Upshaw (2003). Among Kronos' recent releases are Ladilikan (World Circuit) with Trio Da Kali, an ensemble of griot musicians from Mali; Clouded Yellow (Cantaloupe Music), a collection of Michael Gordon's works for Kronos; Placeless (Kirkelig Kulturverksted) with Iranian vocalists Mahsa and Marjan Vahdat; and Long Time Passing: Kronos & Friends Celebrate Pete Seeger (Smith­sonian Folkways).
The nonprofit Kronos Performing Arts Association manages all aspects of Kronos' work, including the commissioning of new works, concert tours and home season performances, education programs, and the annual Kronos Festival. In 2015, Kronos launched Fifty for the Future: The Kronos Learning Repertoire, an education and legacy project that is commissioning—and distributing online for free—50 new works for string quartet written by composers from around the world.
About Kronos' Fifty for the Future
In 2015, the Kronos Performing Arts Associa­tion launched Fifty for the Future: The Kronos Learning Repertoire, an education and legacy project that is commissioning—and distributing for free—the first learning library of contemporary repertoire for string quartet. Designed expressly for the training of students and emerging professionals, 50 new works have been commissioned, and scores and parts, as well as supplemental learning materials that include recordings, videos, performance notes, and composer interviews, are available online at kronosquartet.org. Lead partner Carnegie Hall and an adventurous group of project partners—including presenters, academic institutions, foundations, and individuals—have joined forces with KPAA to support this exciting program.
Peni Candra Rini's Maduswara, Terry Riley's This Assortment of Atoms – One Time Only!, Missy Mazzoli's Enthusiasm Strategies, and Angélique Kidjo's YanYanKliYan Senamido—all featured on this evening's program—were commissioned as part of the Kronos Performing Arts Association's Fifty for the Future: The Kronos Learning Repertoire, which is made possible by a group of adventurous partners, including Cal Performances, Carnegie Hall, and many others.
For the Kronos Quartet/
Kronos Performing Arts Association
Janet Cowperthwaite, executive director
Mason Dille, development manager
Dana Dizon, business manager
Sarah Donahue, operations manager
Scott Fraser, senior sound designer
Reshena Liao, creative projects manager
Nikolás McConnie-Saad, artistic administrator
Brian Mohr, sound designer and technical manager
Kären Nagy, strategic initiatives director
Brian H. Scott, lighting designer
Contact
Kronos Quartet/
Kronos Performing Arts Association
P. O. Box 225340
San Francisco, CA 94122-5340
USA
kronosquartet.org
facebook.com/kronosquartet
instagram.com/kronos_quartet
twitter.com/kronosquartet
The Kronos Quartet records
for Nonesuch Records.