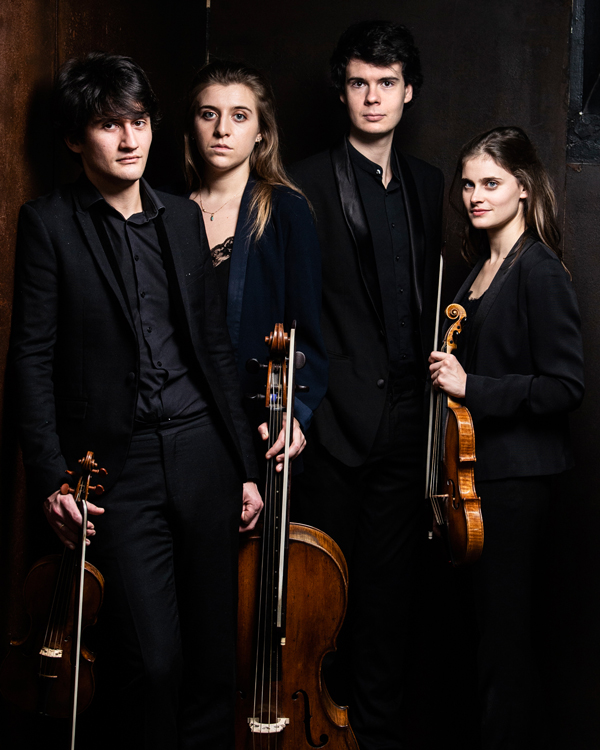 Le Consort
Le Consort, the acclaimed Baroque chamber ensemble co-directed by harpsichordist Justin Taylor and violinist Théotime Langlois de Swarte, comprises four young musicians who interpret the trio sonata repertoire with enthusiasm, sincerity, and modernity. The group's mission is to bring together compelling musical personalities in the service of chamber music from the repertoire of the 17th and 18th centuries. From Corelli to Vivaldi, from Purcell to Couperin, the dialogue between the two violins and the basso continuo displays a wealth of contrasts between vocality, sensuality, and virtuosity. Le Consort takes this genre, the quintessence of Baroque chamber music, and interprets it with a personal, dynamic, and colorful language.
With a core that has remained constant since its founding in 2016, Le Consort performances approach a level of musical integration typically found in long-established string quartets. In 2017, the ensemble claimed First Prize and the Audience Prize at the Loire Valley International Early Music Competition, chaired by William Christie. The group's recordings, including Opus 1 (featuring the unpublished sonatas of Jean-François Dandrieu), and Specchio Veneziano (trio sonatas of Vivaldi alongside music of his less familiar contemporary, Giovanni Reali), have earned numerous awards and wide critical acclaim.
Le Consort's current North American debut tour features concerts in cities across the continent, including Montreal, Boston, Chicago, New Orleans, Kansas City, La Jolla, and Vancouver. The ensemble has performed extensively throughout Europe, including at Radio France Auditorium and Louvre Auditorium (Paris); the Dijon Opera; the Deauville Easter Festival; the Arsenal in Metz; the MA Festival Brugge and in Antwerp de Singel (Belgium); the Pau Casals Foundation (Spain); and at the Misteria Paschalia Festival in Krakow (Poland). The musicians have also been featured on numerous broadcasts on France 3, France Musique, France Inter, and Radio Classique.
Le Consort is in residence at the Banque de France, the Singer-Polignac Foundation, and the Abbaye de Royaumont.