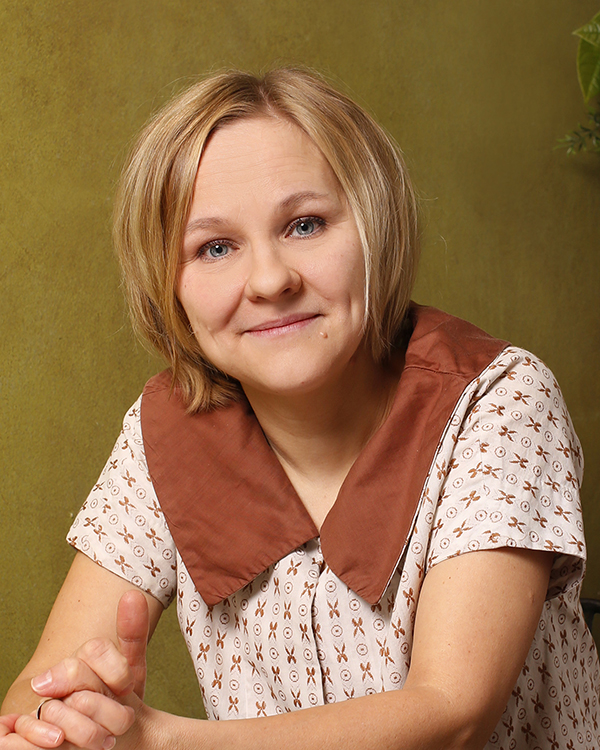 Lotta Wennäkoski
Lotta Wennäkoski spent a year at a conservatory in Budapest before transferring to the Sibelius Academy to study theory and composition with Eero Hämeenniemi, Paavo Heini­nen, and Kaija Saariaho. She then completed her studies in Amsterdam with Louis Andries­sen. Artistic co-ordinator of the Tampere Biennale from 2008 to 2010, she was composer-in-residence of the Tapiola Sinfonietta for the 2010–11 season. Works by her have been released on the Alba and Ondine record labels.
Wennäkoski began composing with scores for radio plays and short films. The first work designed for a concert hall was Läike (1994) for clarinet, violin, and piano, first performed at a concert of innovative contemporary repertoire. Another major landmark was a concert of her works at the Musica nova Helsinki festival in 1999, since when she has established her reputation as a distinctive lyricist on the Finnish contemporary music scene. Her many commissions have included Sakara for orchestra (HPO/Esa-Pekka Salonen, 2003), the string quartet Culla d'aria (Kuhmo Chamber Music, 2004), Hava (Tapiola Sinfonietta, 2008), and the flute concerto Soie (2009) commissioned by the Finnish Radio Symphony Orchestra and chosen as one of the recommended works at the Unesco International Rostrum of Composers in 2012. The Scottish Chamber Orchestra commissioned an orchestral work (Verdigris) from Wennäkoski and premiered it in 2015.
Lotta Wennäkoski's works are often marked by transparent timbres and dreamy glissandos. She herself likens the composition process to baking bread: there is an idea—a recipe—according to which the ingredients are added and the "dough" is kneaded. Her works are designed to make a statement and she considers it important for her music to engage in dialogue with society. Vocal music therefore ranks high among her priorities, for she can then combine it with another of her passions: poetry. The song cycle Naisen rakkautta ja elämää ("The Love and Life of a Woman," 2003) weaves together a modern idiom, the Romantic lied tradition and diverse texts portraying female life. Human trafficking is the topic of her half-hour monodrama Lelele, which has been heard since its premiere at three festivals outside Finland. Other works by Wennäkoski include music for the Finnish silent movie Amor omnia, premiered in 2012 by the Finnish Radio Symphony Orchestra, and Jong (2013), in which the soloist with a chamber orchestra is a juggler. The Kymi Sinfonietta and the Tapiola Sinfonietta co-commissioned a guitar concerto, Susurrus, from Wennäkoski, and it was premiered by guitarist Petri Kumela in 2017.
Among her several commissions is Flounce, commissioned by the BBC for a premiere at the Last Night of the Proms in September 2017 by the BBC Symphony Orchestra and Sakari Oramo—a short piece that has become extremely popular since. Uniin asti was commissioned by the Polytech Choir and the Finnish RSO and premiered in December 2017 in Helsinki and Foliage was commissioned for the Turku International Cello Competition in 2018 (available both as a version for cello and piano and cello and orchestra). Hele for 12 players was commissioned by the Los Angeles Philharmonic Association and Gustavo Dudamel and premiered in November 2018, conducted by Susanna Mälkki. Among the most recent commissions is Om fotspår och ljus (Of Footprints and Light), commissioned by the Helsinki Philharmonic Orchestra as the first part of a set of Helsinki Variations commissioned from six composers (world premiere in September 2019). Wennäkoski is a spotlight composer of the Finnish RSO during the 2021–22 season, with the upcoming world premiere of a new commission, Wennäkoski's Harp Concerto, on May 18, 2022.
The Savonlinna Opera Festival has commissioned an opera, Regine, from Wennäkoski. The opera's libretto is written by Laura Voipio, and it tells the story of philosopher Søren Kierkegaard's fiancé, Regine Olsen.