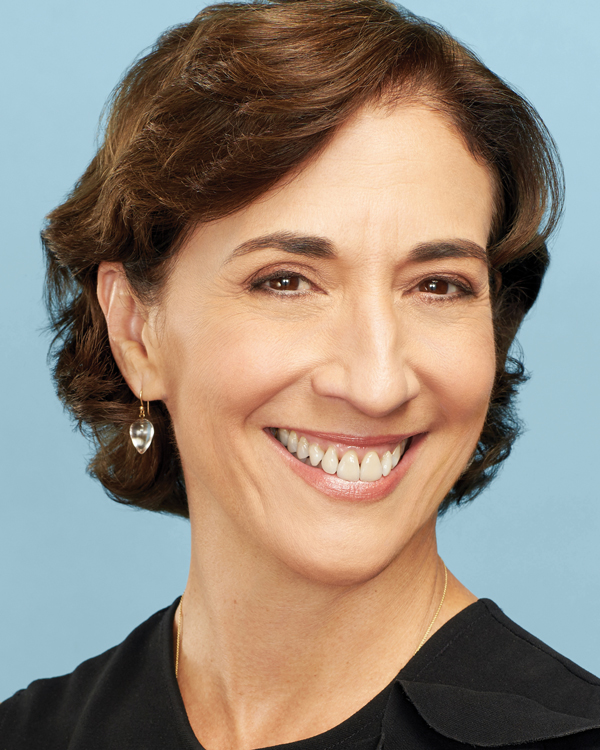 Lourdes Lopez
artistic director
Lourdes Lopez (artistic director) has become one of the bal­let world's most prominent and accomplished contributors. Dance Maga­zine named her a 2018 recipient of its prestigious Dance Magazine Award, choosing Lopez for her "…admirable stewardship of Miami City Ballet, building upon the company's Balanchine legacy while also embracing the local culture and community of Miami," and as "…an exemplary leader, someone whom dancers look up to and are inspired by." In 2017, the magazine also named her one of "The Most Influential People in Dance Today."
She became Artistic Director of Miami City Ballet in 2012, bringing with her a nearly 40-year career in dance, television, teaching, and arts management. As a Soloist and Principal Dancer with New York City Ballet, Lopez danced for two legends of the art form, George Balanchine and Jerome Robbins. Under Lopez's direction, Miami City Ballet has become one of the country's premier ballet companies. According to the New York Times, "This troupe [is] at the forefront of all those dancing choreography by George Balanchine today…. Bold, light, immediate, intensely musical, the dancing of Miami City Ballet flies straight to the heart."
Born in Havana, Cuba in 1958 and raised in Miami, Lopez began taking ballet lessons at the age of five, on the recommendation of a doctor. At the age of 11, she received a full scholarship to the School of American Ballet (SAB), the official school of New York City Ballet, splitting the year between Miami and New York City. At 14, she moved to New York permanently to devote herself to full-time studies at SAB; shortly after her sixteenth birthday, she joined the corps de ballet of New York City Ballet.
Under the direction of George Balanchine and Jerome Robbins, her star rose quickly at New York City Ballet. In 1984, she was promoted to Soloist, performing countless featured roles including Balanchine's Violin Concerto, Liebeslieder Walzer, Firebird, Serenade, Symphony in C, Agon, The Four Temperaments; and Robbins' Dances at a Gathering, Glass Pieces, Fancy Free, In the Night, Four Seasons, and Brandenburg.
Upon retirement, Lopez joined WNBC-TV in New York as a cultural arts reporter, writing and producing feature segments on the arts, artists, and arts education. She was also a full-time senior faculty member and Director of Student Placement, Student Evaluation, and Curriculum Planning at New York's Ballet Academy East. Lopez served on the dance faculty of Barnard College and guest taught at numerous dance institutions and festivals in the United States.
In 2002, Lopez became Executive Director of The George Balanchine Foundation, which works to educate the public about dance and to further the art of ballet, with a special emphasis on the work and achievements of George Balanchine. In this position, she oversaw the 2004 Balanchine Centennial Celebration, a worldwide festival honoring the choreographer and his legacy. Lopez co-founded the Cuban Artists Fund, which supports Cuban and Cuban-American artists in their endeavors.
In 2014, Lopez was elected to serve on the Ford Foundation's Board of Trustees; she is presently starting her second term, marking the first time an artist has been elected to serve in this capacity. In 2011, she received the prestigious Jerome Robbins Award for her years in dance. She has also served as a dance panelist for the National Endowment for the Arts.
In 2017, Lopez received an award from the American Immigration Law Foundation honoring Cuban Americans for their accomplishments and contributions to American society. She also co-founded Mor­phoses with Christopher Wheeldon in 2007—a New York-based dance company aiming to revitalize dance through innovative collaborations with important artists from the worlds of music, visual arts, design, film, and fashion; and by inviting younger and broader audiences to engage in and actively experience dance.
In 2019 she was honored with Ballet Hispánico's "Toda Una Vida" Lifetime Achievement Award and in 2021, she received the prestigious "Una Vida para la Danza" (A Life for Dance) from the International Ballet Festival of Miami.
Lopez is married and is the mother of two daughters, Adriel and Calliste.