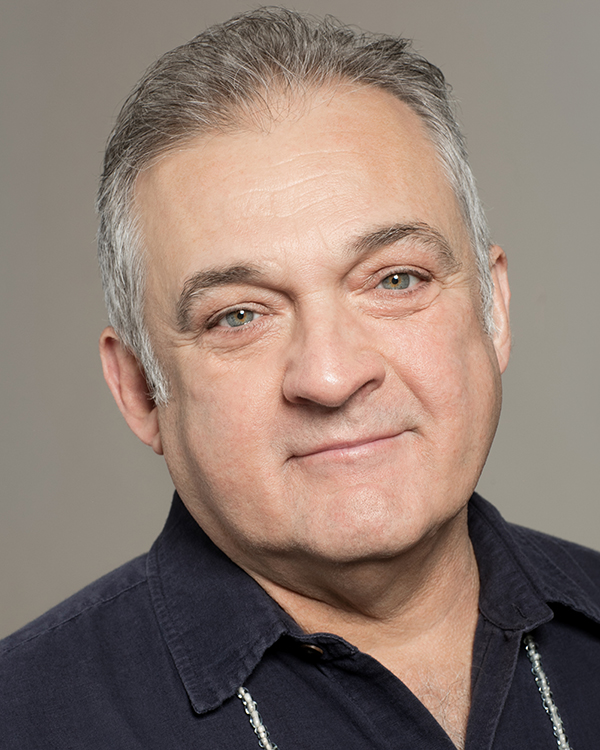 Mark Morris
Artistic Director
MARK MORRIS was born on August 29, 1956, in Seattle, Wash­ington, where he studied with Verla Flowers and Perry Brunson. In the early years of his career, he performed with the companies of Lar Lubo­vitch, Hannah Kahn, Laura Dean, Eliot Feld, and the Koleda Balkan Dance Ensemble. He formed the Mark Morris Dance Group (MMDG) in 1980 and has since created over 150 works for the company. From 1988 to 1991, he was Director of Dance at Brussels' Théâtre Royal de la Monnaie, the national opera house of Belgium. In 1990, he founded the White Oak Dance Project with Mikhail Baryshnikov. Much in demand as a ballet choreographer, Morris has created 22 ballets since 1986 and his work has been performed by companies worldwide, including San Francisco Ballet, American Ballet Theatre, Ballet du Grand Théâtre de Genève, and the Royal New Zealand Ballet. Noted for his musicality, Morris has been described as "undeviating in his devotion to music" (The New Yorker). He began conducting performances for MMDG in 2006 and has since conducted at Tanglewood Music Center, Lincoln Center, and BAM (Brooklyn Academy of Music). He served as Music Director for the 2013 Ojai Music Festival. He also works extensively in opera, directing and choreographing productions for the Metropolitan Opera, New York City Opera, English National Opera, and The Royal Opera, Covent Garden, among others. He was named a Fellow of the MacArthur Foundation in 1991 and has received 11 honorary doctorates to date. Morris has taught at the University of Washington, Princeton Uni­versity, and Tanglewood Music Center. He is a member of the American Academy of Arts and Sciences and the American Philosophical Society, and has served as an Advisory Board Member for the Rolex Mentor and Protégé Arts Initiative. Morris has received the Samuel H. Scripps/American Dance Festival Award for Lifetime Achievement, the Leonard Bernstein Lifetime Achievement Award for the Elevation of Music in Society, the Benjamin Franklin Laureate Prize for Creativity, the International Society for the Performing Arts' Distinguished Artist Award, the Cal Performances Award of Distinction in the Performing Arts, the Orchestra of St. Luke's Gift of Music Award, and the 2016 Doris Duke Artist Award. In 2015, Morris was inducted into the Mr. and Mrs. Cornelius Vanderbilt Whitney Hall of Fame at the National Museum of Dance in Saratoga Springs, New York. Morris opened the Mark Morris Dance Center in Brooklyn, New York, in 2001 to provide a home for his company, subsidized rental space for local artists, community education programs for children and seniors, and a school offering dance classes to students of all ages and levels of experience with and without disabilities. Morris' memoir, Out Loud, co-written with Wesley Stace, was published in paperback by Penguin Press in Octo­ber 2021.
The MARK MORRIS DANCE GROUP was formed in 1980 and gave its first performance that year in New York City. The company's touring schedule steadily expanded to include cities in the United States and around the world, and in 1986, the Dance Group made its first national television program for the PBS series Dance in America. In 1988, MMDG was invited to become the national dance company of Belgium and spent three years in residence at the Théâtre Royal de la Monnaie in Brussels. The Dance Group returned to the United States in 1991 as one of the world's leading dance companies. Based in Brooklyn, New York, MMDG maintains strong ties to presenters in several cities around the world, most notably to its West Coast home, Cal Performances in Berkeley, California, and its Midwest home, the Krannert Center for the Performing Arts at the University of Illinois at Urbana-Champaign. MMDG also appears regularly in New York, Boston, Seattle, and Fairfax. In New York, the company has performed at New York City Center's Fall for Dance Festival, regularly performs at Lincoln Center for the Performing Arts' Mostly Mozart and White Light Festivals, and collaborates yearly with BAM on performances and master classes. From the company's many London seasons, it has received two Laurence Olivier Awards and a Critics' Circle Dance Award for Best Foreign Dance Company. Reflecting Morris' commitment to live music, the Dance Group has featured live musicians in every performance since the formation of the MMDG Music Ensemble in 1996. MMDG regularly collaborates with renowned musicians, including cellist Yo-Yo Ma, pianist Emanuel Ax, mezzo-soprano Stephanie Blythe, and jazz trio The Bad Plus, as well as leading orchestras and opera companies including the Metropolitan Opera, English National Opera, and the London Sym­phony Orchestra. MMDG frequently works with distinguished artists and designers, including painters Robert Bordo and the late Howard Hodgkin, set designers Adrianne Lobel and Allen Moyer, costume designers Martin Pakledinaz and Isaac Mizrahi, and many others. MMDG's film and television projects include Dido and Aeneas, The Hard Nut, Falling Down Stairs, two documentaries for the UK's South Bank Show, and PBS' Live from Lincoln Center. In 2015, Morris' signature work L'Allegro, il Penseroso ed il Moderato had its national television premiere on PBS' Great Performances. While on tour the Dance Group partners with local cultural institutions and community organizations to present arts and humanities-based activities for people of all ages and abilities.
The MMDG Music Ensemble, formed in 1996, is integral to the Dance Group. "With the dancers come the musicians… and what a difference it makes" (Classical Voice of North Carolina). The Ensemble's repertory ranges from 17th- and 18th-century works by John Wilson and Henry Purcell to more recent scores by Ethan Iverson, Lou Harrison, and Henry Cowell. The musicians also participate in the Dance Group's educational and community programming at home and on tour. The Music Ensemble is led by Colin Fowler, who began to collaborate with MMDG in 2005 during the creation of Mozart Dances.