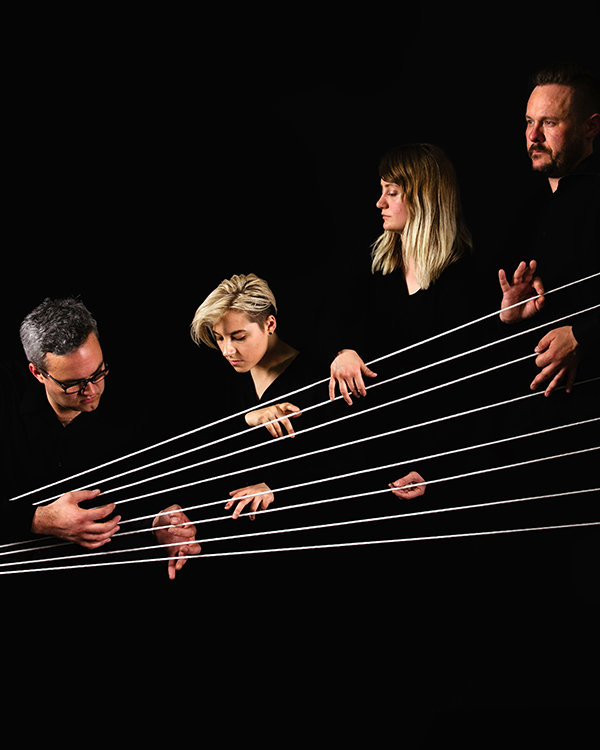 Spektral Quartet
The three-time Grammy-nominated Spek­tral Quartet creates vivid conversations between exhilarating works of the past and the extraordinary works of today. With the New York Times writing that, "they have everything: a supreme technical command that seems to come easily, a capacity to make complicated music clear, and, most notably, an ability to cast a magic spell," Spektral is regarded as one of the most forward-thinking ensembles working today.
Actively touring some of the most notable concert venues—including the Kennedy Center, American Academy in Rome, Miller Theater, Library of Congress, and NPR's Tiny Desk Concerts—the quartet also takes great pride in its home city of Chicago: championing the work of local composers, bridging social and aesthetic partitions, and collaborating with artists from a dizzying variety of disciplines.
Named "Chicagoans of the Year" by the Chicago Tribune in 2017, Spektral Quartet is most highly regarded for its creative and stylistic versatility: presenting seasons in which, for instance, a thematic program circling Beethoven seamlessly coexists with an improvised sonic meditation at sunrise, a talent show featuring Spektral fans, and the co-release of a jazz album traversing the folk traditions of Puerto Rico. This season, the ensemble released its latest record, Enigma: the world premiere recording of Anna Thor­valds­dottir's first string quartet, co-commissioned by Spektral, Carnegie Hall, and Washington Performing Arts. An ambitious, multi-year project, Enigma will be subsequently released as a virtual reality experience and toured to planetarium dome theaters.
First attracting national attention in 2013 with Mobile Miniatures—a project in which over 40 composers including David Lang, Shulamit Ran, and Nico Muhly were commissioned to write string quartet ringtones for mobile devices—Spektral has enhanced its scope and scale with each passing season to include new works from luminaries including Anna Thorvaldsdottir, George Lewis, and Augusta Read Thomas, as well as launch the Once More, With Feeling! series, which answers contemporary music's most daunting hurdle by presenting an unfamiliar work twice on the same program, with a composer interview in between.
Distinguished artistic collaborators have included Claire Chase (flutist, International Contemporary Ensemble founder, Mac­Arthur fellow), Theaster Gates (artist, Rebuild Foundation founder), Julia Holter (critically acclaimed songwriter), Nathalie Joachim (composer, Flutronix co-founder), Mark DeChiazza (choreographer, with credits including Kronos Quartet, John Luther Adams, and Steven Mackey), Miguel Zenón (saxophonist, MacArthur and Guggenheim fellow), and Tarek Yamani (Lebanese-American pianist, composer, pedagogue, and band leader).
Committed to not only sustaining, but transforming the string quartet tradition, Spektral Quartet is in-demand for its presentations on inclusion, progressive programming, and entrepreneurship at leading institutions around the country including Carnegie Hall's Ensemble Connect, the New World Symphony, and the National Association of Schools of Music.
spektral­quartet.com
Management
Alliance Artist Management
5030 Broadway Suite 812
New York, NY 10034