His Road to Berkeley: Jeremy Geffen arrives to lead Cal Performances by Larry Rothe
Exactly one week after Jeremy Geffen closed the door of his Manhattan office for the last time, he stepped into his Berkeley office and his new job, heading Cal Performances. Behind him lay a continent and 12 years at Carnegie Hall, most recently as Senior Director and Artistic Adviser. Trading one coast for another, Geffen allowed himself no pause in taking over as Artistic and Executive Director of this coast's premier arts presenter. Why waste a moment when you have work to do and you love it?
At 45, Jeremy Geffen can tell a story of how that love developed—a story that moves from Los Angeles to Aspen, New York, St. Louis, back to New York, and now Berkeley. He filled in the details when I reached him at his Manhattan home via a FaceTime video call. "I hope you can't see how messy my apartment is," he began, beating me at breaking the ice. Geffen exhibits a relaxed charm that has nothing in common with being laid back, and you get the sense of a man self-possessed and sure of purpose. He speaks in complete sentences and whole paragraphs. Before you know it, you are immersed in dialogue that is more conversation than interview.
A Musical Education
Shortly before his third birthday, Jeremy Geffen arrived in the US from South Africa with his parents and twin brother. As a young man, his father had come to recognize the lie behind Apartheid, becoming increasingly convinced that his native country would not be a good place to raise a family. Then, in 1976, the Soweto uprising captured the world's attention. Jeremy's mother had never lived outside Cape Town and had been reluctant to emigrate. Television images of troops firing on unarmed civilians changed her mind.
The family settled for a time in Harrison, New York, just outside Manhattan. But in 1977, they traded East Coast winters for Southern California. They found their permanent home in Newport Beach, Orange County.
"Disastrous" is how Jeremy describes his first musical encounters. He was eight, pitted against an antagonist as formidable as a schoolyard bully: the family piano, where his parents insisted he sit and practice. They were music appreciators, not musicians, but another family member—his mother's cousin, a man named Lionel Bowman—was a piano prodigy, the first to play the five Beethoven concertos in South Africa and a fellow of London's Royal Academy of Music. This example failed to move Jeremy. "I told my parents I wanted to play violin. But we owned a piano, not a violin. Once they saw how I reacted to an instrument we actually owned, they were less inclined to trust me with one we didn't own."
He was lucky. He attended a public school that offered an instrumental music program, and in eighth grade he discovered the viola. "I loved the sound and I loved the role the viola plays in the orchestra. It's an internal voice, and you learn how to become part of the texture and work as a team. The viola came at the right time for me. As a teenager, you're dealing with a maelstrom of emotions and hormones. Having the viola as an outlet for expression and a non-verbal way of connecting with those around me was a life-saver. I found something I loved doing and that I was good at. It gave me confidence."
"Performances are among the few moments when we receive something as one."
—Jeremy Geffen
In those impressionable years, Jeremy began to understand the emotional resonances of musicianship. Through recordings he discovered string players of an earlier generation. He especially revered the violinist Joseph Szigeti. "There was a tremulousness in his playing—a fragility—that I loved. The greatest performances I've ever experienced are those in which I felt the performers were laying it all on the line, where they allowed themselves to be exposed." His musical values took shape. They would develop into standards and discernment he would one day bring to his work as an adjudicator of competitions (the Honens International Piano Competition, for example, as well as the Wigmore Hall/Kohn Foundation International Song Competition, and every level of the Metropolitan Opera National Council Auditions).
"It's very tricky to be any sort of performer," he says today. "You spend so much time honing your craft, learning how to be consistent, making sure that on your worst day you still give a great performance. But with all that preparation comes the risk that you don't actually give a performance, that you basically repeat what you've done in the practice room, and not really live it on the stage. What separates a good performer from a compelling artist is that ability to get to the heart of the matter in front of an audience of complete strangers. It's easy to succumb to risk-aversion. The artists we remember are those who believe so strongly in the message they are about to deliver that all fear falls away."
A New Life
When Geffen entered the University of Southern California, he intended to exit as a performer. Years before, his second cousin (Lionel Bowman again) had developed a hand problem that ended his piano career. Something similar happened to Jeremy when he was a sophomore. Because he had been a late-bloomer on the viola, he felt he had to play catchup and pack his days with practice. He developed a repetitive stress injury: de Quervain's
tenosynovitis—treatable, but not when misdiagnosed, as his was. His bow arm was killing him. He panicked. "You don't know what to do when you're not able to do what you've been used to doing." If he took a day off, he could play for five days. This changed. If he took a day off, he could play for four days, then three. Gradually this reversed. Soon he had to rest for four days to play for one. "It was terrifying. I wasn't able to go to my lessons, I wasn't able to rehearse."
A few months earlier, Jeremy had met Gail Samuel, then orchestra manager of the Los Angeles Philharmonic, and learned about her job. Now, hoping to continue in the music world in some capacity, he called her and asked if she needed an intern.
For more than two years, he worked at the LA Philharmonic, his first exposure to administration. "I started thinking about why people go to performances—what they want out of them, what sort of thought goes into creating programs, what the role of music is in peoples' lives. Out of what I thought was the worst possible thing that could have happened to me, something equally meaningful was born."
The pace accelerated as he moved through a series of posts, encountering different kinds of audiences and important mentors. In 1998, Geffen became the Aspen Music Festival and School's associate artistic administrator, delighting in a friendship with conductor David Robertson, who made his US debut there. ("David has this enormous facility for absorbing all sorts of music, and for relating to people.") He developed programming skills under the tutelage of Ara Guzelimian. ("One of the great guides of my musical life. He has an almost Talmudic quest for understanding the intent behind the notes.") In Robert Harth, who headed the Aspen Festival, he found an ideal to emulate. ("He would guide your hand without you ever knowing you were being guided. He did it with enormous warmth, and he led by positive example.") Guzelimian would soon leave for Carnegie Hall, for the job he would one day turn over to Geffen. Harth also headed for Carnegie, assuming leadership there just five days after 9/11.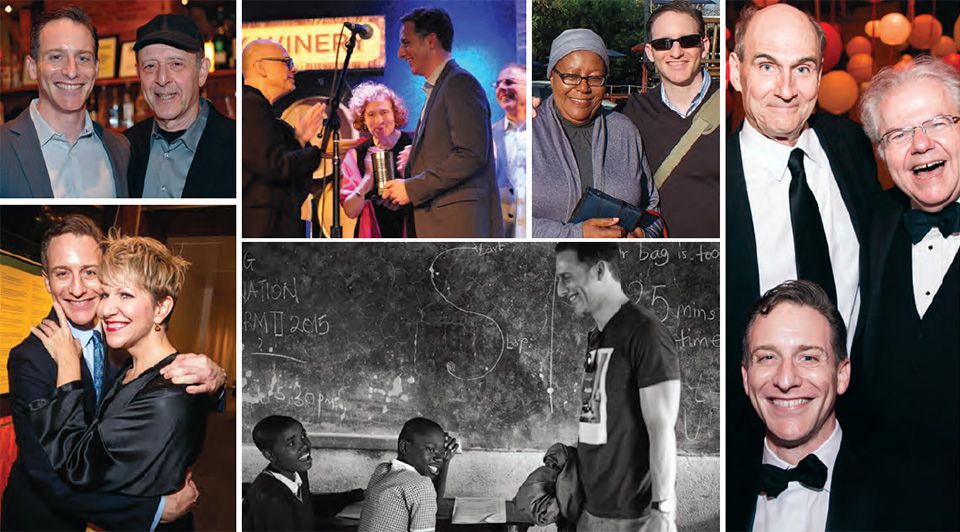 Clockwise from top, left: Jeremy Geffen with composer Steve Reich at the June 2015 benefit for Bang on a Can; receiving the Bang on a Can Visionary Award from BOAC founders David Lang, Julia Wolfe, and Michael Gordon (June 2015); in Soweto with South African singer Sibongile Khumalo during the June 2013 research tour for Carnegie Hall's UBUNTU Festival; with James Taylor and Emanuel Ax at Carnegie Hall's 125th Anniversary Gala (May 2016); visiting with students in a classroom in Buhoma, Uganda (July 2015); with mezzo-soprano Joyce DiDonato at Carnegie Hall (January 2016).
An Odyssey
In 2000, Geffen himself arrived in New York, becoming the Philharmonic's artistic administrator. At 26, he found himself in a coveted job, and when his friend Harth settled in at Carnegie, a 15-minute walk downtown from Lincoln Center, the dream felt complete. Then, on the evening of January 30, 2004, Harth suffered the catastrophic heart attack that in an instant ended his life. He was 47. In those years just after 9/11, the city was still edging out of trauma. Added to that collective injury came this personal wound for Geffen. "New York didn't feel the same after that. For the first time, I thought about leaving."
He moved on to the St. Louis Symphony, where his old friend David Robertson was due to become music director. As Vice President of Artistic Administration, Geffen would be working with a kindred spirit. "And I had the chance to make a difference in a community where I knew that music had the potential to matter more than it currently did. Until then I had lived and worked either in coastal cities or bubbles like Aspen. I'd never lived in the heartland of America."
Geffen returned to New York in 2007, succeeding Ara Guzelimian as Carnegie's director of artistic planning. He expanded the Carnegie Hall Perspectives series (which spotlights individual artists in season-long explorations of their work), taking it beyond classical music into world music, folk music, jazz. "If there's any trend in the past 15 years, I think it's that people are less tunnel-visioned. I think younger generations pay less attention to labels, to what we call classical music, to what we call world music, or pop. They don't make those distinctions." He recruited performers like African singer-songwriter Angélique Kidjo, an important performer at Carnegie Hall for more than 10 years, as a Perspectives artist for Carnegie's 2019–20 season. And he appointed non-classical musicians as resident composers—artists such as jazz pianist Brad Mehldau and the current composer-in-residence, Chris Thile, who hosts NPR's Live from Here. "Chris loves Bach and John Adams, but he also loves [country-bluegrass singer] Gillian Welch and bands like Spoon and Vulfpeck. The range that makes him an interesting musician is so broad. We can learn from people with such all-welcoming tastes."
At Carnegie Hall, Geffen found another mentor in Clive Gillinson, the executive and artistic director. People tend to associate Carnegie Hall exclusively with music. But, like Cal Performances, it offers an array of the performing arts. Gillinson wanted to use that model in a new way. He assigned Geffen the task of creating programs around big ideas, then exploring those ideas via different genres. From that assignment emerged ambitious festivals that unfold not just on the Carnegie Hall stage, but in venues across New York City, focusing on such themes as America in the 1960s, the Venetian republic, and one especially close to Geffen's heart: UBUNTU, South Africa 20 years after the election of Nelson Mandela. This season's festival, whose theme is migrations to the US, includes not just performances of music and dance, but exhibitions of visual arts, panel discussions, workshops, and even a parade.
Festivals such as Carnegie's have a West Coast analogue at Cal Performances. "An arts presenter caters to a broad public. You're serving multiple audiences, so the challenge is How do you get people comfortable enough with the variety of oerings so that they will step outside of what's familiar and take a risk on something less familiar? You can do that a number of ways, but the most powerful is having thematic threads that unite elements of the season, themes or ideas such as those presented in Berkeley RADICAL, which unite disparate elements and make people want to take a leap."
Coming Together
Artists revel in complexities, yet so much in our daily sensory bombardment tempts us toward simplification, ignoring what Geffen believes performances supply. "If I didn't believe that live performance is one of the few moments in which we come together as a community and are connected through an experience, I wouldn't be interested in this job or any job in the arts. In this increasingly digital world, we have so much less contact with people outside our daily orbit than we used to have. Performances are among the few moments when we receive something as one. You may not know anything about the person sitting next to you, but you are bound by this shared experience. And those moments encourage us to expand our vision of what we can be as human beings. The need for this type of community is more pressing as the things that were promised to us as great 'uniters'—like social media—have turned out to be anything but."
Performance in all its variety and potential has brought Jeremy Geffen back to California. "What attracts me to Cal Performances is the full spectrum of art forms. The answer isn't dance, drama, or music. It's all of the above. And there are very few places in the country where you're able to stretch your wings and where you have an audience that is so open-minded and thoughtful and knowledgeable as here at UC Berkeley—so many artists talk about the audiences they've performed for here. I love the breadth of expression, and the ability to place performance in the context of one of the most searching and high-powered intellectual communities in the world."
Larry Rothe is author of Music for a City, Music for the World and co-author of For the Love of Music.