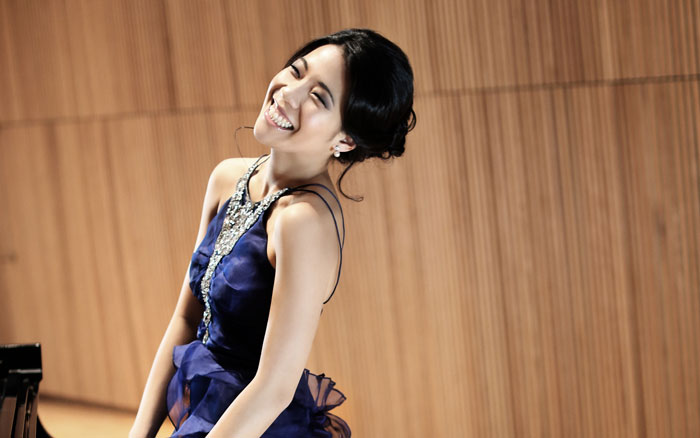 Recital
Joyce Yang, piano
TCHAIKOVSKY
Selections from The Seasons, Op. 37a
RACHMANINOFF

Selections from Preludes, Op. 32

J.S. BACH (arr. PETRI)
"Sheep May Safely Graze" from Cantata BWV 208
AARON JAY KERNIS
"Un Bacio" – A Kiss (Romance and Transfiguration) on themes by John Corigliano and Mark Adamo
STRAVINSKY/AGOSTI

The Firebird Suite


ENCORE:
GRIEG
Nocturne from Lyric Pieces

 
Supreme lyricism, technical virtuosity, poetic nuance—Grammy-nominated pianist Joyce Yang is the whole package. A native of Seoul, South Korea, Yang is a recipient of an Avery Fisher Career Grant and is known for crafting fascinating programs that showcase her remarkable pianism. Here, her program includes selections from Tchaikovsky's short and evocative character pieces The Seasons, and excerpts from Rachmaninoff's Preludes, some of the finest Romantic piano music ever written. Guido Agosti's rarely performed transcription of Stravinsky's orchestral suite from the Firebird ballet is a marvel of color and texture. "Her attention to detail and clarity is as impressive as her agility, balance and velocity" (The Washington Post).
This performance is made possible, in part, by Amy Roth and Bob Epstein.
Run time for this performance is approximately 90 minutes including intermission. 
Jan 22, 2023, 3pm
Add to Calendar
01/22/2023 03:00 pm
01/22/2023 04:30 pm
America/Los_Angeles
Joyce Yang, piano
https://calperformances.org/events/2022-23/recital/joyce-yang-piano/
Hertz Hall
Tickets start at $68
Parking Alert
Parking will be a problem on campus for this performance on January 22 due to a Cal Men's and Women's Basketball game versus Oregon State and Utah.
Most, if not all, University parking lots will be reserved for game patrons and city-owned lots may have a limited number of spots available. Traffic will be heavy. We advise you to arrive early and to seriously consider alternative transportation.
Please see our Parking Alert section for more information.
Videos
Jan 22, 2023, 3pm
Add to Calendar
01/22/2023 03:00 pm
01/22/2023 04:30 pm
America/Los_Angeles
Joyce Yang, piano
https://calperformances.org/events/2022-23/recital/joyce-yang-piano/
Hertz Hall
Tickets start at $68