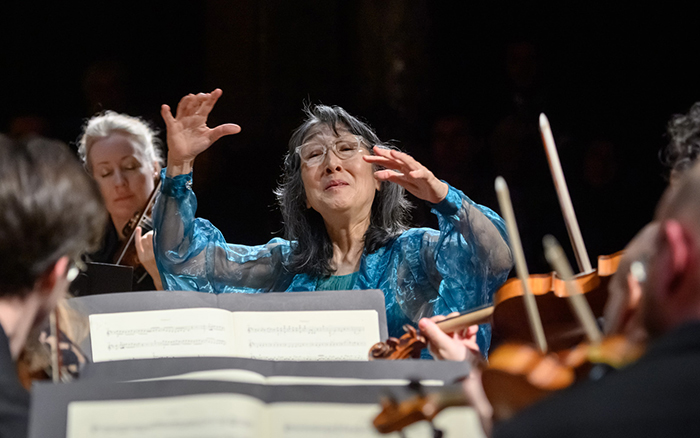 Chamber Music & Orchestra
Mahler Chamber Orchestra
Mitsuko Uchida, piano and director
José Maria Blumenschein, concertmaster and leader
| | |
| --- | --- |
| MOZART | Piano Concerto No. 17 in G major, K. 453 |
| JÖRG WIDMANN | String Quartet No. 2, Choralquartett (arr. for chamber orchestra) |
| MOZART | Piano Concerto No. 22 in E-flat major, K. 482 |
Continuing their highly praised creative partnership, Mitsuko Uchida and the Mahler Chamber Orchestra offer another installment in their series highlighting Mozart's piano concertos. Leading the ensemble from the keyboard, Uchida performs two concertos that reveal the composer's complex and contrasting sensibilities: in both the Concerto No. 17 in G major and No. 22 in E-flat major, gaiety coexists with melancholy, and the profound tangles with the carefree. The MCO enjoys a well-earned reputation for playing even the most substantial repertoire with the intimacy and subtlety of chamber music—and here also performs a chamber orchestra arrangement of Jörg Widmann's atmospheric String Quartet No. 2. Together, the artists' March 2022 concert at Zellerbach Hall was an unforgettable season highlight. "An ideal match—a pianist of impeccable Mozartean credentials and an orchestra of acute sensitivity and musical awareness" (The Guardian).
This event is part of Mitsuko Uchida as Artist in Residence
Mar 24, 2024, 3pm
Add to Calendar
03/24/2024 03:00 pm
03/24/2024 04:30 pm
America/Los_Angeles
Mahler Chamber Orchestra; Mitsuko Uchida, piano and director; José Maria Blumenschein, concertmaster and leader
https://calperformances.org/events/2023-24/chamber-music-orchestra/mahler-chamber-orchestra-mitsuko-uchida-piano-and-director-jose-maria-blumenschein-concertmaster-and-leader/
Zellerbach Hall
Tickets start at $52
Beyond the Stage
WATCH: Acclaimed pianist Mitsuko Uchida speaks with Jeremy Geffen about plans for her Cal Performances residency as well as her two 2023–24 performances in this
2023–24 Season Feature
.