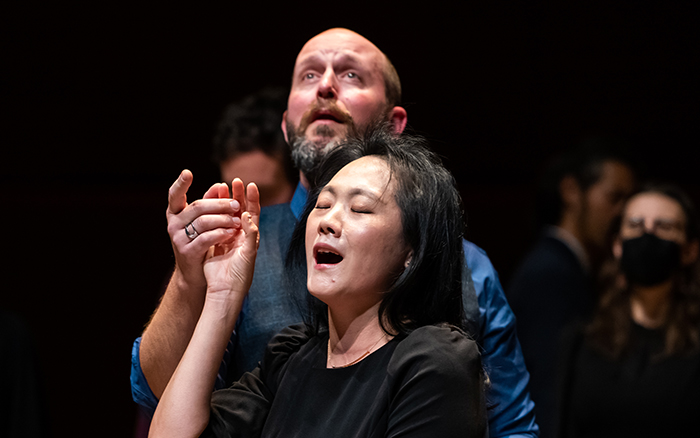 Early Music
Los Angeles Master Chorale
Music to Accompany a Departure
Bay Area Premiere
Grant Gershon, conductor
Peter Sellars, director
James F. Ingalls, lighting designer
Danielle Domingue Sumi, costume designer
A Cal Performances Co-commission
Following their widely acclaimed collaboration on Orlando di Lasso's Lagrime di San Pietro, Peter Sellars, Grant Gershon, and singers of the Los Angeles Master Chorale reunite in a deeply personal meditation on what it means to say goodbye during times of struggle. The luminous music of Baroque composer Heinrich Schütz's Musikalische Exequien (Music to Accompany a Departure) serves as inspiration for a fully staged ceremony of remembrance and devotion, performed by 24 singers accompanied by organ and viol da gamba. Schütz composed this profound exploration of mortality and grief in the 1630s, during the ravages of the 30 Years' War, and it was dedicated to the memory of one of his dearest friends. The premiere performances of this production made the Los Angeles Times' "Best of 2022" list, which hailed the artists' work as "transcendent" and "incomparably moving": "art that makes you sad yet grateful for every minute of life."
This performance is made possible, in part, by Nadine Tang.
Run time for this performance is approximately 90 minutes with no intermission. There will be no late seating for this performance.
Parking Alert
Parking will be a problem on campus for this performance on October 28 due to a Cal football game versus USC.
Most, if not all, University parking lots will be reserved for game patrons and city-owned lots may have a limited number of spots available. Traffic will be heavy. We advise you to arrive early and to seriously consider alternative transportation.
Please see our Parking Alert section for more information.
Oct 28, 2023, 8pm
Add to Calendar
10/28/2023 08:00 pm
10/28/2023 09:30 pm
America/Los_Angeles
Los Angeles Master Chorale
https://calperformances.org/events/2023-24/early-music/los-angeles-master-chorale/
Zellerbach Hall
Tickets start at $60
Video