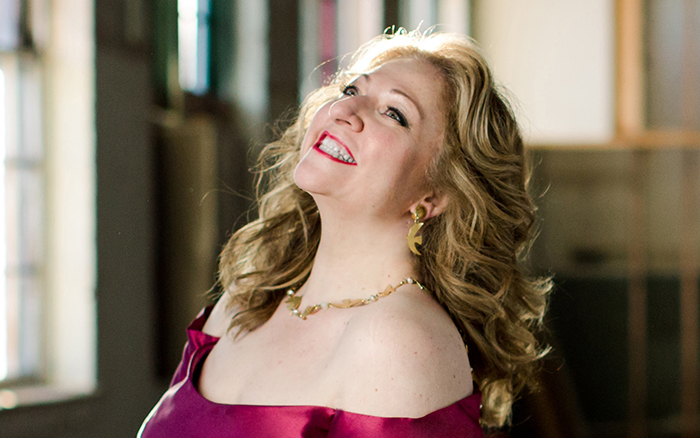 Recital
Christine Goerke, soprano
Craig Terry, piano
A Celebration of the American Diva
| | |
| --- | --- |
| WAGNER | "Dich, teure Halle" from Tannhäuser |
| R. STRAUSS | Selected lieder |
| BRAHMS | Selected lieder |
| WAGNER | "Du bist der Lenz" from Die Walküre |
| ALAN LOUIS SMITH | Letters to Evelyn from George |
| JACOBS-BOND | Half-Minute Songs |
| MCARTHUR | Night |
| SHAPIRO | He's Home For A Little While |
| SARGENT | Hickory Hill |
| DE ROSE | Deep Purple |
| LA FORGE | Hills |
| DELUGG and STEIN | Orange Colored Sky |
Hailed as "the reigning American dramatic soprano of the day" by the New York Times, multiple Grammy winner Christine Goerke visits with a recital that shows off two fantastically different sides of her musical personality. The first half of her program revels in repertoire you might expect from a Wagnerian of her stature—songs by Richard Strauss and Brahms, and arias from Wagner roles she has sung to great acclaim. The second half is a frolic through American popular music, featuring songs like "Deep Purple," "Orange Colored Sky," "Hickory Hill," and a volley of Carrie Jacobs-Bond's lighthearted Half-Minute Songs.
Oct 8, 2023, 3pm
Add to Calendar
10/08/2023 03:00 pm
10/08/2023 04:30 pm
America/Los_Angeles
Christine Goerke, soprano; Craig Terry, piano: A Celebration of the American Diva
https://calperformances.org/events/2023-24/recital/christine-goerke-soprano-craig-terry-piano-a-celebration-of-the-american-diva/
Hertz Hall
Cancelled
Tickets start at $82
Soprano Christine Goerke has withdrawn from her upcoming recital scheduled for Sunday, October 8, 2023, as she continues to recover from a recent COVID-19 infection. Ticketholders are being notified.
Video