Composer, flutist, and vocalist Nathalie Joachim, already familiar to Cal Performances' audiences for her appearances as part of Eighth Blackbird, collaborates with Chicago's Spektral Quartet in Fanm d'Ayiti (Women of Haiti), a suite of kaleidoscopic original compositions and arrangements that explores Joachim's Haitian heritage and celebrates the songs and stories of Haiti's most compelling female artists. Singing in kreyòl (Haitian Creole), Joachim weaves her own luminous voice with recordings of those of her grandmother, a girls choir from her family's hometown, and interviews with activist women performers who fought for social justice in the world's first free Black republic. Folk songs blend seamlessly with chamber strings and electronic soundscapes in Joachim's deft—and highly personal—musical journey. The digital audio recording of Fanm d'Ayiti received a Grammy nomination for Best World Music Album and has been praised for bridging "vast expanses of time and place, bringing together the sounds of Haitian folk music, Western classical music, electronic, and hints of pop… in service to one of the deepest of traditions—the tradition of innovation" (The Nation).
Cal Performances at Home press release >>
Event Page >
Media Advisory >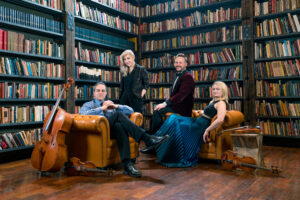 PHOTO 1
Pictured: Nathalie Joachim and Spektral Quartet perform Fanm d'Ayiti as part of Cal Performances at Home, streaming premiere Wednesday, October 14 at 7pm PDT; performance available for three months following the premiere (subject to change).
(credit: Dan Kullman)