Program:
Beethoven/String Quartet in B-flat major, Op. 130,
              with Grosse Fuge in B-flat major, Op. 133
Beethoven/String Quartet in A minor, Op. 132
This performance is part of the Illuminations: Music and the Mind series.
Cal Performances at Home press release >>
Event Page >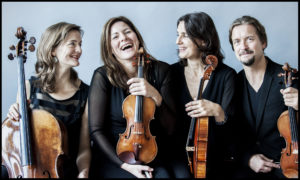 PHOTO 1
Pictured: Tetzlaff Quartet performs as part of Cal Performances at Home, streaming premiere Thursday, October 8 at 7pm PDT; performance available for three months following the premiere (subject to change).
(credit: Giorgia Bertazzi)