Aaron Diehl,
piano
Paul Sikivie,
bass
Aaron Kimmel

,
drums
Cal Performances audiences will recognize Aaron Diehl as the pianist and music director
for many of Cécile McLorin Salvant's ensembles, and from several appearances this past year in the
Now, More than Ever
blog. He returns this season for his Berkeley debut as a bandleader, leading his
own trio in a new project showcasing his fluency in both classical repertoire and jazz improvisation.
As a concert soloist,
Diehl performed
Gershwin's Piano Concerto in F with the New York
Philharmonic and the Cleveland Orch
estra several seasons ago, and critics have raved over his
meticulously styled recordings, which combine original compositions with jazz tunes by John Lewis
and Sir Roland Hanna and concert works by Philip Glass and Sergei Prokofiev. With
Mirror,
the piani
st explores the affinities of the counterpoint in Bach's music with bebop vocabulary,
interspersing solo selections from
The Well-

Tempered Clavier
with original compositions for jazz trio in
corresponding keys.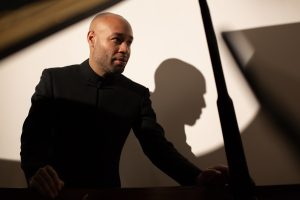 PHOTO 1
Pictured: The Aaron Diehl Trio performs Mirror on Friday, November 12, 2021. Pictured: Aaron Diehl
(credit: Maria Jazyna)