Program:
Vicente Nebrada/Arabesque (Bay Area Premiere; 1984; music: Enrique Granados)
Annabelle Lopez Ochoa/Tiburones (2019; music: Pérez Prado, Dizzy Gillespie, and The Funky Lowlives)
Gustavo Ramírez Sansano/18+1 (2012; music: Pérez Prado)
Cal Performances welcomes New York's Ballet Hispánico in its Berkeley debut, with a program of Bay Area premieres by an intergenerational cadre of choreographers who have been part of the company's 50-year history. Batucada Fantástica is Vicente Nebrada's homage to the energy of Brazilian Carnival; and Gustavo Ramírez Sansano created 18+1to celebrate his personal career milestone of making work for 18 years, his choreography inspired by the mambo music by Pérez Prado. Annabelle Lopez Ochoa's Tiburones addresses the discrimination and stereotypes placed upon Latinx culture, and the role the media plays in diminishing the voices of Latinx artists.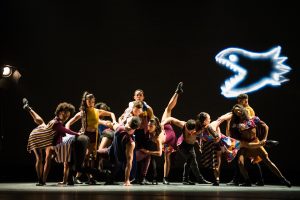 PHOTO 1
Caption: Ballet Hispánico performs Noche de Oro – A Celebration of 50 Years! on Saturday, November 6, 2021. Pictured: Annabelle Lopez Ochoa's Tiburones
(credit: Paula Lobo)