Program:
Bach/Sonata for Viola da gamba and Keyboard in G major, BWV 1027
Mendelssohn/Cello Sonata in D major, Op. 58
Debussy/Cello Sonata in D minor
Britten/Cello Sonata in C major, Op. 65

Returning after their two-recital program of the complete Beethoven cello sonatas for Cal Performances at Home video in fall 2020, the chamber duo of cellist David Finckel and pianist Wu Han present a program of works spanning centuries. Progressing chronologically, they tackle Bach's G major sonata for viola da gamba and cembalo—the ancestors of the cello and piano—and continue to Mendelssohn's second sonata, and Debussy's cello sonata. The program concludes with Britten's sonata composed for Mstislav Rostropovich, who as a mentor to Finckel, shared his insight into the work's conception with his student.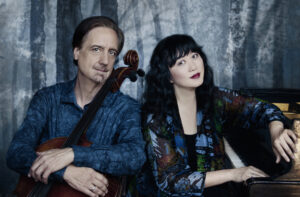 PHOTO 1
Caption: Cellist David Finckel and pianist Wu Han perform Sunday, November 14, 2021
(credit: Lisa-Marie Mazzucco)