Program:
Toshio Hosokawa/Atem Lied (1997)
Toshio Hosokawa/Drawing (2004)
Toshio Hosokawa/Windscapes (1996)
Toshio Hosokawa/Voyage V (2001, US Premiere)
Eco Ensemble, UC Berkeley's ensemble-in-residence, specializes in performances of works by living composers and is directed by new-music champion and music department faculty member David Milnes. This season's Cal Performances concert showcases the music of Toshio Hosokawa, among Japan's pre-eminent living composers, who will be a guest of the music department in Fall 2022 as the distinguished Bloch Lecturer. The program―which features flute virtuoso Stacey Pelinka of the Left Coast Chamber Ensemble―reflects the composer's interest in traditional Japanese arts such as calligraphy and gagaku as sources of musical inspiration.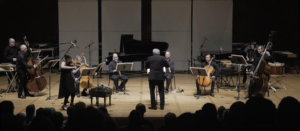 PHOTO 1
Caption: Eco Ensemble performs the Toshio Hosokawa Portrait Concert on Friday, February 5, 2022
(credit: Courtesy of Eco Ensemble)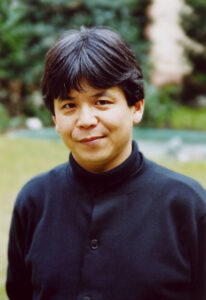 PHOTO 2
Caption: Composer Toshio Hosokawa. Eco Ensemble performs the Toshio Hosokawa Portrait Concert on Friday, February 5, 2022
(credit: Courtesy of Eco Ensemble)