Program:
Hadyn/String Quartet in F minor, Op. 20, No. 5
Coleridge-Taylor/Five Fantasiestücke, Op. 5
Beethoven/String Quartet in A minor, Op. 132
In the first of two concerts this season, the Takács Quartet performs works by Haydn, Beethoven, and Samuel Coleridge-Taylor. The set of six Op. 20 string quartets by Haydn are considered a milestone in the history of composition; in these complex works the quartet itself began as a singular expressive art form. Coleridge-Taylor's Five Fantasiestücke are character pieces composed near the turn of the 19th century, when the composer was just a teenager—well before he would achieve renown with his large-scale orchestral and choral works. By contrast, Beethoven was at the end of his life when he wrote the A minor quartet, best known for its technically demanding slow third movement, the "Holy Song of Thanksgiving." The Takács' recording of the late Beethoven quartets more than a dozen years ago became a classic: "an exceptional achievement…every detail…is utterly organic and the ensemble at times almost subliminally precise" (The Guardian).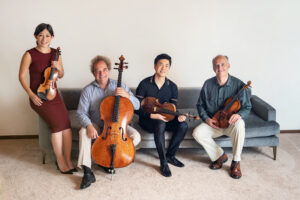 PHOTO 1
Caption: The Takács Quartet performs Sunday, October 17, 2021
(credit: Amanda Tipton)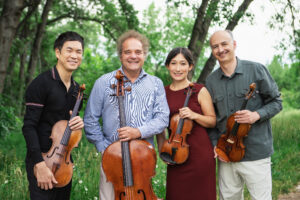 PHOTO 2
Caption: The Takács Quartet performs Sunday, October 17, 2021
(credit: Amanda Tipton)