Program:
Haydn/String Quartet in G minor, Op. 20, No. 3
Berg/String Quartet, Op. 3
Brahms/String Quartet in A minor, Op. 51, No. 2
The Tetzlaff Quartet visits from its home base of Germany for a program of masterpieces by Haydn, Berg, and Brahms. In this rare US visit, a follow-up to the quartet's Cal Performances at Home recital in fall 2020, the Tetzlaff Quartet performs Haydn's G minor quartet from Op. 20, Brahms' A minor quartet from Op. 51, and Berg's string quartet from Op. 3. The group is named after siblings Christian (violin) and Tanja (cello) Tetzlaff, joined by Elisabeth Kufferath (second violin) and Hanna Weinmeister (viola).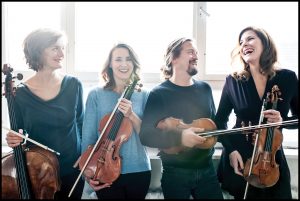 PHOTO 1
Caption: The Tetzlaff Quartet performs Saturday, April 23, 2022.
(credit: Giorgia Bertazzi)