Program:
Gabriella Smith/Tessellations
Missy Mazzoli/Ecstatic Science
yMusic/Zebras
yMusic/Sober Miles
yMusic/Flood
Judd Greenstein/Together
Andrew Norman/Difference (West Coast Premiere, Cal Performances Co-commission)
Following its video presentation as part of Cal Performances at Home, the new-music ensemble yMusic—all members of Generation Y—returns with a program of new and recent works for its in-person Berkeley debut. The centerpiece of the concert is the West Coast premiere of Difference, a Cal Performances co-commission by Grawemeyer-winning and Grammy-nominated composer Andrew Norman. The program also includes Missy Mazzoli's Ecstatic Science; Berkeley-born composer Gabriella Smith's Tessellations; Together, a new work Judd Greenstein wrote for the group during quarantine; and several new pieces co-composed by the ensemble during the past year's hiatus from live performance.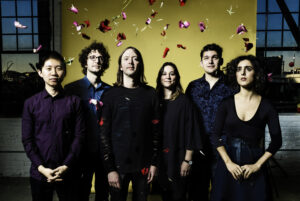 PHOTO 1
Caption: yMusic performs Friday, April 8, 2022
(credit: Graham Tolbert)