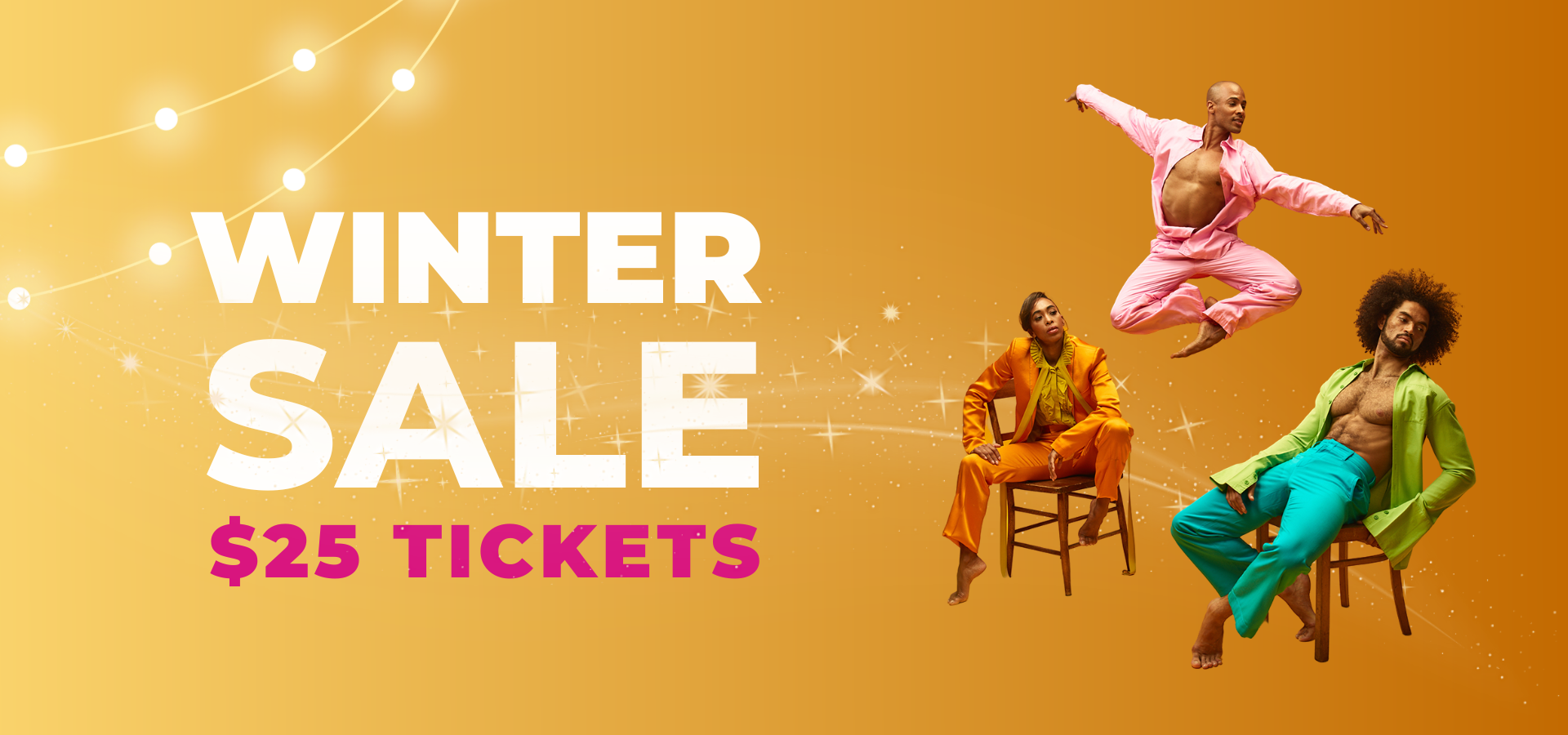 Winter Sale Now through January 31
$25 Tickets To Darn Near Everything!
Choose select seats from remaining 2022/23 Season events—Alvin Ailey American Dance Theater; Vienna Philharmonic Orchestra; William Kentridge's SIBYL; Preservation Hall Jazz Band; Mahan Esfahani, harpsichord; Mark Morris Dance Group: The Look of Love; A Conversation with Rita Moreno; The English Concert: Handel's Solomon; and many more!—and pay only $25 per ticket when purchasing at least one ticket to two or more performances.
For Winter Sale tickets to be unlocked, you must have the promo code WINTERSALE23 activated in our ticketing system.
Here's how it works:
Follow the "UNLOCK YOUR $25 TICKETS" button below.  You will be asked to log in to your account—or create a new account if you don't already have one—and the system will automatically enter the promo code WINTERSALE23.
After logging in with the promo code, the next step will be choosing your events. Look for the Winter Sale Promo price type when selecting seats for your first event. Seats will display at full price until two performances at Winter Sale pricing are in your cart.
Once the tickets are in the cart, go back to the list and choose another eligible performance. When seats for the second performance are selected and in your cart, the ticket price will change to $25 each.
Repeat for as many events as you would like to buy.
Watch a tutorial on how to buy sale tickets
If you do not see the Winter Sale Promo price type when selecting seats:
Make sure the promo code WINTERSALE23 is listed in the promo code box in the upper right of the screen.
For some events, not all seating sections are eligible for Winter Sale. Check to make sure the seats you have selected match the seating map with the highlighted areas.
Not all remaining 2022/23 Season performances are eligible for Winter Sale.  See the fine print below for a list of ineligible performances.
The fine print:
Offer expires 11:59pm on January 31, 2023.
Eligible seating for Winter Sale performances varies. Discounted tickets are available for full price tickets only in various eligible sections in Zellerbach Hall and First Congregational Church, and all seats in Hertz Hall and Zellerbach Playhouse.
The following performances are not included in Winter Sale: Emanuel Ax – Leonidas Kavakos – Yo-Yo Ma; Kodo; Tsuzumi: One Earth Tour (Feb 5); Ira Glass; Jeremy Denk, piano; Mark Morris Dance Group: The Look of Love (Feb 19); Step Afrika!; Vienna Philharmonic Orchestra (Mar 8 & 9); Alvin Ailey American Dance Theater (Apr 15 & 16)
Limit six tickets per performance.
All Winter Sale ticket sales are final; Pricing not applicable to exchanged tickets or towards prior purchases, or transferable to other performances. Tickets are subject to availability.
There is a $8 per order handling fee when purchasing tickets online or by phone through Cal Performances Ticket Office. Fee waived when purchased at the Ticket Office window beginning January 6.
Orders are considered complete and other performances cannot be added on without an additional fee.
Sale tickets not available at the door. Programs and artists are subject to change without notice.
Having trouble? Email us at tickets@calperformances.org or call our Ticket Office at 510.642.9988 during regular business hours.