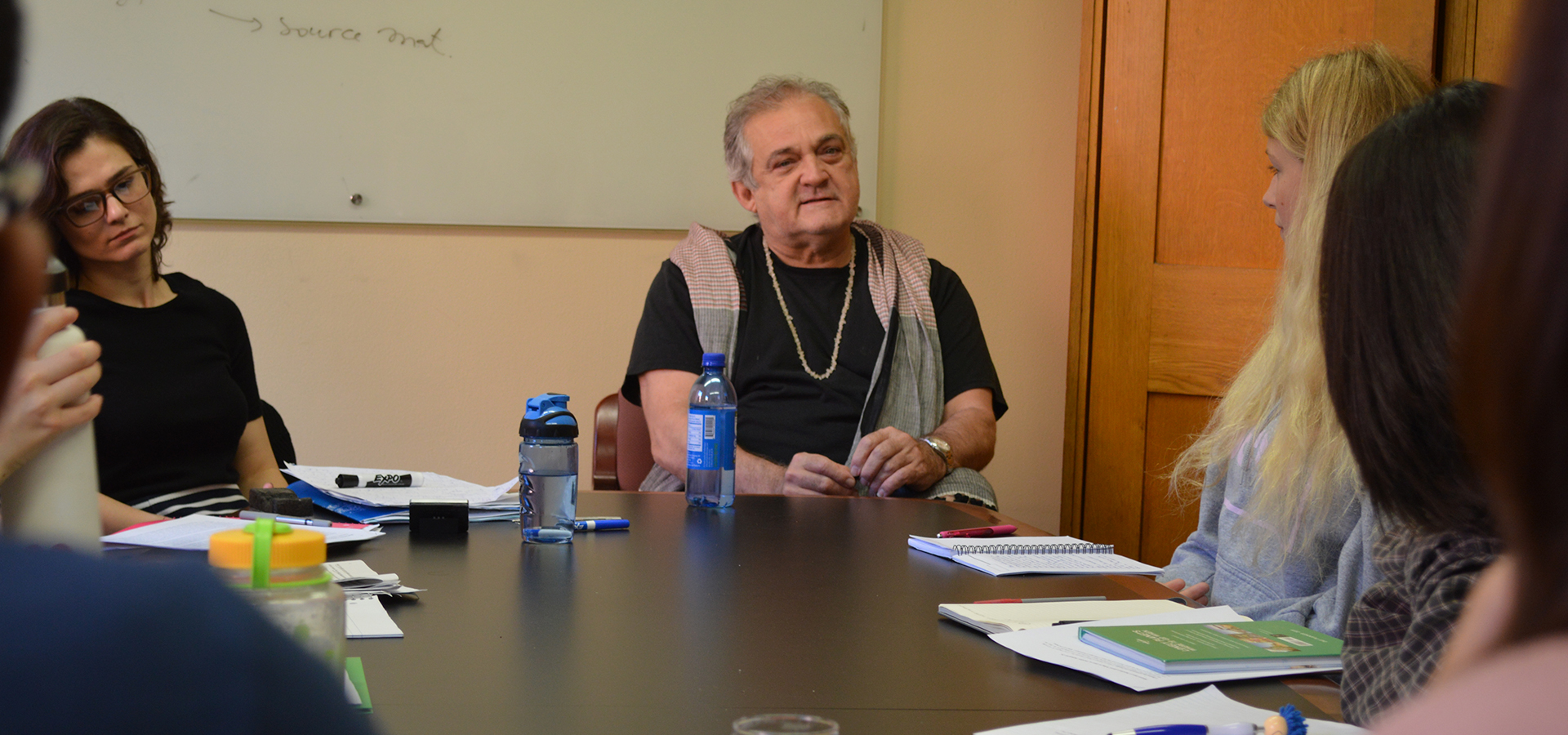 Choreographer Mark Morris in Comparative Literature class?
December 21, 2019
Each semester for the last eight years, Cal Performances has worked with professors on campus to create unique academic courses with curriculum built around the music, theater, and dance offerings presented on its stages, in disciplines as varied as environmental studies, psychology, and legal studies, among many others.
"Don't even hold a pen" is an unusual directive to receive in any college course, let alone one as inherently dependent on writing as a poetry class. Yet this was the advice given to a group of Cal undergraduates during a fall meeting of Comparative Literature 50—by none other than world-famous choreographer Mark Morris. 
The internationally renowned dancemaker attended the class titled "Between Direct Speech and Sensory Excess: A Poetry Workshop" as a guest lecturer, where he and the students focused their discussion on the concept of rhythm in music, poetry, and dance. Morris' suggestion, though, was intended specifically for the students' next class meeting, which was to take place at a performance of the choreographer's Mozart Dances in Zellerbach Hall. 
Morris' classroom visit, as well as attendance at the performance, were featured in the syllabus because the class is a "Cal Performances Course"—funded by a grant from the Andrew W. Mellon Foundation through an initiative to actively integrate the arts into the rigorous academic context of UC Berkeley. 
Cal Performances Courses are intended to "demonstrate that the live performing arts can—and should—play an active role in a world-class academic environment," explains Jeremy Geffen, the organization's executive and artistic director. "Students come to UC Berkeley with the goal of becoming more well rounded and encountering the world in all its diversity. Key to this is considering human experience as seen through the eye of the creative artist, by engaging with works of art that are the most representative and revealing documents of their times."
A centerpiece of Cal Performances' relationship to academics at Berkeley, this initiative began in 2012 and has supported courses across multiple disciplines—classes that don't just incorporate the arts, but actually structure their curriculum around the music, theater, and dance on offer each season at Cal Performances. Along with coursework, the classes offer interviews and post-performance reflection in partnership with scholars and instructors from a range of disciplines—environmental studies, philosophy and psychology, art and music history and theory, religious studies, legal studies, education, ethnic and queer studies, and many others. 
In addition to the Comparative Literature class last fall, students in Gender and Women's Studies have explored how performance grapples with ecological change by observing, among other events, the hyper-controlled movement of Japanese butoh troupe Sankai Juku. This spring, a history class will examine diaspora and community by attending other Cal Performances events, including a gospel music celebration of the life and work of Dr. Martin Luther King, Jr. led by Damien Sneed (Feb. 20). Psychology course, "The Cognitive Neuroscience of Identity: Individual, Cultural, and Beyond," will be centered around performances of Myra Melford's Jazz Platform (Feb. 9) and Cirque Éloize's Hotel (Feb. 22-23).