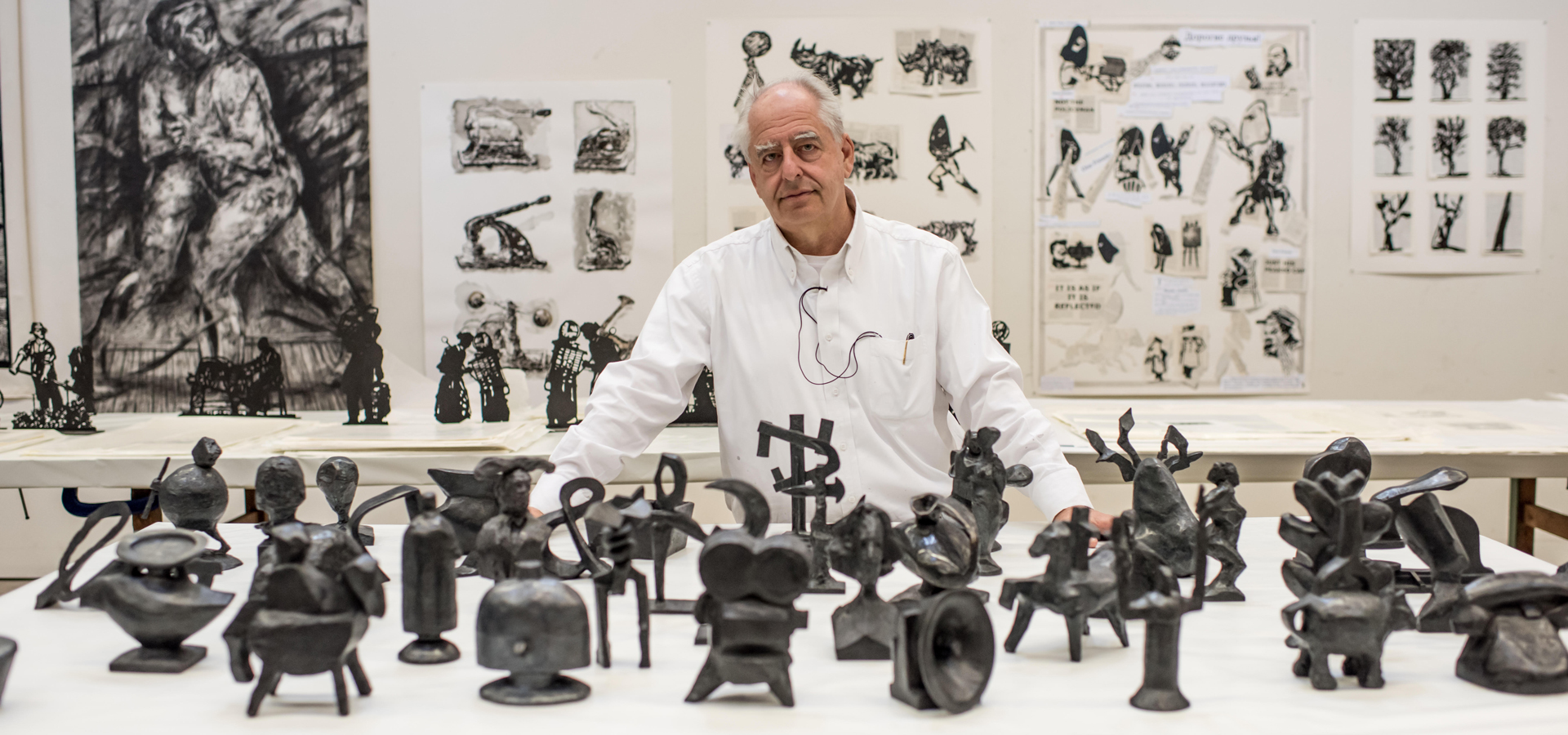 New Events Announced in Artist William Kentridge Campus-wide Residency
Specially priced tickets for UCB students, faculty, and staff on sale starting February 9, 2023
February 7, 2023
UC Berkeley and Cal Performances have announced added events, and specially priced tickets for students, faculty, and staff to participate in the campus-wide residency by world-renowned, multidisciplinary artist William Kentridge this spring. Dedicated to the work of one of the most respected artists of our time, the residency provides the campus and wider Bay Area community the rare opportunity to engage directly with Kentridge and his artistry via lectures, performances, and events that showcase the breadth and depth of his creative output.
Specially priced tickets for UC Berkeley students, faculty and staff
Soprano Joanna Dudley will star in the performance art piece she created with William Kentridge, A Guided Tour of the Exhibition: For Soprano and Handbag, Wed, Mar 15 at 7:30pm at Zellerbach Playhouse. A block of specially reserved $10 tickets for UC Berkeley students go on sale on Tue, Feb 21 at noon; $15 tickets for faculty and staff go on sale Tue, Feb 14 at noon. Learn more/ticket info >
Tickets for William Kentridge's Fri, Mar 10 performance of Kurt Schwitters' Dadaist poem Ursonate at Zellerbach Playhouse will go on sale to UC Berkeley students for $10 each on Wed, Feb 15; $15 tickets for faculty and staff go on sale Thu, Feb 9 at noon. Learn more/ticket info >
Ursonate is currently sold out for faculty and staff. Add yourself to a notification list to be alerted if tickets become available.
Note: UCB students, faculty, and staff will need to join Cal Performances Email Club to receive the promo code for exclusive access to discounts.
Added Events
A livestream of UC Berkeley's Arts + Design Thursdays class with William Kentridge and Judith Butler, Video Art and Social Intervention: Forms of Life, will take place on Thurs, March 16 at noon.
The Townsend Center for the Humanities will present Reflections on William Kentridge: A Conversation, a panel of UC Berkeley scholars exploring the art of William Kentridge. Details will be announced at townsendcenter.berkeley.edu.
Films Announced
Programs in BAMPFA's expansive Kentridge film retrospective Orchestrating Time: The Films of William Kentridge include three staged operas, a documentary about the artist, his drawings for projection, many short films, and a gallery installation, March 8–April 30.
Video/Audio Recording
Free audio and video recordings are now available of To What End, the visual lecture William Kentridge gave at BAMPFA in November 2022 about the creative process behind SIBYL, which will have its US Premiere at Cal Performances March 17–19.
William Kentridge's UC Berkeley residency is produced and presented by Cal Performances, the Berkeley Art Museum and Pacific Film Archive (BAMPFA), and the Townsend Center for the Humanities.