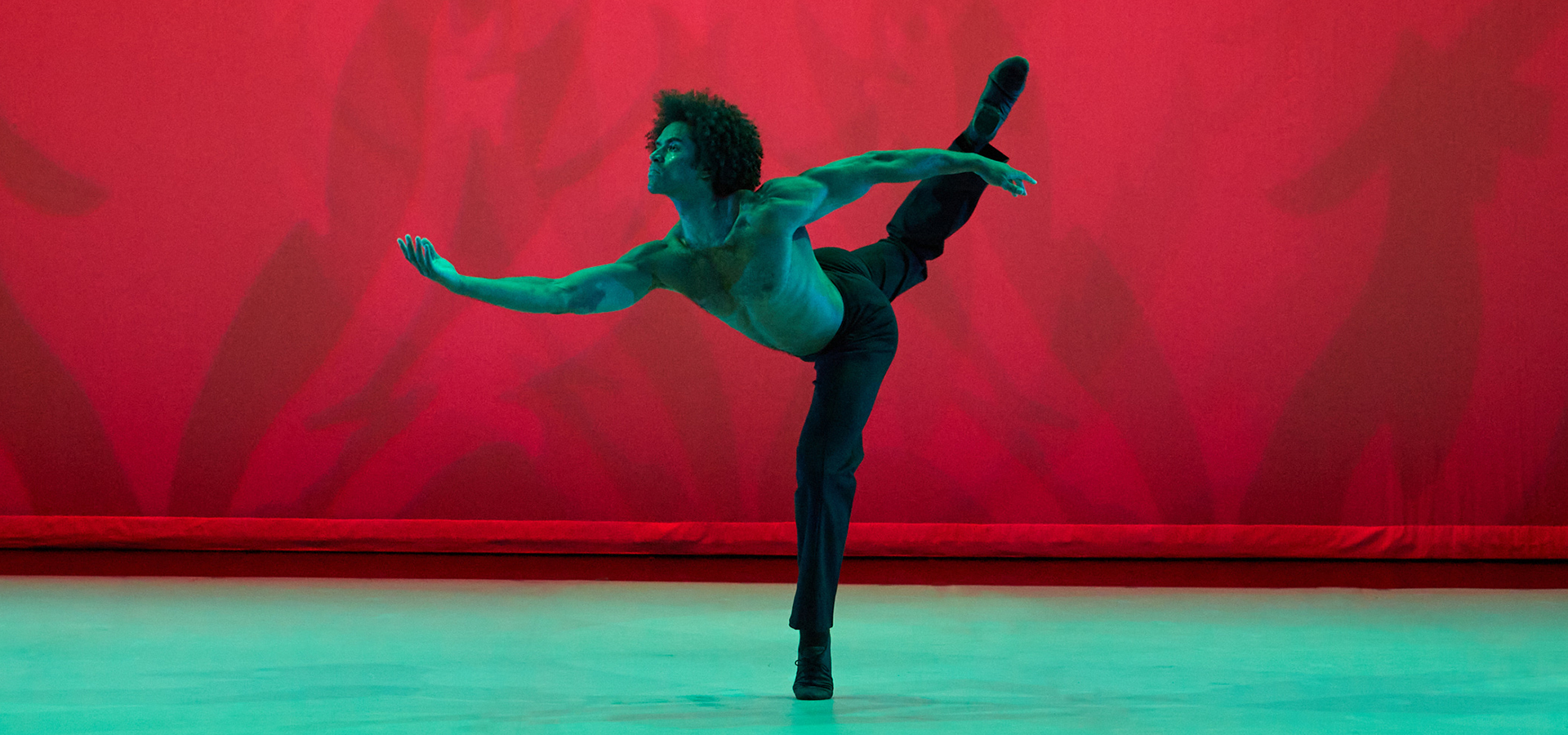 Storytelling and Connection with Alvin Ailey American Dance Theater Standout James Gilmer
Gilmer reflects on his experiences with ballet, his time living in the Bay Area, and the impact of Ailey.
April 12, 2023
"There's something special that you feel energetically, bodily, that confirms you're all telling a story that's coming from the same book."
By Krista Thomas, Cal Performances' Associate Director of Communications
This April, Alvin Ailey American Dance Theater conducts its annual visit to the UC Berkeley campus, continuing a tradition that dates back to 1968. And while the company has stayed true to its roots, its evolving cast of dancers continues to breathe new life and energy into beloved repertoire.
One dancer who will return to Berkeley this month is four-year Ailey veteran James Gilmer, hailed as "Alvin Ailey's new secret weapon" by the New York Times in December 2021. Not only does Gilmer stand out for his unique personal story and distinct movement style, but also because of the power and purpose that underpin his work on stage.
Gilmer was steeped in a rich musical tradition from a young age. "I was born in 1993, so I was at the tail end of the 'let's put a record on' period," Gilmer said. "The record collections my parents had, though varied, resembled one another—I remember we had a lot of duplicates in the house because they had similar tastes."
From those records, Gilmer absorbed spirituals, classical music, and Motown music, with additional exposure to hymnals through attending his local church in Pittsburgh. His sister, too, was a percussionist, which introduced an entirely new subset of sound. "I vividly remember traveling to Uganda when I was 12, and listening to my sister, who was a drummer, experiment with hand drums and other percussion instruments there," he said.
While this prevalence of music encouraged many in his family to pursue playing various instruments, James expressed his connection to music through dance. "With so much variety, I was always moved in a different way."
Showing early signs of a love for dance, Gilmer was enrolled in classes by his parents around age 5. He started with ballet and tap, then began absorbing jazz, African, and modern dance in smaller doses as he got older.
Between the ages of 14 and 16, Gilmer experienced a growth spurt that made him much taller than most of his classmates and challenged him to cultivate his own style of movement. "It was around that time that I started gravitating toward adagio movements that are slower, more sustained. These movements allowed me to show everything to the audience in a very meaningful, intentional manner," he said. "Today, most of the movements I enjoy are to more melodic music that plays out at a slower pace because it's easier to shade the movements with lots of textures."
Gilmer's graceful control made him an exceptional performer. Soon after graduating high school, he joined Cincinnati Ballet, where he danced for six seasons and was ultimately promoted to soloist. During his time with the company, he made his first visit to San Francisco, where he was introduced to Amy Seiwer's Imagery and was given the opportunity to perform with the group during summers. In 2017, Gilmer made an official move to San Francisco when he accepted a position at ODC/Dance, which allowed him to continue working in ballet but also broaden his artistry—a bridge that would eventually support his transition to the Alvin Ailey American Dance Theater.
"I spent two seasons at ODC living in Soma [South of Market district] and had a wonderful time—I was reluctant to move. Being in San Francisco expanded my perception of the dance world. I saw some dynamic art there that I haven't seen anywhere else, and it really broadened my understanding of what it means to dance, far beyond more traditional concert dance," he said. "It was a great time of development for me career-wise when I wasn't sure how dance would look for me in the future or if I would ultimately achieve my goal of getting into Ailey."
Since his early days dancing, Gilmer had been moved by dance's ability to tell stories. And while he spent much time doing story ballets, he felt limited in his ability to make them his own. Growing up, Ailey was one of the first companies where he saw a deeper level of personal storytelling playing out on stage.
"When I focused solely on ballet—and particularly on narrative ballet—I was often performing whimsical characters or characters that were pure fantasy; I don't think I was able to evoke much of an emotional connection because it didn't make sense to draw on my own experience as a Black man in America. But now, as I've gotten older, and especially being in Ailey," he said, "I think making those connections is vital to our stage performances, where so much of what we perform invites us to draw from our personal experience."
Gilmer auditioned twice for Alvin Ailey American Dance Theater and, in 2019, saw his dreams realized when he was invited to move to New York and join the renowned company. Gilmer's distinctive stage presence and grace made a strong impression on Artistic Director Robert Battle, who explained to the New York Times, "He's really nimble in all senses of the word… He's very much about the work and about giving himself over to the work in such a wonderful and beautiful way."
Though Battle praised Gilmer for his outstanding ability to "meet the challenges of different choreographers," the transition from primarily ballet to Ailey's wider repertoire has been both exciting and challenging.
"One thing that is unique about dancing here is the hybrid of techniques we are aiming to perform at such a high level on stage. With Cincinnati Ballet, we did both contemporary dance and classic ballet. But at Ailey, we have to be able to do ballet steps, plus modern, plus African dance, plus jazz… There are times when I've hardly left the stage and am already transitioning between styles," he said. "To be expected to dance a style I've never trained in and to be proficient enough to perform is a really exciting and difficult challenge, but having the knowledge of what the movement is trying to say and get across does make the demands less daunting."
For Gilmer, who finds inspiration in a broad spectrum of people—from his coworkers, to the stories of Black figures in America, and especially from driven young people—being able to channel the human aspect of dance, its capacity for sharing and connecting, is what makes him feel he has been successful on stage.
When asked what makes him proud of a particular performance, Gilmer responded, "Different layers of connectedness. There's a level of connectedness in moving from one side of the stage to another within your own movements; a connectedness in the different dynamic choices you can make regarding how the moves connect and flow out of your body. Also in ensemble work, there's a desired level of connectedness to those people with whom I'm dancing. Feeling authentic and present in those aspects of performance allows me to leave the stage satisfied," he said.
Dancing with Alvin Ailey American Dance Theater specifically has allowed Gilmer access to another element of connection—one he has prized and sought out throughout his career: "Storytelling is an especially important element of our choreography here, I think," Gilmer said. "Feeling the vibe of those movements within yourself or within the ensemble— there's something special that you feel energetically, bodily, that confirms you're all telling a story that's coming from the same book."
In their visit to Cal Performances, Gilmer and his fellow Ailey dancers will bring a number of impactful works to life, including a few of Gilmer's personal favorites: Twyla Tharp's Roy's Joys in its company West Coast premiere; Jamar Roberts' In a Sentimental Mood, danced to the music of Duke Ellington and Rafiq Bhatia; Alvin Ailey's signature work Revelations, which draws on much of the music from Gilmer's childhood and was one of the reasons he joined the company; and Kyle Abraham's Are You in Your Feelings. The latter work is particularly important to Gilmer, since the contemporary mixtape of breakup music it is danced to "may draw in audiences, particularly a younger crowd, who may not have felt as connected to dance yet."
Regarding the audiences awaiting him in Berkeley, Gilmer says, "While I feel like the East Coast tends to be more vocally responsive and is easier to read in that regard, the West Coast seems to really know what they're getting themselves into and has a deep appreciation of what they're seeing. Perhaps because of the different demographics or the wide range of art that's available here, Bay Area audiences, in particular, are always very generous with their time and attention."
The company's return to the Bay Area also happens to coincide with Gilmer's 30th birthday, and he's "really excited" at the opportunity to spend some time in his old home of San Francisco, doing "anything outside that allows for a little bit of sun."
As he approaches a new decade of life, Gilmer looks forward to more seasons performing with Ailey, the opportunity to support a future generation of dancers through expanding his work as an instructor, and harnessing his artistry to tell stories with a "looser narrative" that make it easy for new audiences to access and reflect on their own experiences.
Cal Performances is elated to welcome Gilmer, Robert Battle, and the rest of the Ailey dancers and crew back into Zellerbach for a week of pure delight and inspiration. We thank James Gilmer for sharing his experience, insights, and, soon, his singular talent with our Bay Area audiences.