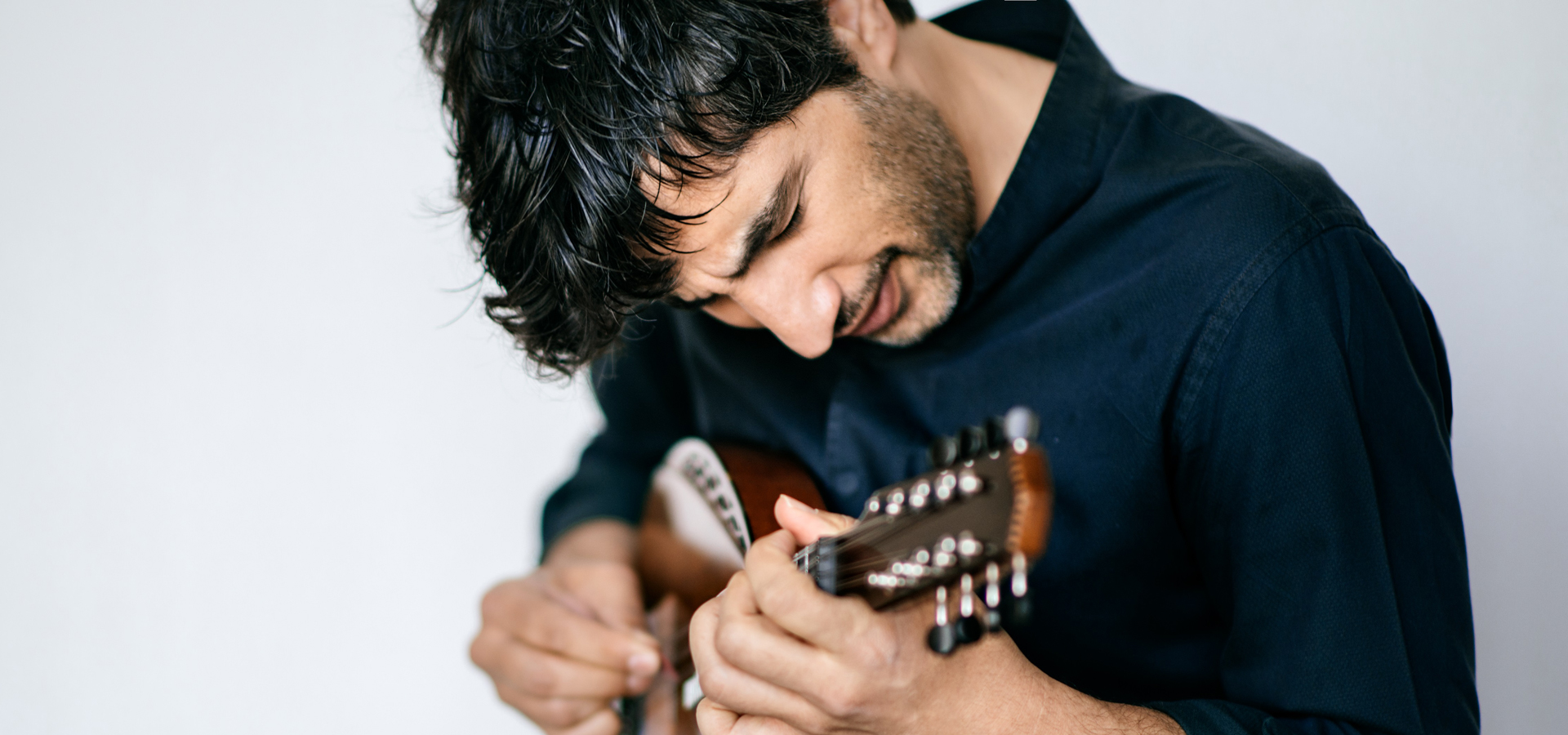 Mandolin and Accordion Lend a Fresh Sound to Classical Music
Mandolinist Avi Avital and accordionist Hanzhi Wang share what it's like to arrange, commission, and play classical music for their unique instrumentation.
September 15, 2023
Featuring exclusive insights from Avi Avital and Hanzhi Wang
By Janet E. Bedell, program annotator and feature writer
Ever since its development in the Italian courts of the late 17th century, the mandolin has been an extraordinarily popular instrument, yet star mandolinist Avi Avital says it has a very small concert repertoire—a lack he, as a classical artist, is eagerly trying to remedy. "Unfortunately, the great composers—Bach, Mozart, Beethoven, and so forth—never wrote one single note for the mandolin. I think it was because the mandolin was so very popular, they considered it more an amateur instrument than a classical or orchestral one" and thus perhaps not worthy
of their attention.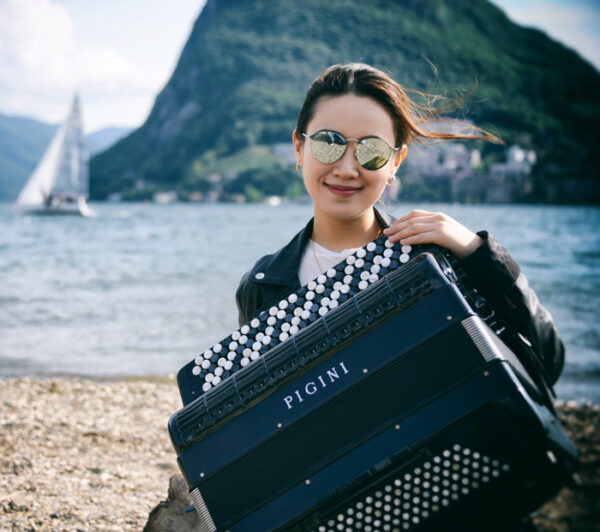 To date, Avital has commissioned more than 100 works from contemporary composers to enlarge the mandolin's repertoire. In addition, he has chosen to play many classical works written for other instruments, as he will do at Cal Performances' Oct. 15 concert with Hanzhi Wang. (The Chinese accordionist has similar aspirations to develop her instrument—also long-associated with folk and popular music—as a legitimate classical voice.) As
he prepares this music for performance, Avital says "I prefer to use the word 'adaptation' to 'arrangement.' I try to change the original music as little as possible to suit our instruments. For instance, with the Bach Chaconne on this program, I play it straight from Bach's original score for violin."
Avital says he has been watching Wang's development for several years now. "I've seen her turn from a young professional into a true artist. And I love working with the accordion: mandolin and accordion are instruments that really complement each other. Most of the pieces on this program are for violin and piano, and our instruments suit those roles perfectly: the mandolin takes the violin's part and the accordion the piano's. The mandolin has a sound with a relatively quick decay while the accordion has a more sustaining sound."
Adds Hanzhi Wang, "As a keyboard instrument with the approximate range of a Steinway grand, as well as the tone qualities of a wind instrument, [the accordion] also seems to be able to give the illusion of a small orchestra."
Two Artists on the Rise
Though in America the mandolin is mostly associated with bluegrass and the accordion with polka bands and the Lawrence Welk Show, Avital says that in Europe and in his native Israel, they are now being regarded as classical instruments and are taught in conservatories.
Growing up in Be'er Sheva in the southeastern desert of Israel, Avital began taking mandolin lessons at age eight with a remarkable teacher, the Ukrainian violinist Simcha Nathanson. "He emigrated to Israel," says Avital, "and wanted to teach violin in Be'er Sheva's music school. However, the school told him they already had a violin teacher, but that there were lots of mandolins in the basement—could he teach that? So he formed a mandolin orchestra, which I played in until I was 18, and taught the instrument using the violin as a model.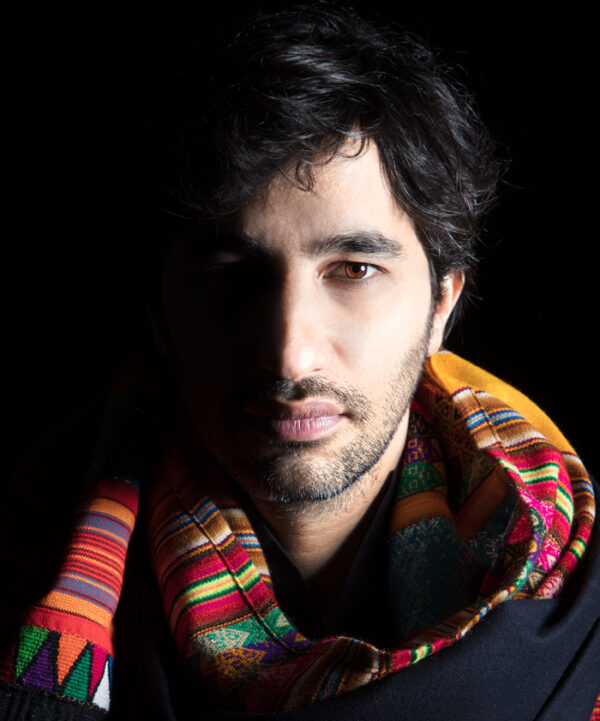 "Mandolin and violin actually have a lot in common: they are both soprano instruments, and they are tuned in fifths with the same open strings of E–A–D–G. The violin immediately became part of my culture. My teacher arranged classical music for our orchestra to play. So that really was my musical education. Because he taught mandolin more strictly than it was typically taught, I think I was actually receiving a deeper foundation in music than I would have had if I'd had a more conventional teacher."
Leaving Be'er Sheva, Avital continued his training at the Jerusalem Music Academy, then did graduate work in Italy at the Conservatorio Cesare Pollini in Padua, studying with renowned Italian mandolinist Ugo Orlandi. His innovative career steadily growing, in 2007, Avital became the only mandolinist to win the top prize in Israel's prestigious Aviv Competition. He would later become the first mandolinist to be nominated for a classical Grammy Award.
At age five, Hanzhi Wang fell in love with the sound of the accordion while watching an Italian movie on television with her father. "I immediately asked to have one to play." Starting with a small eight-button instrument, she advanced to being accepted by Beijing's Central Conservatory at age 13. Later, after earning her bachelor's degree, she moved to Copenhagen, where the Royal Danish Conservatory has a renowned accordion department, for her master's work. In 2017, Wang became the only accordionist to win the Young Concert Artists auditions, and in 2018, Musical America named her as "New Artist of the Month."
Oct. 15 Program Preview: Listening in a New Way to Familiar Classics
"Paying tribute to the folk origins of our two instruments," says Avital, "I've focused on works by classical composers that were derived from folk melodies that they enriched with the complex harmonies, rhythms, and formal structures of classical music. Bartók's Romanian Folk Dances is the central piece here, using music Bartók collected around Romania and then scored first for solo piano, then for small orchestra." Much the same approach was taken by the two Spanish composers, Pablo de Sarasate and Manuel de Falla; they adopted Spanish folk melodies for Sarasate's virtuosic Spanish Dances for violin and piano and the "Danse Espagnole" used in Falla's opera La vida breva.
Famed violinist Fritz Kreisler's Praeludium and Allegro "in the Style of Pugnani" and Igor Stravinsky's Suite Italienne—an arrangement of selections from his ballet Pulcinella for violin and piano—are hybrid works blending Baroque style with a more modern idiom. Kreisler's piece is actually a musical hoax: in 1905, he published it as a long-lost work by Italian Baroque composer Gaetano Pugnani, then 30 years later admitted he'd written it himself. Stravinsky's 20th-century harmonic and rhythmic bite drastically transformed music written by Giovanni Battista Pergolesi and others in the early 18th century.
A solo piece for Avital, J.S. Bach's Chaconne in D minor from his Partita No. 2 for unaccompanied violin is one of the monuments of musical history. Avital's relationship with the Chaconne goes back to age 13, when he bought a book of the complete violin partitas and sonatas. "For most musicians I know, Bach is the ultimate composer. His music is so complex and perfectly constructed. Every time you come back to the Chaconne, you find more information, more elements to bring out. I can never play it the same way twice. And I found that with the mandolin I don't miss any of the impact of Bach's music."
Avital plays a special mandolin made expressly for him by Israeli luthier Arik Kerman. "He shares the same ideas I do about how the mandolin needs to be developed, and he created for me an instrument that has more power and a richer, warmer sound that meets the needs of larger modern concert halls. We work together on it whenever I'm in Israel—constantly trying to further develop the capacities of this same instrument. And to give listeners a new voice, a new way to experience music they're familiar with."