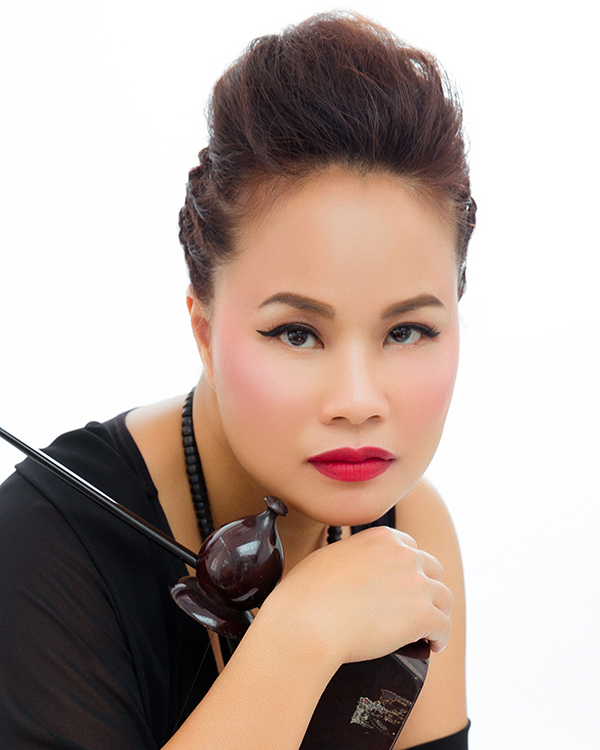 Vân-Ánh Vanessa Võ
orchestra lead, zither, monochord, bamboo xylophone, lyrics, and vocals
VÂN-ÁNH VANESSA VÕ is an award-winning composer and one of today's most celebrated performers of Vietnamese traditional instruments. In addition to the đàn tranh (zither), Vân-Ánh performs as soloist on the đàn bầu (monochord), the đàn t'rung (bamboo xylophone), and trống (traditional drums). She dedicates her life to combining the traditional music of Vietnam with other genres, creating fresh, new compositions.
Since settling in the San Francisco Bay Area in 2001, Vân-Ánh has focused on bringing Vietnamese traditional music to a wider audience and preserving her cultural legacy through innovation, collaboration, and teaching. Her albums, which include Twelve Months, Four Seasons (2002), She's Not She (2009), and Three-Mountain Pass (2013) have garnered praise from NPR, the BBC "The World," the Los Angeles Times, and others.
Vân-Ánh has collaborated with artists including the Kronos Quartet, Yo-Yo Ma, Alonzo King LINES Ballet, Apollo Chamber Players, and the Oakland Symphony. Additionally, she has composed and arranged for the Academy Award-nominated and Sundance Grand Jury Prize winner for Best Documentary, Daughter from Danang (2002); the Emmy Award-winning soundtrack for Bolinao 52 (2008); and the winner of multiple Best Documentary and Audience Favorite awards, A Village Called Versailles (2009).
She has performed at venues such as Carnegie Hall, Kennedy Center, Lincoln Cen­ter, NPR, and the Yerba Buena Performing Arts Center, and has participated as a screening judge in the world music category for the 2015, 2016, and 2018 Grammy Awards. During the Obama administration, Vân-Ánh became the first Vietnamese artist to perform at the White House receiving the Artist Laureate Award for her contribution to communities through the arts.
Vân-Ánh has received numerous awards for her projects from foundations such as the Hewlett 50 Arts Commission, California Arts Council, Alliance for California Traditional Arts, City of San Jose, and the Zellerbach Family Foundation.