Program:
Mozart/Piano Concerto in A major, K. 488
Webern/Five Movements for String Orchestra, Op. 5
Webern/Variations for Piano, Op. 27
Mozart/Piano Concerto in C minor, K. 491
Following her Cal Performances at Home all-Schubert recital in spring 2021, pianist Mitsuko Uchida returns for an in-person concert with the Mahler Chamber Orchestra that draws a line from Mozart's Vienna to the Second Viennese School of Webern. Uchida gained renown early in her career for her complete recorded cycles of Mozart's concertos and sonatas. The program features two concertos composed in the winter of 1785–86, when Mozart was at the height of his genius: the A major concerto is best known for its magnificent slow movement; the C minor concerto for its inventiveness. The musicians of the Mahler Chamber Orchestra shine in Webern's Five Movements, with Uchida joining for the composer's late-period Variations.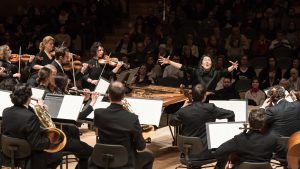 PHOTO 1
Pictured: Pianist and director Mitsuko Uchida performs with the Mahler Chamber Orchestra on Sunday, March 27, 2022.
(credit: May Zircus)