Program Notes
Real Enemies
featuring Darcy James Argue's Secret Society
Darcy James Argue, composer
Isaac Butler, director and writer
Peter Nigrini, media designer
Streaming Premiere
Wednesday, October 21, 2020, 7pm
This film version of Real Enemies was created exclusively for Cal Performances by Darcy James Argue, Isaac Butler, and Peter Nigrini, and produced by Beth Morrison Projects.
Darcy James Argue's Secret Society
Darcy James Argue, conductor
Dave Pietro, piccolo, flute, alto flute, soprano and alto saxophones
Rob Wilkerson, flute, clarinet, soprano and alto saxophones
Sam Sadigursky, E-flat clarinet, B-flat clarinet, A clarinet, tenor saxophone
John Ellis, B-flat clarinet, bass clarinet, tenor saxophone
Carl Maraghi, B-flat clarinet, bass clarinet, baritone saxophone
Seneca Black, trumpet, flugelhorn
Jonathan Powell, trumpet, flugelhorn
Matt Holman, trumpet, flugelhorn
Adam O'Farrill, trumpet, flugelhorn
Ingrid Jensen, trumpet, flugelhorn
Nadje Noordhuis, trumpet, flugelhorn
Mike Fahie, trombone
Ryan Keberle, trombone
Jacob Garchik, trombone
Jennifer Wharton, bass trombone, tuba
Sebastian Noelle, acoustic and electric guitar
Adam Birnbaum, acoustic and electric piano, synthesizer
Matt Clohesy, contrabass and electric bass, electronic effects
Jon Wikan, drum set, cajón
Special appearance by James Urbaniak
Production Staff
Daniel Vatsky, film editor
Vernil Rogers, recording engineer
Brian Montgomery, recording and mixing engineer
Paul Suarez, assistant recording engineer
Bradley Buehring, photography consultant
Andreas Roalsvig, camera operator
Melanie St. Claire, assistant camera operator
Sam Campbell, assistant camera operator
Ryan Gohsman, assistant stage manager
Tim Love, assistant stage manager
Chris Clark, gaffer
Co-commissioned by the Brooklyn Academy of Music, the Fromm Music Foundation, and Beth Morrison Projects
Real Enemies is supported by the MAP Fund, a program of Creative Capital, primarily supported by the Doris Duke Charitable Foundation. Additional funds come from the Andrew W. Mellon Foundation.
Note: following its premiere, Real Enemies will be available on demand through January 19, 2021.
Oct 21, 2020, 7pm
Add to Calendar
10/21/2020 07:00 pm
10/21/2020 08:30 pm
America/Los_Angeles
Real Enemies
Darcy James Argue's Secret Society; Real Enemies https://calperformances.org/events/2020-21/jazz/darcy-james-argues-secret-society-real-enemies/
Video no longer available.
Darcy James Argue's Secret Society; Real Enemies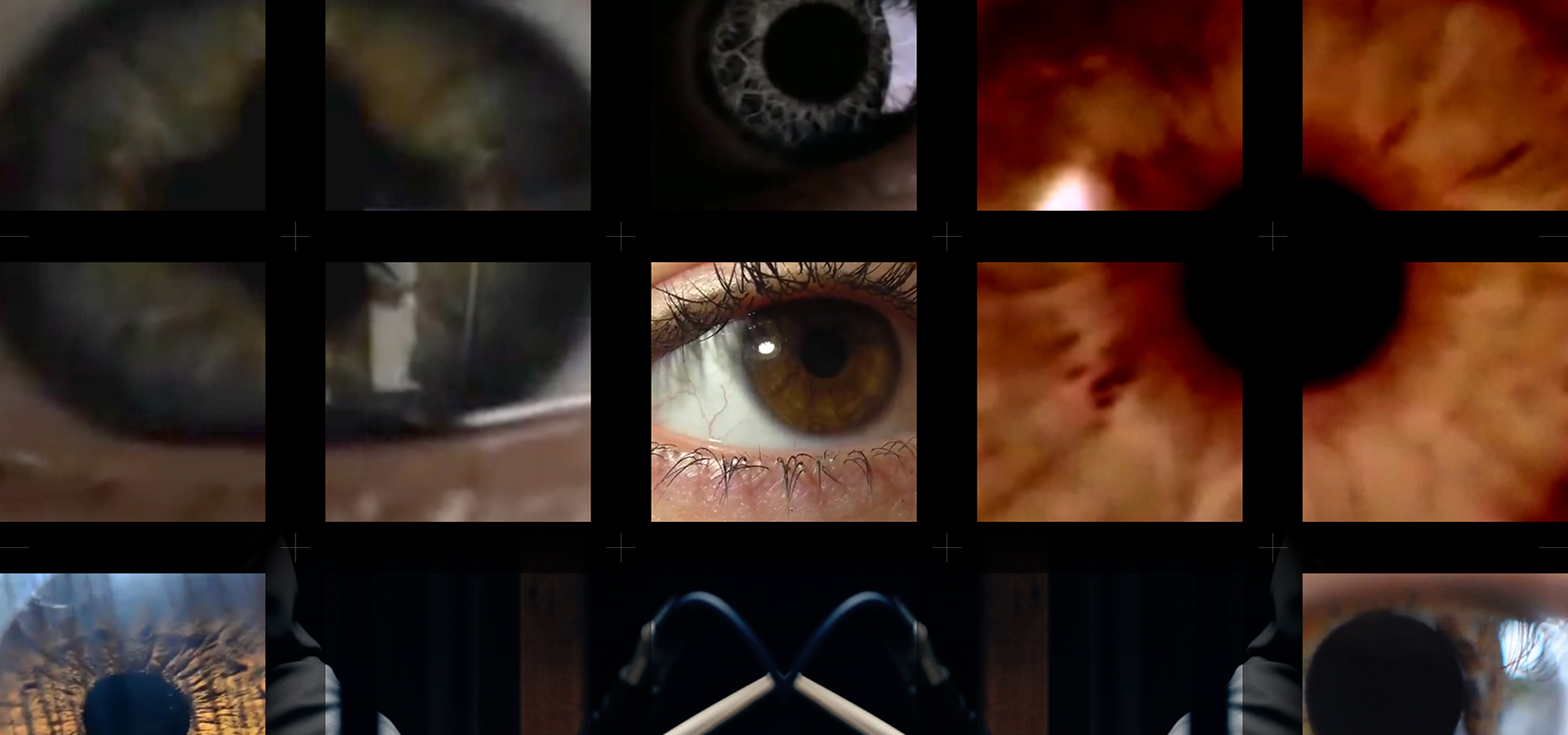 Shadow Histories and Hidden Breaths:
How Real Enemies Investigates the Conspiracy Theory
by Isaac Butler
As the five years since we originally made Real Enemies have made abundantly clear, conspiracism is less a river running through our culture than the ocean on which our national psyche floats. Belief in conspiracies is one of the defining aspects of modern culture. It transcends political, economic, and other divides. Conservative or liberal, rich or poor, religious or secular, across all races and backgrounds there exists a conspiratorial strain of thought that maintains the existence of secretive forces plotting against us, or controlling our fates. The Declaration of Independence contains a conspiracy theory about King George III's plans for the colonies, weaving conspiracism into the very fabric of our nation's origin.
When composer Darcy James Argue, media designer Peter Nigrini, and I set out to investigate conspiracy theories, we realized very swiftly that we were actually investigating the nature of narrative itself. The word "conspiracy" comes from the Latin conspirare, which literally means "to breathe together," but in its everyday usage meant "to agree" to or "to plot." A plot is, of course, also a story, or a narrative.
E.M. Forester famously wrote, "The king died and then the queen died is a story. The king died, and then queen died of grief is a plot." Causality lies at the heart of all narrative. Without causality, all that remains are isolated events. Conspiracy theories take these isolated events, and insert causality, making them into a plot. On a basic level, conspiracy theories are simply another form of narrative sense-making, like taking the stars in the sky and weaving them into mythical scorpions and crabs and hunters.
These particular narratives tend to flourish at times when we have genuine cause to distrust those in power. When we learn that the NSA has been monitoring our emails and cataloging our phone calls, or that the FBI ran a secret illegal program for decades dedicated to destroying the American Left, or that the CIA secretly dosed prisoners, drug addicts, housewives, and prostitutes with LSD as part of its mind control research, the only natural response is: "What else are they hiding from us?"
As befitting a journey into postwar paranoia, the score draws heavily on 12-tone techniques even as it departs at times from conventional notions about how those techniques are supposed to be employed. In Real Enemies, the 12-tone row is a deep structural device, not just for the music, but for the formal and visual development of the entire work. Other musical touchstones include the film scores of Michael Small and David Shire, Nicaraguan singer-songwriter Carlos Mejia Godoy, early 1980s LA electrofunk-influenced hip hop, intricately layered polyrhythms at the intersection of post-minimalist classical music and contemporary jazz, and much more.
Real Enemies is ultimately a work of nonfiction, which is to say, it is an exploration of real-world beliefs. The show collages together text, imagery, and ideas found in the American collective conscious. Nearly every image and word you will see or hear while watching it is a quotation from a primary source, the result of years of intensive research into the historical roots, iconography, ideology, rhetoric, and psychology of conspiracies and the theories that love them. Everything in it is something someone, somewhere, has asserted is the truth, but in an age when the truth has become increasingly elusive, we all have to decide what we believe, what stars we'll connect, and what new constellations we'll form.
CREATIVE TEAM
Darcy James Argue (composer/conductor) is the "hyper-literate composer who leads the Secret Society" (Nate Chinen, NPR), an 18-piece big band ensemble "now renowned in the jazz world" (Giovanni Russanello, The New York Times). Argue brings a seemingly anachronistic ensemble into the 21st century through his "ability to combine his love of jazz's past with more contemporary sonics like indie-influenced electric guitar and bass, as well as arrangement tricks culled from his study of classical music" (Seth Colter Walls, Pitchfork). As a Vancouver-born, Brooklyn-based "visionary arranger" (Steve Futterman, The New Yorker), Argue has earned three Grammy nominations, a Guggen­heim Fellowship, a Doris Duke Artist Award, and countless commissions and fellowships. His most recent recording—2016's prescient Real Enemies—was named a Top 20 jazz recording of the decade by Stereogum.
Isaac Butler (director/co-creator) is the co-author of The World Only Spins Forward: The Ascent of Angels in America and the forthcoming The Method, both published by Blooms­bury. The World Only Spins Forward, an oral history of Tony Kushner's play Angels in America and its era, was named a Best Book of the Year by NPR and a Stonewall Book Awards Honor Book. Butler's work as a theatrical director has been seen on stages across America, including at the Brook­lyn Academy of Music, Town Hall, Joe's Pub, Woolly Mammoth, and La Jolla Play­house. He also created Lend Me Your Ears: A Podcast About Shakespeare and Politics for Slate.com, where he now co-hosts the podcast Working, which features interviews with artists about the creative process.
Peter Nigrini (media design) has been a pioneer in the integration of digital projection technology and live theater for the past 15 years. Some of his designs on Broadway include Ain't Too Proud—The Life and Times of the Tempta­tions, Beetlejuice, Dear Evan Hansen, The Sponge­­Bob Musical, A Doll's House Part 2, Amé­lie, An Act of God, The Heidi Chronicles, Gore Vidal's The Best Man, and Fela! Projects of note in other venues include Man in the Ring (Hunt­ington Thea­tre), The White Card (A.R.T), Here Lies Love and Grounded  (The Public Theater), Dave (Arena Stage), Wakey Wakey (Signature), The Grace Jones Hurricane Tour (NYC), Don Giovanni and Lucia di Lam­mer­moor (Santa Fe Opera), Blind Date (Bill T. Jones/Arnie Zane Dance), and Life & Times (Nature Theater of Oklahoma/Burg­theater, Vienna). Nigrini is currently working on Deep Blue Sea (Bill T. Jones at the Park Avenue Armory), MJ: The Musical (Broad­way), and Ritual of Breath, a new chamber opera by Jonathan Berger.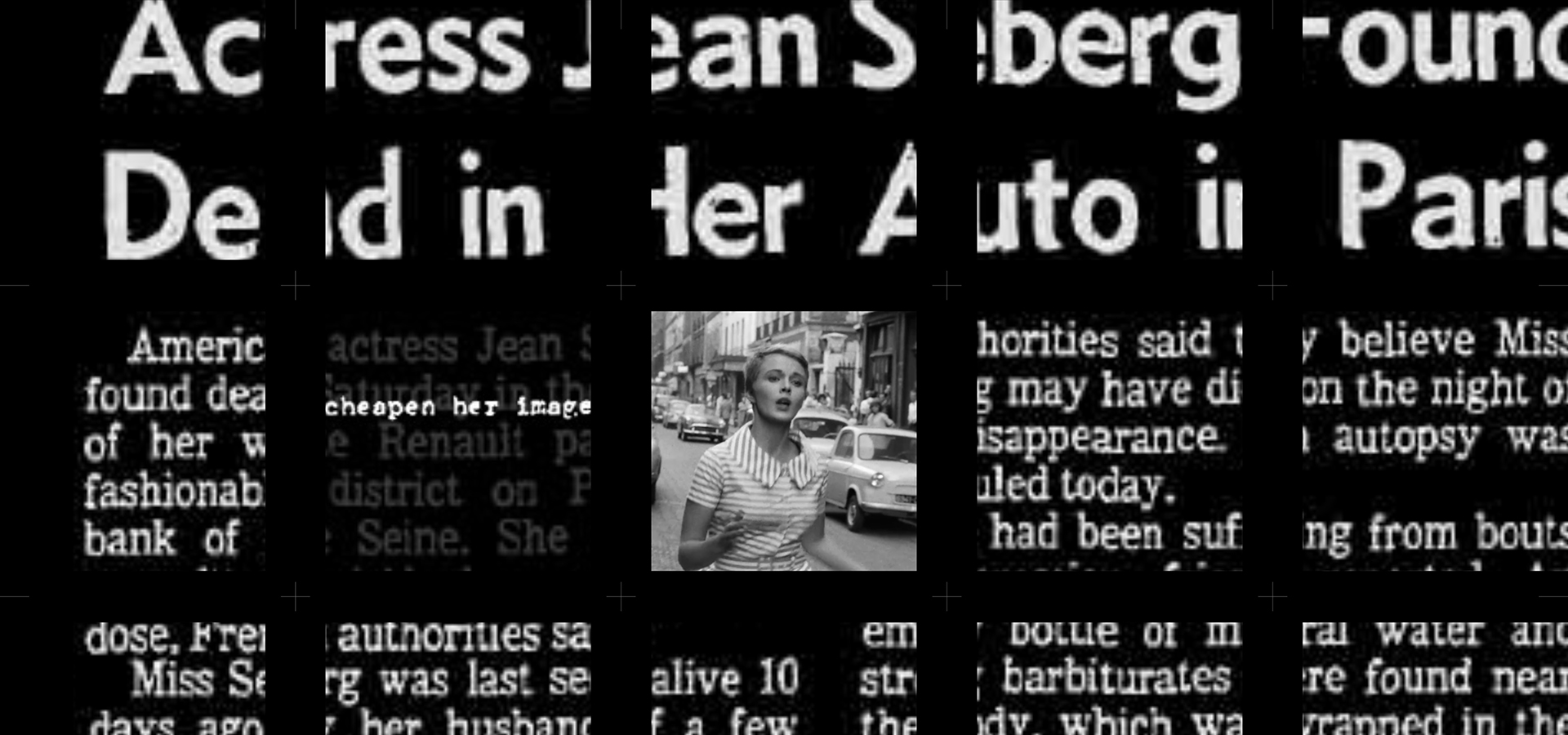 PRODUCTION STAFF
Daniel Vatsky (film editor) has worked on a wide range of projects that include film productions, documentaries, live performances, and theatrical projection design. He has collaborated with noted artists including Laurie Anderson, David Byrne, Ric Burns, Bill Moy­ers, and Sufjan Stevens. Selected film credits include the PBS/WGBH American Experience documentaries New York: A Documentary Film, Death and the Civil War, and The Eugenics Crusade. Recent theater credits include editing for Dear Evan Hansen, Ain't Too Proud—The Life and Times of the Tempta­tions, and Sweat on Broadway, and Here Lies Love at the National Theatre (UK). He holds a BFA in filmmaking from the State University of New York Purchase College, and an MS in integrated digital media from the NYU Tandon School of Engineering.
Vernil Rogers (recording engineer) is a live sound and studio recording engineer and in 2019 became the assistant director of concerts and touring at Jazz at Lincoln Center. He has been engineering for over 16 years and has worked with acclaimed artists such as the late Oscar Peterson, Ron Carter, Arturo O'Farrill (and his Afro Latin Jazz Orchestra), and Cecile McLorin Salvant. Rogers has engineered for Darcy James Argue's Secret Society for the past seven years and has toured several times locally and abroad with the band. He has been an integral part in bringing Argue's projects such as Brooklyn Babylon and Real Enemies to life. In 2017, London Jazz News wrote, following one of Argue's performances, "​And also hats off for the sound: Kings Place… was designed as an acoustic hall, and I have never heard a sound engineer render amplified sound in it quite so vividly and convincingly."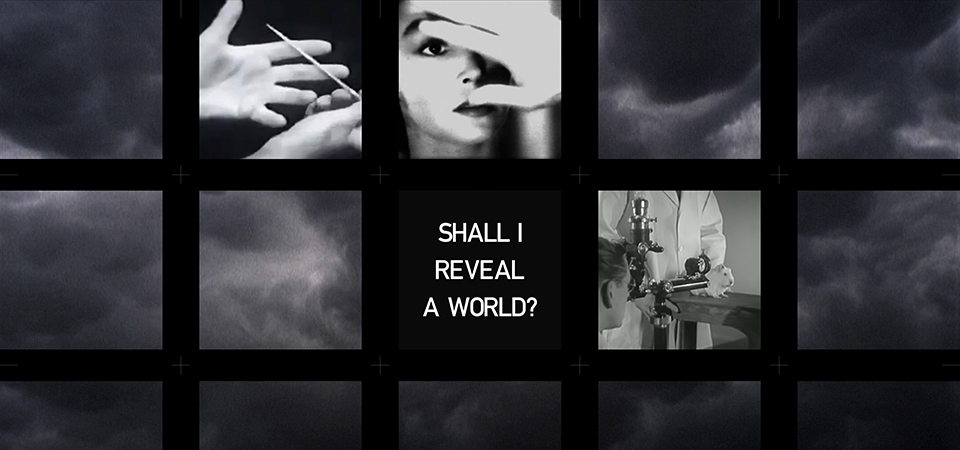 Brian Montgomery (recording/mixing engineer) has worked with many of the world's finest artists, musicians, and producers. At last count, he has been involved with well over 300 major label recordings. Montgomery learned his craft sitting behind some of the greatest "ears" in the business while working on staff at the legendary Avatar Studios (formerly Power Station) in New York City. Industry luminaries such as Al Schmitt, Elliot Scheiner, and Bob Clear­moun­tain are among his engineering mentors. Mont­gomery has also worked often with jazz engineering giants James Farber, Joe Ferla, and David Baker. In 2006, he had the honor of winning a TEC Award (Best Record Production Album) for his engineering work on Donald Fagen's critically acclaimed solo album Morph The Cat. Mont­gomery has won three Grammy Awards for his work with Paul McCartney, Esperanza Spalding, and the Maria Schneider Orchestra. His community involvement includes being a member of both NARAS and the Audio Engineering Society. He is a past governor of the New York Recording Academy and is currently serving on the Producers and Engineers Wing committee for the New York chapter.
Bradley Buehring (cinematography consultant) is a Brooklyn-based director, cinematographer, and composer. He initially studied music, earning a BM in percussion performance and an MM in music composition from the University of Louisville before turning his focus to filmmaking. For the past several years, Buehring has worked as a director of photography in New York, lensing feature films, shorts, documentaries, and a variety of other projects. As a photographer documenting the experimental music and performance art scene in New York, his photographs have been featured in publications such as the New York Times, Wall Street Journal, Hyperallergic, and The Wire.
Karl Kim (director of photography) is an award-winning cinematographer with eight feature films, as well as television, broadcast, commercial, corporate, and music video projects to his credit. New York-based, he has worked around the world for multiple clients.
DARCY JAMES ARGUE'S SECRET SOCIETY
Adam Birnbaum is emerging as one of the top young voices in jazz piano. Since arriving on the New York scene in 2003, he has become increasingly prominent performing in clubs and festivals around the world. A diverse performer, Birnbaum is a member of the Al Foster Quar­tet, the Vanguard Jazz Orchestra, and Darcy James Argue's Secret Society as well as a frequent performer with the likes of Cecile Mc­Lorin Salvant, Regina Carter, Terell Stafford, and many others. His early education took place in Boston. In 2001, Birnbaum became a member of the inaugural class of jazz studies at the Juilliard School. After graduating in 2003, he won the American Jazz Piano Competition (2004) to become the American Pianists Association's Cole Porter fellow in jazz. Since then, Birnbaum has established a busy performing career as a sideman and as a leader. Three of a Mind, his latest album as a leader, received four stars and an Editor's Pick in Downbeat magazine, and was hailed as "an eloquent dispatch from the heart of the contemporary piano trio tradition" by the New York Times. Birnbaum is an assistant professor of jazz at SUNY Purchase and a Steinway Artist.
Trumpeter Seneca Black has one of the unparalleled resumes in the music business. In 1997, at age 19, he was hired as lead trumpet with Wynton Marsalis and the Lincoln Center Jazz Orchestra. After seven years, he spent the next decade with jazz legend Charlie Haden. In the summer of 2017, the Chamber Society of Lincoln Center presented a celebration of the classical compositions of Ornette Coleman, in which Black was invited to play "The Sacred Mind of Johnny Dolphin" (one of Coleman's rarely performed masterpieces, a work known for its extreme virtuosity for solo trumpet, drums, and double string quartet). Black is a longtime member of Arturo O'Farrill's Afro-Latin Jazz Orchestra and a regular Secret Soci­ety member since 2007. In recent years, he has established ongoing relationships with the Mingus Orchestra as well as New Orleans homeboy, Harry Connick Jr.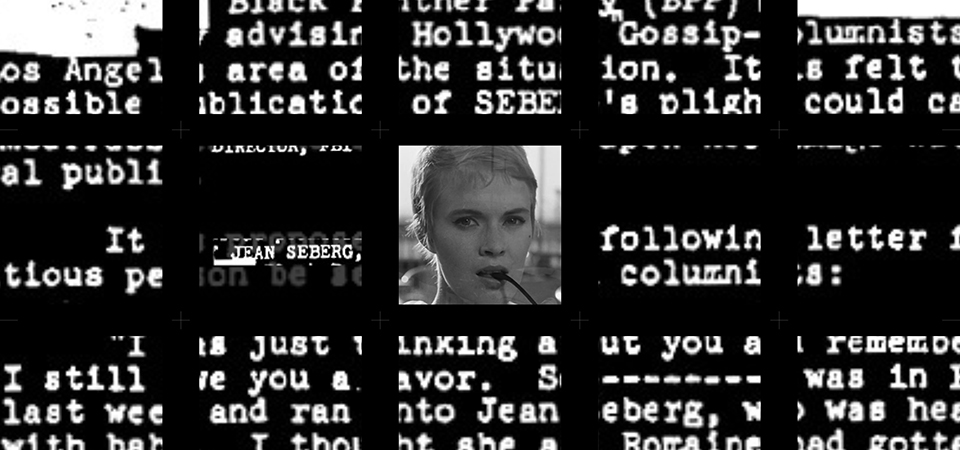 Matt Clohesy, an acclaimed Australian bassist, left his hometown of Melbourne for the United States in 2001. Based in New York City, he has since gained international recognition as an acoustic and electric bassist. Clohesy has toured and/or recorded with such notable band leaders as Sea­mus Blake, Kurt Rosen­winkel, Geoffrey Keezer, Eric Reed, Kevin Hays, Ingrid Jensen, David Kikoski, Laurence Hob­good, Donny McCaslin, Tom Scott, Sean Jones, Jonathan Kreisberg, Joel Frahm, Lage Lund, Mike More­no, Will Vinson, John Ellis, Jo Lawry, Gretchen Parlato, Alan Ferber, Eric Alexander, Nat Adderley Jr, Diego Urcola, David Weiss, JD Allen, Jon Gordon, David Schnitter, Brad Shepik, and Maria Schneider, as well as with the John Hollenbeck Large Ensemble. Clohesy regularly collaborates with Grammy-nominated and Downbeat award-winning composer Darcy James Argue's Secret Society. In the pop world, he has performed with Grammy winner Colbie Caillat and can be heard often with the Chris Bergson Band and Dana Fuchs Band.
John Ellis is widely recognized as one of New York's premier tenor saxophonists. A sideman to artists as diverse as bass icon John Patitucci, organ legend Dr. Lonnie Smith, and MacArthur Fellow Miguel Zenon, Ellis has performed extensively around the world for the last 20 years. He was the second place winner of the prestigious Thelonious Monk Saxophone Competi­tion in 2002, received three commissions from the Jazz Gallery for the creation of new work, and was selected as the 2014 Make Jazz Fellow by the 18th Street Arts Center in Santa Monica. Ellis can be heard on more than 150 albums as a sideman and has released 11 albums as a leader, three of those featuring his New Orleans-centered band Double-Wide. The Ice Siren, his most recent album, was released on Parade Light Records on March 20, 2020.
Mike Fahie is a jazz trombonist and composer living in Brooklyn. His current projects include a collaboration with legendary trumpet player John McNeil (Plainsong, Destiny Records), the Mike Fahie Jazz Orchestra (Urban(e), Green­leaf Music), and the Mike Fahie Quintet (Ani­ma, Brooklyn Jazz Underground). He is also an in-demand sideman in New York City, playing with many accomplished groups. Fahie is the lead trombonist of Darcy James Argue's Secret Society, a three-time Grammy-nominated ensemble. He is the principal trombonist of the Gramercy Brass Orchestra of New York and a member of the Gramercy Brass Quintet. He is also a regular member of the Dan Pugach Nonet, the Emilio Solla Tango Jazz Or­ches­tra, and the Pedro Giraudo Jazz Orches­tra. As a composer, Fahie has received numerous commissions, including three for premieres at the Festival of International Schools at Car­negie Hall. He was a finalist for the prestigious Thelonious Monk International Trom­bone Competition and was the first-ever Canadian Fulbright Scholar in jazz.
Jacob Garchik, a multi-instrumentalist and composer, was born in San Francisco and has lived in New York since 1994. At home in a wide variety of styles and musical roles, he is a vital part of the Downtown and Brooklyn scene, playing trombone in groups ranging from jazz and contemporary classical ensemble to Balkan brass bands. He has released four albums as a leader, including The Heavens: The Atheist Gospel Trombone Album. In 2018, he won the "Rising Star – Trombone" category in the Downbeat Jazz Critic's Poll. Since 2006, Garchik has contributed nearly 100 arrangements and transcriptions for Kronos Quartet of music from all over the world. His arrangements were featured on Floodplain (2009), Rainbow (2010), A Thousand Thoughts (2014), Folk Songs and Ladilikan (both in 2017), and Landfall (2018). In 2017, he composed the score for The Green Fog, a found-footage remake of Vertigo, directed by Guy Maddin, Evan Johnson, and Galen Johnson.
Hailed by the New York Times as a "conscientious" and "perceptive young trumpeter," Matt Holman has distinguished himself as a composer, conductor, bandleader, and top-tier solo­ist in many of the leading jazz ensembles of our time. He has performed and/or recorded with Billy Childs, Terence Blanchard, Phil Woods, Darcy James Argue's Secret Society, the John Hollenbeck Large Ensemble, Fred Hersch, Bang on a Can's Asphalt Orchestra, the Joel Harrison Large Ensemble, Anna Webber, New York Voices, and many others. Holman's adventurous chamber-jazz recordings When Flooded (2014, Brooklyn Jazz Underground Records) and The Tenth Muse (2017, New Focus Recordings), both received four-star reviews in Downbeat. As a large-ensemble composer, Holman has penned works for Stefon Harris, Jane Monheit, Marvin Stamm, and university ensembles worldwide. He has taught at Hunter College and is currently a jazz arts faculty member at the Manhattan School of Music.
Born in Vancouver and raised in Nanaimo, Ingrid Jensen has been hailed as one of the most gifted improvising trumpeters of her generation. She graduated from Berklee College of Music in 1989, moved to Europe to teach at the Bruckner Conservatory, and returned to the East Coast three years later to embark on a full-fledged music career. Jensen is currently serving as the interim associate dean and director of jazz arts at the Manhattan School of Music. She leads her own groups and is a featured member of Artemis (on Blue Note). For more, please visit www.ingridjensen.com.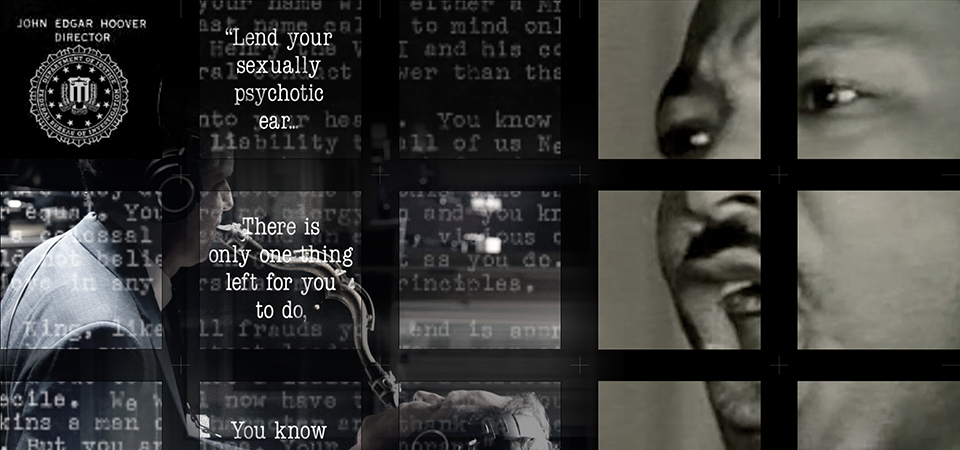 Hailed in the Downbeat International Critics Poll as No. 1 Rising Star trombonist and a player "of vision and composure" according to the New York Times, Ryan Keberle has developed a unique voice both on his instrument and as a composer, and is distinguished as one of jazz's most adventurous new players. His flagship ensemble Catharsis has released five albums—three on Dave Douglas' Greenleaf Music record label—to worldwide critical acclaim. Their latest album, The Hope I Hold, was released this past spring and has been highly acclaimed around the world with praise such as: "accessible and thoughtful, lyrical and cerebral… Keberle and his bandmates weave their voices together with supple ease and understated grace to conjure a collective sound that embraces the listener while rewarding closer attention" (Shaun Brady, Downbeat). Keberle has also worked in endlessly varied settings with musicians ranging from superstars to up-and-coming innovators, in jazz, indie rock, R&B, and classical music. As a featured soloist with the Maria Schneider Orchestra, he collaborated with David Bowie on the 2015 single "Sue (Or in a Season of Crime)."
Baritone saxophonist Carl Maraghi moved to New York City from Montreal to study at the Juilliard School and has performed at the White House for two presidents. Maraghi has recorded and performed with the Grammy-nominated Darcy James Argue's Secret Society and bass master Rufus Reed's Grammy-nominated large ensemble and is part of the two-time Grammy-winning Christian McBride Big Band. Maraghi has also performed with Wyn­ton Marsalis and the Jazz at Lincoln Center Orches­tra, Harry Connick Jr., Kurt Elling, and trumpet icon Doc Severinsen. He tours and records regularly in the United States, Canada, and Europe. Maraghi has recorded with Alicia Keys, and played with Bruce Springsteen, as well as with Stewart Copeland, drummer of the Police. He is part of the Uptown Jazz Tentet and the New View Saxophone Quartet. Maraghi has been a woodwind instrument teacher at NJPAC and Fordham University in New York City. He composes for and leads projects including his own quartet/quintet/sextet, saxophone ensemble, and nonet. Maraghi plays on wooden Frederic Lebayle mouthpieces on all saxophones and on a D'Addario clarinet mouthpiece, and uses D'Addario reeds exclusively.
Guitarist-composer Sebastian Noelle has spent much of his life traveling an elusive path between two worlds. In life, he moves back and forth between his native Germany and his adopted home of New York City; in his art, he navigates the more fluid boundaries between the abstract and the emotional. Noelle's credentials since arriving in New York in 2002 include more than a decade with groups including Darcy James Argue's Secret Society (appearing on two Grammy-nominated recordings), the BMI Jazz Composer's Workshop Orchestra, and the New York Jazzharmonic. He has also performed at prestigious jazz festivals such as New­port, North Sea, Montreux, and Moers. Noelle has released three CDs on the European Fresh­Sound-NewTalent label: Across The River (2006), featuring Donny McCaslin, Ben Street, and Ari Hoenig; Koan (2011), with Loren Still­man, George Colligan, Thomson Kneeland, and Tony Moreno; and Shelter (2016), with Marc Mommaas, Matt Mitchell, Matt Clohesy, and Dan Weiss. His music has been praised by the New York Times and hailed for its "embrace of both lyrical intricacies and rockish swagger" (Nate Chinen).
The Australia-born and -based Nadje Noord­huis possesses one of the more unforgettably lyrical sounds in modern music, and has been described as "one of the most compelling voices to emerge on her instrument in recent years" (Dan Bilawksy, All About Jazz). Her deeply-felt, clarion tone and evocative compositional gifts meld classical rigor, jazz expression, and world music accents into a presentation that is distinctively unique. Noordhuis was one of 10 semi-finalists in the 2007 Thelonious Monk International Jazz Trumpet Competition and was selected as a Carnegie Hall Young Artist in 2012. Based in New York since 2003, she is a member of the multiple Grammy-winning Maria Schneider Orchestra, the Grammy-nominated Darcy James Argue's Secret Society, and the Grammy-nominated Anat Cohen Tentet. Noordhuis has three albums of original compositions on her record label, Little Mystery Re­cords, and a vinyl release on Newvelle Re­cords captured live in Muri, Switzerland. More information at www.nadje­noordhuis.com.
Brooklyn-bred trumpeter Adam O'Farrill is a "rising star as a player and composer" (PopMatters) and "a blazing young trumpet talent" (The New York Times). Begin­ning his career in his teenage years by performing with his father, the Grammy-winning pianist and composer Arturo O'Farrill, Adam has gone on to work with a wide range of artists including Rudresh Mahanthappa, Mary Halvor­son, Mula­tu Astatke, Brasstracks, Samora Pinder­hughes, and Onyx Collective. His most recent album, 2018's El Maquech (Biophilia Records), received critical acclaim, including from the Wall Street Journal, which wrote that "the band presents rambunctious music that is equally rustic and modern," as well as Best of the Year mentions from the Boston Globe and the NPR Jazz Critics Poll. In the spring of 2019, O'Farrill won the Downbeat Critics Poll for Rising Star Trum­peter. As a sideman, his discography includes Mary Halvorson's Artlessly Falling, Rudresh Mahan­thappa's Bird Calls, Arturo O'Farrill's Cuba: The Conversation Continues, Stimmer­man's Goof­balls, Tarun Balani's The Shape of Things to Come, and upcoming releases from Anna Webber and Aaron Burnett.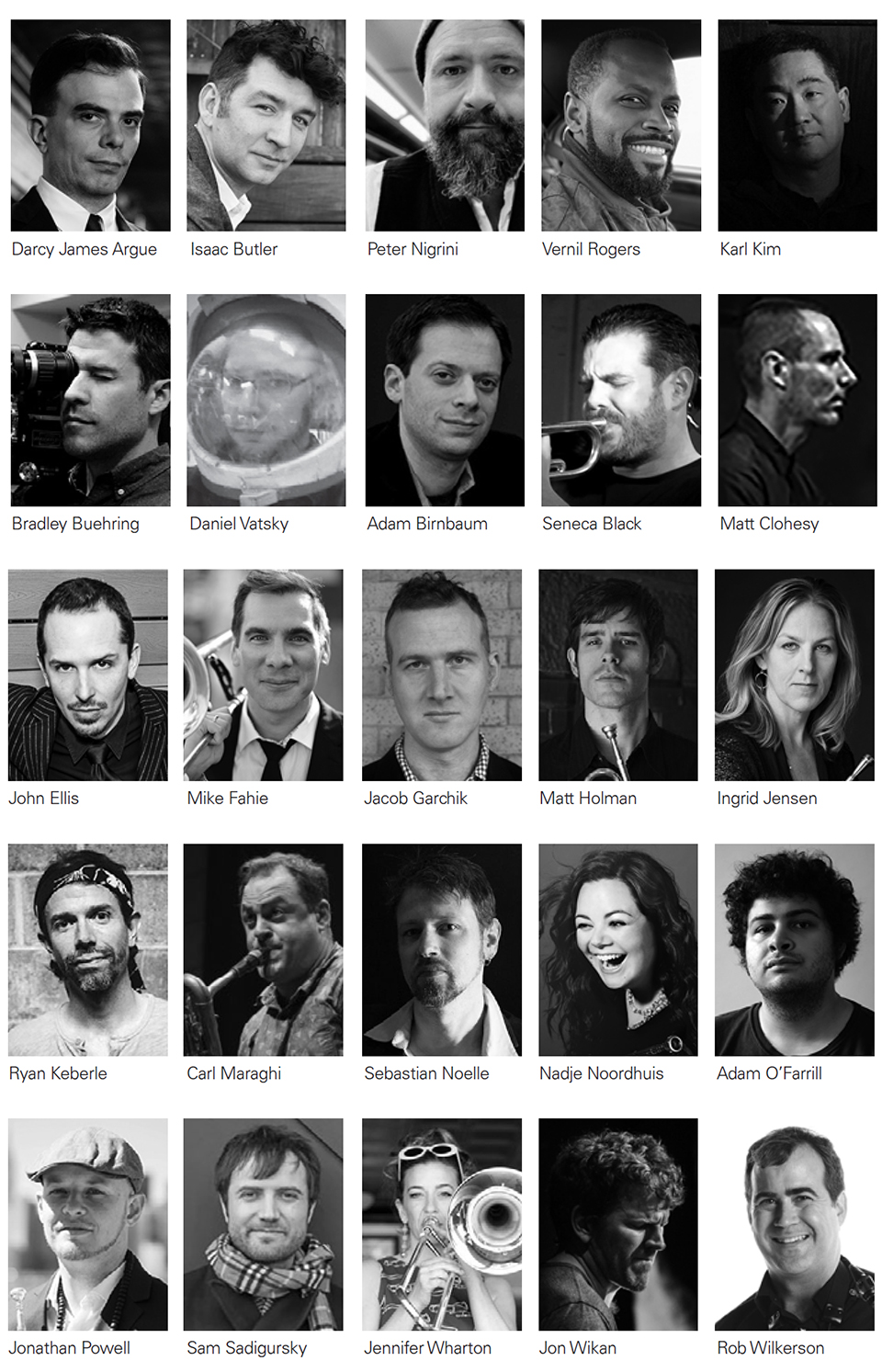 Dave Pietro's talents as a gifted saxophonist, composer, and educator have made him an in-demand musician who has performed in jazz clubs, festivals, and concert halls in more than 30 countries throughout Asia, Australia, Europe, and North and South America. He is a member of the Grammy Award-winning Maria Schneider Orchestra and the Grammy-nominated groups the Gil Evans Project and Darcy James Argue's Secret Society. Pietro has also toured and performed with the bands of Toshiko Akiyoshi, Woody Herman, Lionel Hampton, and Maynard Ferguson. As a leader, he has released nine CD's with musicians including Dave Holland, Kenny Werner, Ben Monder, Bill Stewart, Brian Blade, and Scott Colley. Pietro's latest CD, Hypershere (Artist­Share, 2020), features Alex Sipiagin, Ryan Keberle, Gary Versace, Johannes Weiden­muel­ler, and Johnathan Blake. He is currently the director of jazz studies at New York University. Pietro is sponsored by D'Addario Woodwinds and the Conn-Selmer Instrument Company.
Originally from Largo, Florida, Jonathan Powell picked up the trumpet at the age of 11, never to look back. Though jazz was his first and greatest love, he soon began incorporating elements of North Indian classical music, elec­tronica, hip hop, and 20th-century classical music into his original compositions. These influences are heard and felt on Powell's debut album, Transcend, self-released in 2010, and its follow up album, Beacons of Light, released in 2015 on Truth Revolution Records. He has shared the stage and recording studio with renowned musicians and artists including Eddie Palmieri, Blood Sweat and Tears, Ricky Martin, Elton John, OMI, Miguel Zenon, and Ar­turo O'Farrill and the Afro-Latin Jazz Or­ches­tra, to name a few. In 2018, Powell also became a full-time member of the legendary rock/jazz group Blood, Sweat & Tears. He is a Yamaha artist and plays Yamaha trumpets and flugelhorns exclusively. www.jonathanpowell.net.
Sam Sadigursky lives in New York and enjoys playing with musicians like Fred Hersch, Brad Mehldau, Darcy James Argue, Matt Mitchell, Emilio Teubal, Pablo Mayor, Jamie Baum, Gabriel Kahane, Lucia Pulido, and many others. He has released four albums of his own music for New Amsterdam Records, a collaborative album with Laurent Coq called Cross­words, and Follow the Stick for BJU Records. Most recently, Sadigursky became a member of the Philip Glass Ensemble and was the onstage clarinetist for the Tony Award-winning Broadway musical The Band's Visit.
Jennifer Wharton is a low brass specialist based in New York City. Though she started with classical music, Wharton also has deep roots in jazz and commercial music. Until the current pandemic, she was performing in West Side Story on Broadway. Wharton is a member of the Grammy-nominated jazz orchestras Darcy James Argue's Secret Society, the Alan Ferber Big Band, and the Terraza Big Band. She has also performed or recorded with the Van­guard Jazz Orchestra, Dizzy Gillespie All Star Band, Woody Herman Orchestra, Ayn Inserto Jazz Orchestra, Jihye Lee Jazz Orchestra, Big Heart Machine, many at-home virtual big bands, and with her husband, trombonist/composer John Fedchock. Wharton just recorded Not A Novelty, her sophomore album with her band Bone­gasm. It will be released on Sunnyside in April 2021. www.jenniferwharton.com.
Drummer, percussionist, and composer Jon Wikan was born in Petersburg Alaska, and raised in Seattle, Washington. His dossier is loaded with names of legends and masters for whom he has accompanied over the years, ranging from his early days with Herb Jeffries and the Mills Brothers to providing some of the essential cajón sounds on Maria Schneider's recordings. The instrumentalists and bands that he has supported include Project O, the Infinitude Project with the Jensen Sisters, Ingrid Jensen's quartet and quintet, the Jim Knapp Big Band, Nordic Connect, Geoffrey Keezer's trio, and the Invisible Sounds Project with Ingrid Jensen and Steve Treseler.
Saxophonist Rob Wilkerson is an Albuquer­que, NM native based in Brooklyn, NY since 2001. As well as a leader/composer of his own ensemble, he is a long-time member of Darcy James Argue's Secret Society and Alan Ferber's Big Band (both nominated for multiple Gram­my awards). Since 2005, he has toured the world with Michael Bublé, appearing on several Grammy and Juno award-winning albums. Wil­kerson has been a featured soloist and performs regularly with the Chelsea Symphony in New York City, and performed Michael Tilson Thomas' Four Preludes on Playthings of the Wind with the Philadelphia Orchestra in 2018. He played woodwinds for the Tony Award-winning Avenue Q from 2017–19 and performs and records with many of NYC's top big bands. Wilkerson is currently an adjunct professor at the Hartt School at the University of Hartford. He is a Selmer Paris and Vandoren Artist.
PRODUCER
Since 2006, Beth Morrison Projects (BMP) has been a tastemaker at the forefront of musical and theatrical innovation by supporting living composers and their collaborators during the creation of groundbreaking new works in opera-theater and other kinds of vocal theater. "Responsible for a sizable portion of the strongest new opera mounted in the 21st century" (The New Yorker) BMP encourages risk-taking by all its artists, resulting in provocative works that represent a dynamic and lasting legacy for a new American canon. During the 2018–19 and 2019–20 seasons, BMP produced 185 performances on five continents.
BMP's commitment to cutting-edge musical expression has created "its own genre" (Opera News) of originality. In 2013, Beth Morrison Projects and HERE Arts Center co-founded the PROTOTYPE Festival, which showcases contemporary opera-theater and music-theater projects over 10 days each January. The New Yorker recently wrote that the festival is "Essential to the evolution of American opera," and the New York Times called the festival "Bracingly innovative… a point of reference." BMP's 2014 bi-coastal expansion to Los Angeles sprang from growing partnerships with institutions such as the Los Angeles Opera, the Los Angeles Philharmonic, Ford Theatres, and RVCC. BMP is a National Sawdust Artist in Residence. www.bethmorrisonprojects.org.
Special thanks to Lindsey Turteltaub.
"Best Friends Forever" was premiered by the Brussels Jazz Orchestra at Jazz Middleheim on August 13, 2015. Real Enemies was previewed by Secret Society on September 10, 2015 at the Center for the Arts at Virginia Tech, and premiered at the 2015 BAM Next Wave Festival, November 18–22, 2015.
"Dark Alliance" contains musical elements paraphrased from "Un Son Para Mi Pueblo," music and lyrics by Luis Enrique Mejía Godoy, © 1981 Ocarina-ENIGRAC. Used with permission.
Narration in "Who Do You Trust" and "You Are Here (Reprise)" contains excerpts from The Paranoid Style in American Politics by Richard Hofstadter © 1964 Richard Hofstad­ter, and Real Enemies by Kathryn S. Olmsted © 2009 by Oxford University Press, Inc.; and original text by Isaac Butler © 2015 Isaac Butler. Used with permission.
Narration recorded by James Urbaniak at Starburns Industries in Burbank, CA, engineered by Dustin Marshall. © 2014 James Urbaniak. Used with permission.
Original studio recording recorded at MSR Studios, Studio A, New York, NY, February 1–4, 2016. Produced by Alan Ferber, Brian Mont­gomery, and Darcy James Argue. Recorded and mixed by Brian Montgomery and mastered by Randy Merrill at Sterling Sound. Released by New Amsterdam Records.
Beth Morrison Projects
Beth Morrison, President and Creative Produce
Jecca Barry, Executive Director
Kim Whitener, Consulting Producer
Brian Freeland, Director of Production
Robert Phillip Smith, Associate Producer
Ashley Peters, Finance Manager
Melanie Milton, PROTOTYPE Festival Producer
Victoria Preis, Marketing Manager
Catherine Hancock, Social Media Manager
CREDITS
For Cal Performances at Home
Tiffani Snow, Producer
Jeremy Little, Technical Director
For Ibis Productions, Inc.
Jeremy Robins, Post-Production Video Engineer
Zach Herchen, Post-Production Audio Engineer
For Future Tense Media
Jesse Yang, Creative Director
For Cal Performances
EXECUTIVE OFFICE
Jeremy Geffen, Executive and Artistic Director
Kelly Brown, Executive Assistant to the Director
ADMINISTRATION
Andy Kraus, Director of Strategy and Administration
Calvin Eng, Chief Financial Officer
Rafael Soto, Finance Specialist
Marilyn Stanley, Finance Specialist
Gawain Lavers, Applications Programmer
Ingrid Williams, IT Support Analyst
Sean Nittner, Systems Administrator
ARTISTIC PLANNING
Katy Tucker, Director of Artistic Planning
Robin Pomerance, Artistic Administrator
DEVELOPMENT
Taun Miller Wright, Chief Development Officer
Elizabeth Meyer, Director of Institutional Giving
Jennifer Sime, Associate Director of Development, Individual Giving
Jamie McClave, Individual Giving and Special Events Officer
Alex Higgins, Director of Annual Fund
EDUCATION AND COMMUNITY PROGRAMS
Rica Anderson, Interim Director, Artistic Literacy
Laura Abrams, Artistic Residencies and Public Engagement Manager
HUMAN RESOURCES
Judy Hatch, Human Resources Director
Shan Whitney, Human Resources Generalist
MARKETING AND COMMUNICATIONS
Jenny Reik, Director of Marketing and Communications
Ron Foster-Smith, Associate Director of Marketing
Mark Van Oss, Communications Editor
Louisa Spier, Public Relations Manager
Cheryl Games, Digital Platform Program Manager
Jeanette Peach, Public Relations Senior Associate
Elise Chen, Email Production Associate
Lynn Zummo, New Technology Coordinator
Terri Washington, Social Media and Digital Content Specialist
OPERATIONS
Doug Warrick, General Manager
Jeremy Little, Production Manager
Alan Herro, Production Admin Manager
Kevin Riggall, Head Carpenter
Matt Norman, Head Electrician
Tom Craft, Audio/Video Department Head
Jo Parks, Video Engineer
Amy Ferrara, Event Manager/Greek Theatre
Tiffani Snow, Event Manager
Ginarose Perino, Rental Business Manager
Rob Bean, Event Operations Manager
Marybeth Baluyot, Assistant Manager, Audience Services
Loretta Hill, Office Manager
STAGE CREW
Charles Clear, Senior Scene Technician
David Ambrose, Senior Scene Technician
Jacob Heule, Senior Scene Technician
Jorg Peter "Winter" Sichelschmidt, Senior Scene Technician
Joseph Swails, Senior Scene Technician
Mark Mensch, Senior Scene Technician
Mathison Ott, Senior Scene Technician
Mike Bragg , Senior Scene Technician
Ricky Artis, Senior Scene Technician
Robert Haycock, Senior Scene Technician
STUDENT MUSICAL ACTIVITIES
Brad Brennan, Director, Student Musical Activities
Mark Sumner, Director, UC Choral Ensembles
Bill Ganz, Associate Director, UC Choral Ensembles
Matthew Sadowski, Director, Cal Marching Band
Ted Moore, Director, UC Jazz Ensembles
Brittney Nguyen, SMA Coordinator
TICKET OFFICE
Liz Baqir, Ticket Services Manager
Gordon Young, Assistant Ticket Office Manager
Sherice Jones, Assistant Ticket Office Manager
Jeffrey Mason, Patron Services Associate
Opening fanfare used by permission from Jordi Savall from his 2015 recording of Monteverdi's L'Orfeo on Alia Vox.
Major support for the Cal Performances Digital Classroom is provided by Wells Fargo.
Major support for Beyond the Stage is provided by Bank of America.
© 2020 Regents of the University of California
Oct 21, 2020, 7pm
Add to Calendar
10/21/2020 07:00 pm
10/21/2020 08:30 pm
America/Los_Angeles
Real Enemies
Darcy James Argue's Secret Society; Real Enemies https://calperformances.org/events/2020-21/jazz/darcy-james-argues-secret-society-real-enemies/
Video no longer available.
Darcy James Argue's Secret Society; Real Enemies