In this issue: Batsheva – The Young Ensemble/Ohad Naharin's Echad Mi Yodea; György Cziffra/ Liszt's Grand Galop Chromatique; Barbara Hannigan and the Berliner Philharmoniker/Hans Abrahamsen's "I Will Go Out Now"; the Monteverdi Choir and the English Baroque Soloists/ Monteverdi's "Nisi dominus" from Vespro della Beata Vergine; Renée Fleming and the London Philharmonic/excerpt from Mozart's The Marriage of Figaro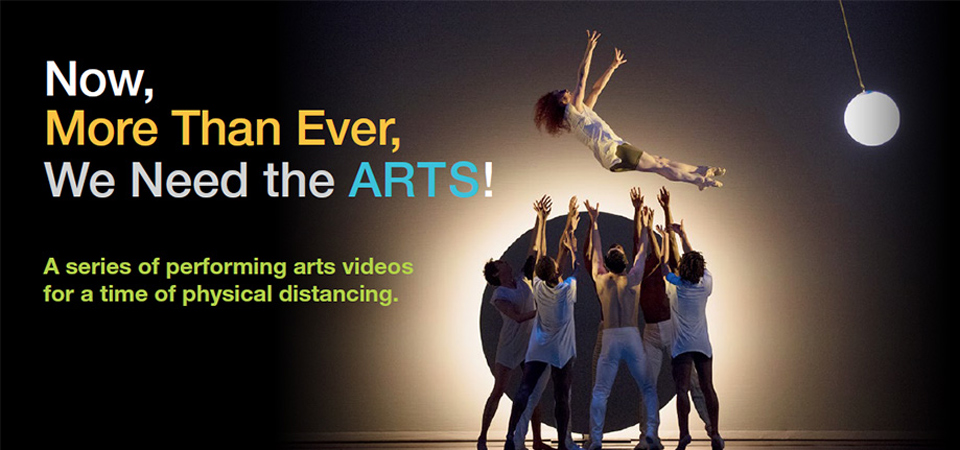 Now, More Than Ever: Issue 6
Echad Mi Yodea
Ohad Naharin, choreographer
Batsheva – The Young Ensemble
This is perhaps Naharin's best known piece, created in 1990 as part of his first full-length work for Batsheva as its artistic director. It is based on a traditional Passover cumulative song (one that is modified by progressive additions so that each verse is longer than the one before). Evidently, it looked quite different then (the dancers wore khaki work shirts and shorts), although the idea remains the same. But what does it all mean? This has been the subject of much debate, with Naharin himself remaining silent on the issue (although he has said that "every movement is charged with meaning"). Dressed in solemn black attire (business suits? the garb of orthodox Jewry?), the dancers collectively react to the soundtrack, a song familiar to many as part of the Passover Seder that recites the 13 principles of God so fundamental to the Jewish faith ("two are the tablets of the covenant, three are the Fathers, four are the Mothers, five are the books of the Torah," etc.), always returning to the line "One is our God, in Heaven and on Earth," which all but one dancer stand and loudly proclaim in unison. If the song is part of your tradition, this all takes on a different significance, but regardless, you'll find here a powerful and expanding vocabulary of choreographic gestures that gathers meaning and weight as the work plays out. I love the moments punctuated by collective stillness, the dancers with heads in hands, slumped over their chairs. This seven-minute piece has been around for more than 20 years and people are still talking about it.
Liszt: Grand Galop Chromatique
György Cziffra, piano
Liszt created what we now think of as the modern piano recital, and this was one of his most popular (and impressive!) showpieces, one that even crosses over into absurdity on many occasions. (It reminds me of the opening scene of the first Indiana Jones film, with its giddy obstacle course of death-defying set pieces.) During his time, Cziffra was known as the pianist who could play absolutely anything and here you can see why. (The camerawork, which stays focused on the artist's hands, makes it clear exactly what is required.) We don't hear this piece very often these days, perhaps because few pianists dare to take it on!
Hans Abrahamsen: "I will go out now"
from let me tell you
Barbara Hannigan, soprano
Berliner Philharmoniker
Andris Nelsons, conductor
This is the last of seven movements in a spellbinding piece by the remarkable Danish composer Hans Abrahamsen, based on writer Paul Griffiths' eponymous 2008 novel. Both song cycle and novel restrict themselves to the 480 words spoken by the character of Ophelia in Shakespeare's Hamlet, creating, in the words of the New York Times' Anthony Tommasini, "a poetic exploration of themes like memory, time and music." In the hands of Abrahamsen and Griffiths, Ophelia no longer drifts down a river into madness, but rather (and in an evocative nod to Schubert's Winterreise) out into a silent snowscape. These heart-stopping sonic images of falling snow demand virtuosity in every vocal register and Hannigan is so exquisite here that it's hard to imagine this music in anyone else's hands—her incredible skill descending from the highest registers of the human voice; the absolute control necessary to create such ethereal sounds while transforming them into music that has both shape and direction. This recording comes from the world premiere in 2013; I'm delighted that the work has enjoyed considerable success since then, with Hannigan singing it around the world.
Monteverdi: "Nisi dominus"
from Vespro della Beata Vergine, SV 206
The Monteverdi Choir
The English Baroque Soloists
John Eliot Gardiner, conductor
This 1989 video and audio recording was made in the Basilica di San Marco, Venice, where Monteverdi served as maestro di capella for most of his life (although at the time of the composition of this work, the composer was living in Mantua and an employee of the Gonzaga family). The space is an ideal fit for this music, its two antiphonally set choir lofts perfect for these kinds of call-and-response/echo musical effects. It was conductor John Eliot Gardiner's idea to record here, but because the piazza outside is normally so busy each day, the artists had to work in the middle of the night over several days (sessions began at midnight and stretched into the early hours). A virtual encyclopedia of human expression, this may well be my favorite of all musical works and I return to it again and again (in fact, I have more recordings of the Vespers of 1610 than any other piece). The first time I heard this particular movement, I remember thinking of the bubbles in champagne, the overall effect and texture being almost lighter than air. (While you're getting some of that effect over video, you really need to hear the piece live, so uncommon and complex are the choral textures.) This is music that, in order to achieve success, demands to be rehearsed in the space where it will be performed—all the more remarkable here when you realize that none of the choristers is reading from music. No matter how often I listen to this masterwork, it seems that I'm always surprised by new delights and discoveries.
Mozart: The Marriage of Figaro – Act 4 finale
London Philharmonic Orchestra
Bernard Haitink, conductor
If you have experienced a performance of The Marriage of Figaro, you know that the entire opera leads up to this transcendent moment at the end of Act 4, and exactly how much the Countess' entrance means here. We can ask, "Why does she forgive him?" but I'm so glad she does, because otherwise we would have been robbed of one of the single most glorious moments in Western music. "I am more tender-hearted. I forgive you.," she sings as she accepts and forgives her husband's behavior, providing a timeless lesson on the importance—indeed, the necessity—of letting go of frustration and pain and moving on with life. In this 1994 Glyndeborne production, with the London Philharmonic conducted by Bernard Haitink and featuring Renée Fleming as the Countess, you'll find a perfect marriage of temperament and vocal quality. It all comes together in these final minutes of the work, setting off a rare moment of unity in a piece that, even if perfect, can also feel a bit like a series of divine musical moments surrounded by (and often included in) sketch comedy routines.


Now, More Than Ever Full Playlist






Now, More Than Ever Spotify Playlist




Share This Story!
You might also like: