In this issue: Youssou N'Dour and Le Super Étoile de Dakar; pianist Timo Andres playing Robin Holcomb's Wherein Lies the Good; mezzo-soprano Lorraine Hunt Lieberson performing in Hippolyte et Aricie; Bang on a Can All-Stars playing Anna Thorvaldsdottir's Fields; Ballet Hispánico in Tiburones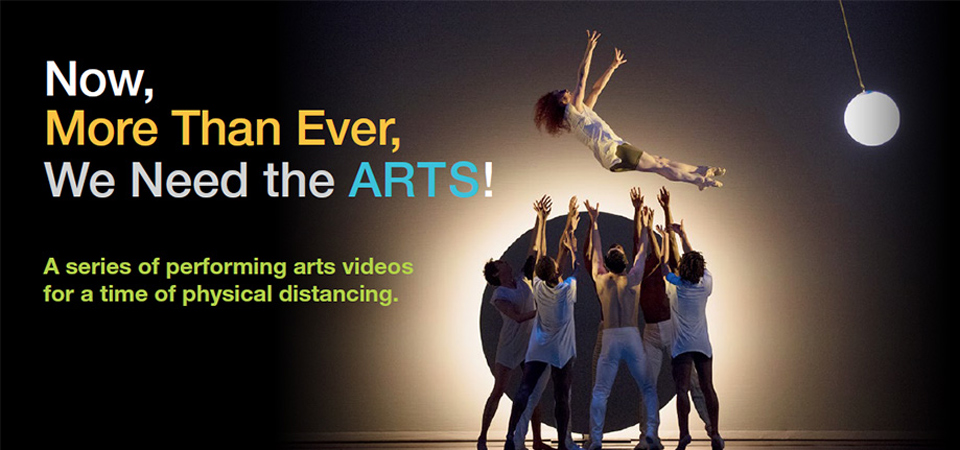 Now, More Than Ever: Issue 12
Now that Cal Performances has announced the details of our 2020–21 season, I can admit that—from the start—these Now, More Than Ever "virtual tours" of great performances have featured some of the exceptional artists scheduled to appear at UC Berkeley next season. We've already seen some wonderful work from the Mark Morris Dance Group and the Alvin Ailey American Dance Theater, as well as terrific performances by pianists Mitsuko Uchida (with the Mahler Chamber Orchestra) and Beatrice Rana, vocalists Renée Fleming and Jamie Barton, violinist Tessa Lark, jazz keyboardist Matthew Whitaker and vocalist Jazzmeia Horn, gambist Jordi Savall, new-music ensemble yMusic, and the one and only Angélique Kidjo. Today's selections include Bang on a Can All-Stars and the brilliant Ballet Hispánico. All of these talented performers—and many, many more—are featured on Cal Performances' upcoming season. 
"Immigrés"
Youssou N'Dour and Le Super Étoile de Dakar
If you've enjoyed one of Youssou N'Dour's performances in recent years, it can be an eye-opener to take a look back at film from early in his career. Not that he's changed so much—the charisma, the energy, the musical skill, have always been there. Rather, it's a joy to see this world music superstar in the full bloom of youth (here, age 28), a veritable supernova of energy and enthusiasm. In this performance, filmed in Athens as part of Peter Gabriel's 1987 So tour, we see N'Dour right about the time of his introduction to international audiences. Already socially active, the Senegalese singer, songwriter, and composer had been organizing for the prison release of Nelson Mandela and would soon partner with Gabriel and Lou Reed on a version of Gabriel's "Biko" for the 1988 worldwide Amnesty International Human Rights Now! tour. "Immigrés" is one of his earliest international hits, a brilliant example of mbalax, the national popular and dance music of Senegal and the Gambia. I wish I understood the lyrics to this one—alas, the only word I can make out clearly is "Senegal." Not that it really matters!
Robin Holcomb: Wherein Lies the Good
Timo Andres, piano
I often find that the best music recommendations come from composers describing work they like, by people they don't know personally. Such is the case with this lovely piece by Robin Holcomb, a gifted singer/songwriter/composer born in Georgia but now living in the Pacific Northwest. She first came to my attention when I was discussing a planned Carnegie Hall appearance by the formidable young American composer and pianist Timo Andres. That concert ultimately was scheduled for March 2020 but was canceled following the outbreak of the coronavirus pandemic. Happily, Andres decided to film the entire recital, piece by piece, in his apartment; this video is from those sessions.
To me, Holcomb's Wherein Lies the Good creates a beautiful kind of musical Americana, a charming and winning patchwork of different styles and references. Speaking of her compositions, the New York Times commented that Holcomb "has created a new American regionalism, spun from many threads—country rock, minimalism, Civil War songs, Baptist hymns, Appalachian folk tunes, even the polytonal music of Charles Ives. The music that results is as elegantly simple as a Shaker quilt, and no less beautiful." It's worth mentioning that even though the tunes employed here may sound familiar (or at least as if delivered in a familiar language), they are completely Holcomb's own.
Rameau: "Quelle plainte en ces lieux m'appelle?"
from Hippolyte et Aricie
Lorraine Hunt Lieberson, mezzo-soprano
Les Arts Florissants
William Christie, conductor
Hippolyte et Aricie (1733) was Rameau's first opera (although he was 50 years old at the time of its composition) and was recognized as a great success following its premiere. Now it's one of his most-performed works in the genre. These days, we don't hear as much French Baroque opera as Italian, largely because the French works have so many formalities associated with them—a greater focus on allegory, required musical instruments that are quite different from those generally used today, a reliance on dance (something very important to the French court), and text that is more often declaimed than sung. It's too bad—there's much sublime music to be found in this repertoire. [For a prime example, don't miss the May 2021 Zellerbach Hall performances of the composer's great comic opera Platée, featuring the Mark Morris Dance Group and Philharmonia Baroque Orchestra.]
Despite its title, Hippolyte et Aricie is based on Racine's dramatic tragedy Phèdre, and here we encounter that character's final aria, in which (not unlike Dejanira in Handel's Hercules, which we looked at in late April), she realizes that she has inadvertently caused the death of the object of her love and obsession, her stepson Hippolyte. Phèdre sings this before going off to kill herself and it's one of the most intense moments in all of opera. I'm sorry there seems to be no video of Lorraine Hunt Lieberson's commanding performance (she has a High Priestess-quality that is utterly absorbing), but this audio recording is so thrilling, I couldn't resist sharing it with you. (Excuse me for repeating performances by Hunt Lieberson in successive playlists, but I fell deep down a rabbit hole and found too much great material. Her untimely death was truly a tragedy.)
Anna Thorvaldsdottir: Fields
Bang on a Can All-Stars

One of the pleasures of recent days has been the time I've spent enjoying Bang on a Can All-Stars' annual marathon, which was presented online this year due to the current shutdown. This fine organization has been "making music new" since its first marathon concert in 1987, creating an international community dedicated to innovative music, wherever it is found. With adventurous programs, it commissions new composers, performs, presents, and records new work, develops new audiences, and educates the musicians of the future. Happily, Bang on a Can has just introduced its new website archive, which is packed with video and audio recordings and much more, all presented in a fun and approachable format. Check out CanLand.
Here's a favorite work, available on both the CanLand website and YouTube, by one of the most important compositional voices of her generation, Iceland's Anna Thorvaldsdottir, who specializes in creating incredible, largescale soundscapes that come in small packages. It's amazing here, the variety of effects she achieves from just the six instrumentalists on stage. I think the reason this piece is called Fields is that the music seems directly drawn from, and inspired by, Iceland's evocative landscape. It's texturally fascinating, but much more than just a series of interesting sounds; Thorvaldsdottir's harmonic language draws the elements together into a coherent, united whole.
Tiburones
Ballet Hispánico
Annabelle Lopez Ochoa, choreographer

As in Robin Holcomb's Wherein Lies the Good (but with very different objectives), in Tiburones, choreographer Annabelle Lopez Ochoa uses a patchwork of references to popular culture—or what, at one time, was considered popular culture—to drive home her points. First, and most obviously, the work comments on the depiction of Puerto Rican culture in the original production (seen here on a film set) of West Side Story ("tiburones" means "sharks" in Spanish—the name of the Puerto Rican gang depicted in the musical). We hear Leonard Bernstein in an excerpt from his Norton Lectures at Harvard (as well as the less-articulate hems and haws of Steven Spielberg, when asked to talk about his upcoming film version of the work); and we see the fascinating and perhaps unexpected overturning of traditional roles of gender and sexuality, all in the service of reclaiming Puerto Rican culture on Ochoa's own terms. On a choreographic level, I find this really compelling, and I can't wait to see it live on the Zellerbach stage in November.


Now, More Than Ever Full Playlist






Now, More Than Ever Spotify Playlist




Share This Story!
You might also like: