In this issue: Violinist Isaac Stern performing Bach's Chaconne from Partita in D minor; Maya Plisetskaya dancing Mikhail Fokine's "The Dying Swan"; Countertenor Jakub Józef Orliński performing Stanisław Moniuszko's "Prząśniczka"; Gustavo Dudamel conducting Simón Bolívar Symphony Orchestra; L'Arpeggiata and Christina Pluhar performing Cazzati's Ciaccona; and Bollywood playback singers Kishore Kumar and Asha Bhosle perform "Kab Ke Bichhde Hue Hum Aaj" from Lawaaris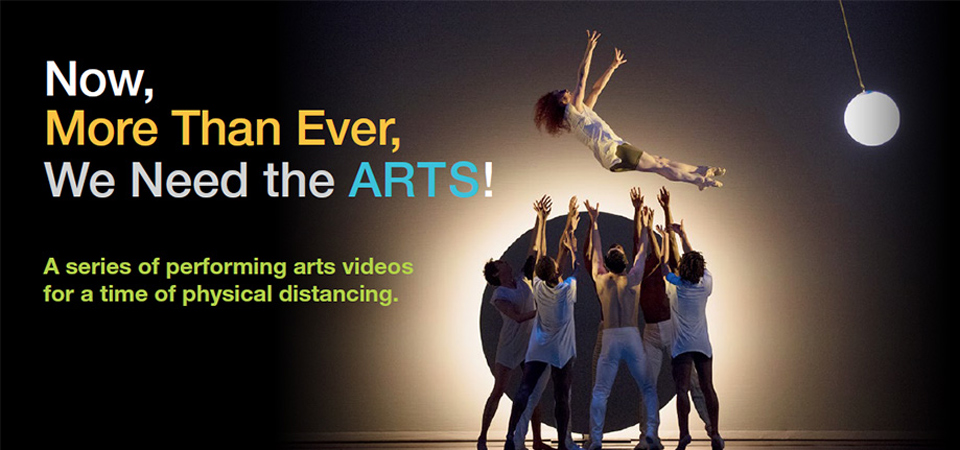 Now, More Than Ever: Issue 13
This edition of Now, More Than Ever—which takes us from Bach to Bollywood, with several diverting stops in between—was a particular pleasure to put together. And once again, it includes some brilliant performers featured on Cal Performances' upcoming season. 
Bach: Chaconne from Partita in D minor for Solo Violin, BWV 1004
Isaac Stern, violin
Few pieces in all of music rival the final movement (Chaconne) of Bach's D minor Partita. Much has been published about this piece (it seems to be a magnet for people who write about music), but no matter how beautiful the prose, no writer comes close to capturing its depth and majesty.
A chaconne consists of a series of variations repeated over a ground bass, and usually exploits the most demanding technical aspects of the instrument(s) involved. It can be a showpiece for a brilliant virtuoso, but in this case, Bach widens his reach to create music of transcendent humanity, in which all elements work together to create a coherent whole. (If you ever want to spend a few happy hours, go through the various YouTube performances of the Chaconne. I started with Jascha Heifetz, the recording I listened to most when practicing the piece as a student, on the viola.) This work truly marks a high point in Western music.
I hadn't seen this video of Isaac Stern before, but it stands out as something special. One of the great virtuosos of the 20th century, Stern was, to some degree, overshadowed by other violinists commanding more flawless technique. But he brought incredible grit and soul to whatever he touched. A powerful global advocate for the arts, and a mentor to countless young musicians, he was also instrumental in saving Carnegie Hall from the wrecking ball in 1964.
"The Dying Swan"
Maya Plisetskaya, dancer
Mikhail Fokine, choreographer
"The Dying Swan" is a solo dance choreographed by Mikhail Fokine in 1905 to Saint-Saëns' "Le Cygne" from Le Carnaval des animaux; it was created as a pièce d'occasion for Anna Pavlova, who ended up performing it upwards of 4,000 times during her legendary career. Despite the fact that the piece originally had nothing to do with Tchaikovksy's Swan Lake, it would go on to influence modern interpretations of that ballet's characters of Odette/Odile, as well as inspire various nontraditional adaptions, including the popular comic version danced by Les Ballets Trockadero de Monte Carlo.
I was reminded of this piece by a more recent video, a collaboration between ballerinas from around the world, creating their own versions of this classic choreography from wherever they are currently sheltering in place. We're seeing a lot of these compilation videos these days, but this is one of the more successful, and I think it's very moving. Many thanks Maris Meyerson, a Cal Performances trustee and a member of our Executive Committee—and one of Berkeley's great dance enthusiasts—for calling it to my attention.
I wish I knew more about the origins of this footage, but apparently these performances (there are two featured in the video) were made when the great Russian prima ballerina assoluta Maya Plisetskaya was in her 50s; she would continue to perform it into her late 60s! "Poetry in motion" is a cliché, but honestly, I can't come up with better words to describe her arms.
Stanisław Moniuszko:
"
Prząśniczka
"
Jakub Józef Orliński, countertenor
Aleksander Dębicz, piano
This song (the title means "spinning wheel") is quite well known in Poland—and it's certainly Stanisław Moniuszko's best known composition in the genre. It sounds folk-like, but it's actually a composed piece about a crew member on a river ship saying goodbye to the girl he loves (alas, and in the way of such songs, she betrays him!). Here it receives a lovely performance by Jakub Józef Orliński, the star countertenor of his generation, performing from his current place of isolation during the pandemic. I remember Orliński as a student at Juilliard, when he appeared in a master class with Joyce DiDonato and caused everyone to sit up and take notice. And I'm very excited that he is part of the stellar cast of Handel's Tamerlano, set for a performance by the English Concert at Zellerbach Hall in April 2021. In addition to his considerable vocal and musical gifts, this native Pole has the warmest and most endearing of personalities—it's great fun to follow him on Instagram—but perhaps most surprisingly, he is also an extremely accomplished break dancer. If there's anyone who—simply through his winning demeanor—is reducing any worries about elitism in classical music, it's Orliński.
Arturo Márquez: Danzón No. 2
Simón Bolívar Symphony Orchestra
Gustavo Dudamel, conductor
Here's a terrific video from an August 2007 Proms concert in London, which captures both the wild enthusiasm of the audience, which really fed off the musicians' energy, and the very special bonds of love and respect forged between conductor Gustavo Dudamel and the members of the Simón Bolívar Symphony Orchestra, the flagship ensemble of El Sistema, Venezuela's former national system of social action programs through music. On a trip to that country in February 2011, I was touched to see this incredible program in action. Here in the United States, we generally are taught that it's best to practice your instrument in solitude and begin playing with other musicians only after achieving a certain technical standard. But with El Sistema, young people started working together the moment they become involved. Many of the participants I encountered, all of whom came from incredibly disadvantaged backgrounds, had been playing together since the age of four or five. Over the years, those young people achieved a remarkable level of excellence and fame, something they managed to maintain for 10 years or so before the government restricted their activities (a great and lasting national tragedy).
This is a wonderful performance of the best-known work of Mexican composer Arturo Márquez, and it shows off the orchestra in top form. At the beginning, the music is full of languid, seductive South American spirit, but at about 7:30, you'll probably want to turn up the volume and settle back for the ride. I'm very excited that Dudamel will return to Berkeley next March for three concerts with the peerless Vienna Philharmonic Orchestra. As you can see here, his love of music-making is obvious and overwhelming.
Cazzati: Ciaccona
L'Arpeggiata
Christina Pluhar, director and theorbo

This was my first encounter with the music of Maurizio Cazzati (1616–78), but it's a good example of the pleasures to be found under the guidance of artists as curious and adventurous as Christina Pluhar and her L'Arpeggiata ensemble—partnerships informed as much by scholarship as technical skill, where repertoire is as often discovered on scraps of paper in dusty libraries as in published musical scores. (Jordi Savall, a former teacher and now colleague of Pluhar, is another such illuminating artist.) Cazzati's music may be unfamiliar, but it is instantly and completely enchanting. L'Arpeggiata performs this chaconne often; indeed, the piece has become something of a calling card as it spotlights both the group's impeccable ensemble work and the virtuoso skills of individual members (here including Elizabeth Seitz on the psaltery and Bruno Cocset on violone). It's great fun to watch the fleeting instances of eye contact and communication between these musicians. If they aren't experiencing the greatest joy from performing together, they are the world's most accomplished actors.
"Kab Ke Bichhde Hue Hum Aaj" from Lawaaris
Kishore Kumar and Asha Bhosle, playback singers
Even if you don't know the name of Asha Bhosle, you almost certainly would instantly recognize her voice. The single most recorded Indian playback singer (those who provide the actual music track, to which the actors lip synch or mime) in Bollywood history, she has reportedly sung more than 12,000 songs and enjoys the kind of worldwide fame afforded to few human beings. Now 86 years old, Bhosle made her farewell tour only last year, and when I worked at Carnegie Hall, no single concert in my experience sold out the hall as quickly. This song is from the phenomenally popular 1981 drama Lawaaris, in which Bosle's male co-star (again, as a playback singer) was Kishore Kumar, himself a big, big star, and it displays all the silly, giddy, and immensely likeable qualities we've come to expect from big Bollywood productions. I think it's a pure joy. And yes, it's traditional in these films that the lovers can do almost anything… except actually kiss!


Now, More Than Ever Full Playlist






Now, More Than Ever Spotify Playlist




Share This Story!
You might also like: