In this issue: Messiaen's "Louange à l'Immortalité de Jésus" performed by violinist Alexi Kenney; "I'm On My Way" by multi-instrumentalist and vocalist Rhiannon Giddens; Fase  danced by Anne Teresa De Keersmaeker & Michele Anne de Mey; "Hamadoun Toure" performed by Toumani & Sidiki Diabaté on the kora; Orchestra e Coro del Teatro alla Scala performing Verdi's Don Carlo conducted by Riccardo Muti.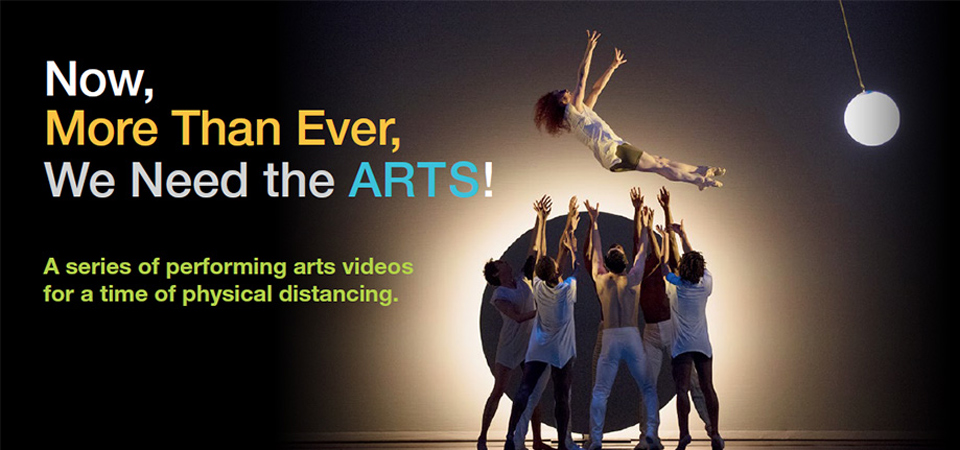 Now, More Than Ever: Issue 14
The performing arts have always demonstrated an uncanny ability to communicate the full range of human experience. What does it feel like to fall in love? To seduce? To betray? How do we act heroically, or what does it mean to be a coward? I'm particularly intrigued whenever music, theater, dance consider what might lie outside of—or even beyond—earthly existence. Maybe that's what links today's video picks—the glimpses they provide into the eternal, into a realm separate from time itself.
Messiaen: "Louange à l'Immortalité de Jésus"
Alexi Kenney, violin
Renana Gutman, piano
Some of the most beautiful pieces have been created under the worst imaginable circumstances. Drafted into the French army at the start of World War II, Olivier Messiaen was captured at Verdun and transferred to a prisoner of war camp (Stalag VIII-A) in east Germany. During a long and bitter winter, he composed his Quartet for the End of Time, a reflection of his deep devotion to the Catholic faith and his imaginings of what the world beyond might be like. His title refers not to the horrors of his wartime experience, but rather to the moment at which the human conception of time ends and eternity begins. Under freezing conditions, the quartet received its premiere in January 1941 before an audience of prisoners and guards. It was performed in an unheated barracks and its unusual instrumentation was dictated by the limitations of the moment. (The composer had met a violinist, a cellist, and a clarinetist in the camp, and he himself played a poorly maintained piano.)
The "Louange à l'Immortalité de Jésus" is the eighth and final movement of the quartet, and it might be useful to imagine yourself a member of that first audience. The music—sometimes ethereal, sometimes violent, sometimes rhythmic and dancelike—has already been playing for nearly one hour by the time this movement begins. Your backside and fingers have grown numb. You're flexing your toes inside your threadbare cloth shoes, just to keep the circulation moving. If you're not fighting off the flu—or worse—it's likely that you're hungry and very, very tired. And now at the close, Messiaen concludes with music of absolutely mystical beauty, sounds that make it (almost) possible to imagine leaving your weary body behind and floating into eternity itself. What must those first listeners have made of it all?
Born in Palo Alto, Alexi Kenney is one of the most interesting violinists of his generation. Pianist Mitsuko Uchida introduced me to him at the Marlboro Music Festival, and I think his performance here is sublime.
"I'm On My Way
"
Rhiannon Giddens, instrumentals and vocals
A native North Carolinian and an alumna of the Oberlin Conservatory of Music, where she studied opera, Rhiannon Giddens is the lead singer and fiddle and banjo player of the Carolina Chocolate Drops, a Grammy-winning country, blues, and old-time music band. She has two solo albums to her name—Tomorrow is My Turn (2015), which the Wall Street Journal said "confirms the arrival of a significant talent whose voice and distinctive approach communicate the simmering emotion at the core of the songs," and Freedom Highway (2017). Today she hosts a terrific podcast called Aria Code with Rhiannon Giddens, which examines how certain arias have had a lasting impact and how singers prepare to perform them.
A multi-talented performer, composer, and curator, Giddens is comfortable in any number of genres. (I wish I knew as much about anything as she knows about banjos!) As a woman of color, she has always been curious as to how to communicate painful stories, especially those from the middle of 19th century that deal with the topics of slavery and the Civil War. And she has a stunning voice. (At one time, she was even slated to take on the title role when Audra McDonald left the cast of Diane Paulus' 2011 adaptation The Gershwin's Porgy and Bess.)
Here's the lead single (also composed by Giddens) from her recently released There Is No Other album, featuring Francesco Turrisi, a Dublin-based Italian multi-instrumentalist who usually works in jazz, improvisation, and early music. The lyrics are beautiful, but it's Giddens' voice—strong, clear, impassioned—that really thrills me.
Fase
Anne Teresa De Keersmaeker & Michele Anne de Mey, dancers
One of the most talked about choreographers—today and for more than 30 years—Anne Teresa De Keersmaeker recently took on the daunting task of providing new choreography for the classic West Side Story in Ivo van Hove's controversial Broadway restaging. 
One of her very first works, Fase premiered in 1982 and was choreographed to four compositions by the American minimalist Steve Reich. According to her website: "De Keersmaeker uses the structure of Reich's music to develop an independent movement idiom that doesn't merely illustrate the music but also adds a new dimension to it. Both the music and the dance start from the principle of phase shifting through tiny variations: movements that are initially perfectly synchronous gradually start slipping and sliding, resulting in an ingenious play of continuously changing forms and patterns." 
I find this piece to be utterly mesmerizing, dance that lifts me out of the confines of the present into something approaching a different plane of existence. The juxtaposition of the fluidity of movement and the tension that builds as the two dancers (and two pianists) gradually cycle away from each other, is completely intoxicating. At once simple and incredibly complex, this strikes me as a pitch-perfect partnership between choreographer and composer.
"Hamadoun Toure"
Toumani & Sidiki Diabaté, kora
A month ago, we featured a video of Toumani Diabaté, the world's most famous living kora virtuoso, performing his beautiful "Cantelowes" from The Mandé Variations, and since then, I've received numerous comments on the beauty of this singular West African instrument. So, "back by popular demand," here's another terrific performance by the master, this time with his son Sidiki as partner.
"I get lots of mail from people sitting in Europe, in America or Asia saying: 'Yes, Toumani, I love your music! I've decided to make a kora for myself and I wanted to know the names of the strings,'" he recently told the UK's Guardian. "But I say: 'Hang on a minute! That's not how it is.' I'm OK for people to learn how to play, but you have to come to the source to learn. You have to go into one of the families who guard the tradition of the kora and follow the lines exactly."
According to tradition, griots are born, not made, "and griot dynasties—such as the Diabatés—see themselves as the guardians of both the kora and an ancient oral tradition of history, poetry, craftsmanship, social etiquette and verbal dexterity. Griots believe that their story can be traced all the way back to a common ancestor: a black slave named Surakata, who lived in Mecca at the time of the prophet Muhammad" (Guardian).
If there's any music that can connect you directly with the eternal, this must be it!
Verdi: Auto-da-fé scene from Don Carlo
Orchestra e Coro del Teatro alla Scala
Riccardo Muti, conductor
CAST
Don Carlo: Luciano Pavarotti
Filippo II: Samuel Ramey
Élisabeth de Valois: Daniela Dessì
Rodrigo, Marquis of Posa: Paolo Conte
Princess Eboli: Luciana D'Intino
Operas don't come much grander than Don Carlo and no other Verdi opera exists in so many versions. (For a helpful recap, check out this New York Times article.) Based on Friedrich Schiller's dramatic stage play, with contributions from a contemporary play by Eugène Cormon, this semi-historical tale of the real-life King Philip II of Spain and his son, who unknowingly falls in love with the woman who will soon become his stepmother, features some of the most compelling music in all opera, as well as some of the greatest choral writing—Verdi in firm control of his formidable musical arsenal. Toss in the Spanish Inquisition, with heretics being paraded, tortured, and burned alive, and, as they say, "everyone goes home happy."
Featured here in a typically lavish production by Franco Zeffirelli, Luciano Pavarotti's justifiably legendary voice is a luxury in one of the more ungrateful operatic title roles, but this famous auto-da-fé scene does boast a memorable turn by an awe-inspiring Samuel Ramey as Philip (a performance for which the words "commands the stage" might just as well have been coined). In the pit, Riccardo Muti—forever the advocate of come scritto ("as written") performances, and even dispensing with the familiar church bells—is firmly and thrillingly in control. 
As Act 3 draws to a close and the heretics come forward to meet their fiery fate, we again encounter music from beyond time itself, as well as something not found in any of the original source material—a single disembodied voice from heaven promising that these sufferers will find their reward in the afterlife. It seems that Verdi, perhaps bowing to consumer demand, couldn't resist adding his own commentary.


Now, More Than Ever Full Playlist






Now, More Than Ever Spotify Playlist




Share This Story!
You might also like: