In this issue: Classical singer Julia Bullock guest curates this special edition of Now, More Than Ever.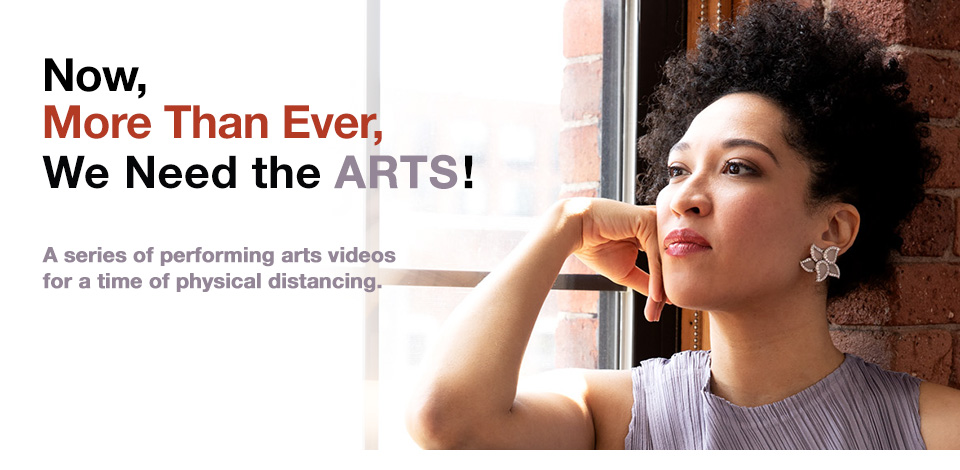 Now, More Than Ever: Issue 22
From the moment we began to plan these Now, More than Ever columns, our hope has been to turn over the project to occasional guest curators, affording you the opportunity to hear from a variety of voices and to experience an even wider range of unforgettable artistic achievements.
I'm very pleased to welcome our first guest curator, classical singer Julia Bullock, already familiar to Cal Performances audiences for her memorable 2018 Hertz Hall recital with pianist John Arida, as well as her star turns as both Josephine Baker and French philosopher, mystic, and political activist Simone Weil at the 2016 Ojai at Berkeley festival. Bullock was also featured, a few weeks back, in Issue 18 of Now, More than Ever.
It has been a tremendous pleasure to watch Julia evolve from an extremely promising student at Juilliard (she also studied at Eastman and the Bard College Vocal Arts Program), into a formidable artist, in demand with all of the world's greatest music institutions. As she has moved through this journey, I've also been impressed by her growth as a major curatorial force, perhaps best exemplified by her brilliant work as artist-in-residence for the Metropolitan Museum of Art's 2018–19 MetLiveArts season, and with AMOC, the American Modern Opera Company. She is as deep and serious a thinker about the world as she is a transcendent artist. 
For more information about Julia Bullock, please visit her website.
—Jeremy Geffen,
Executive and Artistic Director
Cal Performances
I'm writing this from Munich, Germany, the place I now call home. St. Louis (where I grew up) and New York (where I previously resided) feel both oddly distant and close during this remarkable time. Some of the work I've shared here was introduced to me just last month, but most of it I discovered over the past several years, and
all
of it is material with which I connected immediately and deeply. I hope you give yourself permission to engage fully with these artists and this art: laugh, cry, shout, be amazed and in awe, share them, and return to them. 
—Julia Bullock
Schwarzfahrer
Short German film
Pepe Danquart, director
[Academy Award winner, 1994, Best Short Subject]
I find this film so powerful, especially now that I'm living in Germany, feeling distant from the US, and knowing that racism and delusions of white supremacy are pervasive and systemic in cultures across the globe.
A few notes about the title:
"Schwarz" in German translates literally as "black."

"Fahrer" translates as "rider or traveler."

"Schwarzfahrer" in modern German translates idiomatically as "fare dodger" (someone who doesn't pay for a ticket). 

The etymology of the compound word is interesting in itself: "schwärzen" (which is not used anymore) translates as "smuggling," or "illegal activity"; and in Yiddish, "shvarts" translates as "poor."
While the title of the film involves intricate and layered word play, it translates literally as "black traveler."
"Katherine Dunham/Living in St. Louis"
[KETC Nine Network news segment]
Katherine Dunham—famed dancer, choreographer, author, educator, anthropologist, and social activist—relocated to East St. Louis to continue her successful career and to contribute to the city's cultural development. In the 1940s, while spending time and working with Dunham, Josephine Baker said, "Katherine Dunhan is already Katherine the Great."
"Somehow I Never Could Believe"
Cécile McLorin Salvant, vocalist
Sullivan Fortner, pianist
From Live from Here with Chris Thile, this is my favorite clip of Cécile McLorin Salvant and her extraordinary partner Sullivan Fortner, performing an aria from Kurt Weill and Langston Hughes' Street Scene. This is what a definitive performance of classical music looks and sounds like: it's beyond genre.
Children's Songs
Nina Simone, vocalist and pianist
This medley of children's songs includes the tune "Mighty Lak a Rose," which is historically fraught, but Nina Simone always found a way to reclaim musical material through her improvisations and re-contextualization.
"I Woke Up in a Fucked-Up America"
Lonnie Holley, artist, musician, and educator
Lonnie Holley's entire 2018 album, MITH, is incredible (as are his others, for that matter!) but this music video is truly beautiful and remarkable. You can also see his visual art––which is how I originally came to know him and his story.
Ian Manuel, poet
Ian Manuel and I met the night before the musical opening of my 2018–19 artist residency at the Met Museum.  
To give some background: While considering ideas for the Met, I knew that I wanted to commission new arrangements of a group of slave songs based on an anthology that was published in 1867, just after the Civil War. But while programming, I was in the middle of reading Just Mercy by Bryan Stevenson (the American lawyer, social justice activist, and founder/executive director of the Equal Justice Initiative [EJI]), where I was first introduced to Manuel's writing. I was deeply moved and inspired, because it got me thinking about the evolution of the slave song and what it meant in the 21st century: where would the lyrics come from and what would they sound like? So, I wrote to Bryan and asked if he would share more of his clients' poetry with me. He did, and most of it was by Ian!
When I proposed my idea about commissioning 21st-century slave songs—to "expand the genre," in a sense—the Met became interested in the idea, and then also told me about the "History Refused to Die" exhibition that would be happening at the same time as this concert. 
After reading all of the visual artist interviews/narratives that had been recorded and transcribed by the Souls Grown Deep Foundation, I was overwhelmed by the parallel themes between the existing slave songs, the poetry of those incarcerated, and the artist narratives. 
The composers featured in the 2018 premiere of the now-titled "History's Persistent Voice" all decided to set texts based on the visual artist interviews, but when the Met asked if I would be interested in giving a walk/talk through the exhibition the day before the performance, I thought… OK!, this is the opportunity to share some of the other material that inspired this project. I then wrote again to Bryan and EJI, to find out how to ask Ian for permission to read his poems aloud myself and to compensate him. They informed me that he had been released from prison and was currently living in New York City. So, within 72 hours, Ian and I spoke on the phone, met on the steps of the Met, walked through the History Refused to Die exhibition, and spent the next hour-and-a-half reading—side by side—in front of works of visual art. Only about 10 people were there to witness it, but it remains the highlight of my residency and a transformative moment in my artistic life. We have since become good friends. Ian has seen me perform several times, and although he writes all of the time, I think I've heard or read almost all of his existing work—including a video of an astonishing performance he gave at Joe's Pub (one that isn't for public consumption). In this clip, Ian shares two poems, and speaks briefly about his life experience. He's a performer, he's a poet—and he's soon to be a published author.


Now, More Than Ever Full Playlist






Now, More Than Ever Spotify Playlist




Share This Story!
You might also like: