In this issue: A Far Cry Chamber Orchestra performing Tchaikovsky's First Movement from Serenade for Strings, Op. 48; soprano Ana María Martínez performing with the Cellos of the Berlin Philharmonic Orchestra and conductor Gustavo Dudamel; the Lebanese Philharmonic Orchestra performing Verdi's "Va, penseiro" from Nabucco; trumpeter Wynton Marsalis performing with the Boston Pops Orchestra and conductor John Williams; Quatuor Ébène performing "Misirlou"; Mark Morris Dance Group performs Dido and Aeneas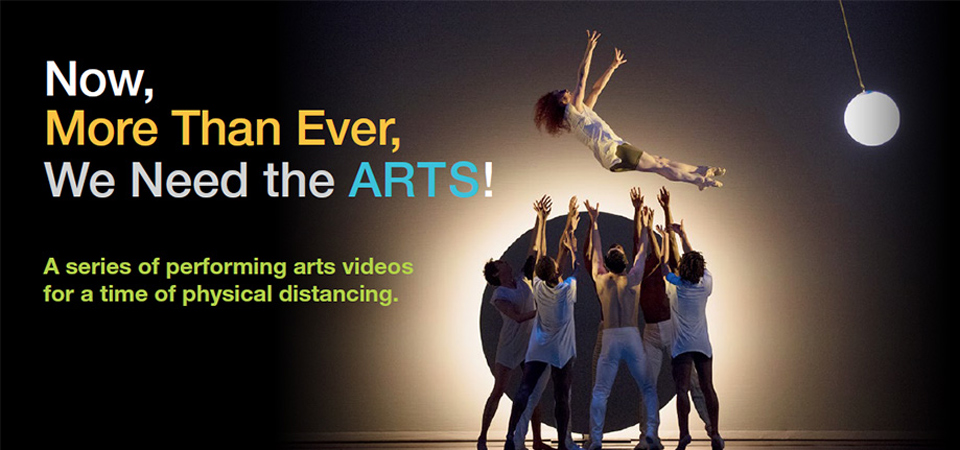 Now, More Than Ever: Issue 25
Tchaikovsky: First Movement from Serenade for Strings, Op. 48
A Far Cry Chamber Orchestra
When I was 14 years old and a student at a summer music school, I had an encounter with this piece, conducted by the former leader of the Fitzwilliam Quartet, Christopher Rowland. I hadn't heard the work before (this was in the days before YouTube and Spotify), but I remember glancing at the word "Serenade" and instantly dismissing the piece as being lightweight. But when rehearsal began, the huge rush of the opening gesture hit me in the gut. This is music of tremendous expression and nobility, and I had the feeling—when sitting in the middle of all that sound—that everything around me was vibrating. No wonder Tchaikovsky wrote on the second page of the score, "The larger the number of players… the more this shall be in accordance with the author's wishes."
A Far Cry Chamber Orchestra is an excellent Boston-based ensemble whose members are drawn mainly from up and down the eastern seaboard. (I recognize many of them from Carnegie Hall's Ensemble Connect fellowship initiative and Chamber Music Society of Lincoln Center's Bowers Program, two extraordinary American programs for young artists, many of whom have gone on to major careers.) What's so impressive here is that everyone is playing from memory, something you don't often see in large ensembles. They manage to find great freedom within the score, coupled with a tremendous depth of expression.
If this composition is rarely programmed, it's probably because it falls somewhere between chamber music and orchestral music. (For orchestras, it's not "big" enough; and for most chamber ensembles, it demands too many players). The amount and variety of sound Tchaikovsky envisioned in this piece is nothing short of miraculous. Though there is an overall feeling of nobility, there is also tenderness, mystery, vulnerability, and a sense of impish fun. If you can find a recording of the complete work, it will more than reward you for your time.
Villa-Lobos: Bachianas Brasileiras No. 5
Ana María Martínez, soprano
Cellos of the Berlin Philharmonic Orchestra
Gustavo Dudamel, conductor
Exploring YouTube the other day, I happened upon this magnificent performance, another unusually scored piece (for soprano and an orchestra of cellos) and perhaps Villa-Lobos' most famous work. You may remember Ana María Martínez from the March 2019 world premiere of Jimmy López's Dreamers (a Cal Performances co-commission featuring a libretto by the Pulitzer Prize-winning Cuban–American playwright Nilo Cruz), with conductor Esa-Pekka Salonen and London's Philharmonia Orchestra. Martínez continues to enjoy a thriving career and is now singing the major Verdi and Puccini roles at the most important international opera houses. As for the cellists of the Berlin Philharmonic, they have a separate career of their own, performing together around the world.
This performance comes from Waldbühne, an amphitheater at Olympiapark Berlin, where the orchestra presents an outdoor concert each summer. (The event can be quite a starry affair and regularly features noted guest artists.) I suppose it's a sign of our trouble times that what struck me first about this video was the sight of so many people gathered so closely together; how quickly our world has changed!
Villa-Lobos composed nine works for different instrumentation to create a link between the music of Bach and Brazilian folk music. Each piece has a Bachian title, as well as a Brazilian one. There's a wonderful story—perhaps apocryphal, but nevertheless worth repeating—about the theme hummed by the soprano at the beginning of the second part of this piece (starting at 5:47). As the story goes, Villa-Lobos had not intended the music to be performed this way, but on the evening of its premiere, he heard his soloist humming the tune to herself in her dressing room. He liked the sound so much, he asked her to keep the hum in the performance, and it immediately became an established feature of the work. Every soprano I've talked with about this music says the same thing—how difficult it is to project such a sound when your lips are closed!
Verdi: "Va, pensiero" from Nabucco
Lebanese Philharmonic Orchestra
Antonine University, Notre-Dame University, and Qolo Atiqo Choirs
Harout Fazlian, conductor
(If this video doesn't begin at 17:58, please reset it. The part of the video I'm calling to your attention ends at 24:11.)
Many thanks to Cal Performances trustee Marianne Geagea for sharing this majestic performance from the 2020 Baalbeck International Festival in Lebanon. The historical photos that appear before and after the music will give you a good idea of the festival's impressive history and scope. 
Marianne writes:
Baalbeck is an ancient town in Lebanon (my country of birth) and, along with some other Phoenician and Roman towns, it has a long tradition of holding a summer arts festival. The civil war, the uprisings, and the troubles that the Middle East is famous for—all have affected the program on and off over the years.

This year, Lebanon has witnessed the worst kind of economic collapse. (The situation was dire enough even before the coronavirus hit.) The country has done a fairly good job controlling the virus and this summer, to show resilience, the festival committee decided to present one concert—without an audience—in the imposing Temple of Bacchus, a UNESCO world heritage site. I have attended many Baalbeck festivals over the years and always find the offerings to be absolutely stunning.
"Va, pensiero," which is also known as the "Chorus of the Hebrew Slaves," is a favorite excerpt from Verdi's Nabucco (1842). It is said that upon the composer's death in 1901, members in his funeral cortege in Milan offered up a spontaneous performance of the piece. Weeks later, a young Arturo Toscanini led a choir of 800 in the beloved hymn when Verdi was reinterred at the Casa di Riposo per Musicisti, a rest home for retired musicians that the composer had recently established.
Again, my sincere thanks to Marianne for sharing this personal and inspiring selection.
Haydn: Trumpet Concerto
Wynton Marsalis, trumpet
Boston Pops Orchestra
John Williams, conductor
Wynton Marsalis is so young in this video that you might actually have trouble recognizing him. He stopped playing classical trumpet some time ago (it requires both a different instrument and a different musical technique), so it's a treat whenever we have the chance to encounter him in the classical repertoire. The year this concert was filmed, he won Grammys for both classical and jazz recordings. We know the path he ultimately pursued, but only the most extraordinary artists possess the natural abilities that make such a choice possible.
"Misirlou"
Quatuor Ébène
We don't know the composer of this Eastern Mediterranean folk song, but Arabic, Greek, and Jewish musicians were playing it by the 1920s. Most listeners, however, will recognize it from Dick Dale's 1962 American surf-rock version, used to great effect by director Quentin Tarantino in his 1994 film Pulp Fiction.
This spirited and sharp performance by Quatuor Ébène serves as an excellent reminder of these artists' winning approach to programming—they are as comfortable in traditional string quartet repertoire as they are with film music and jazz arrangements, works that might be considered cross-over but are performed with such love and integrity that they seem entirely authentic.
Dido and Aeneas
Mark Morris Dance Group
Tafelmusik Orchestra & Chamber Choir
Dido and Aeneas, Mark Morris' sublime dance adaptation of Henry Purcell's 1689 opera, was first presented in 1989 at the Théâtre Royal de la Monnaie in Brussels, with Morris himself dancing the dual roles of Dido and the evil Sorceress who plots the Queen's demise. "As [Morris] said at the time," biographer Joan Acocella wrote in 1993, "he wanted to expand the expressiveness of male dancers; he wanted to give them what women had. But, artistically, the more important fact was that the gender switch—plus the combining of the heroine and villainess roles—shot the show into a mythic territory, beyond realism and beyond conventional morals." 
Morris continued to dance both roles, opposite Guillermo Resto as Aeneas, until the turn of the century, including appearances at Cal Performances in 1995 and 2000. (In 2011, the production returned to campus, this time with Morris—always the most musical of choreographers—conducting Philharmonia Baroque Orchestra from the pit; the cast featured American mezzo-soprano Stephanie Blythe, with MMDG member Amber Star Merkens dancing Morris' former roles.) 
During the summer of 1995, Rhombus Media produced the version of the production we see in this video, directed by Barbara Willis Sweete, who recreated the Dido and Aeneas set on a sound stage in Toronto and filmed the work without the constraints of a proscenium stage. Featuring the superb Tafelmusik Orchestra & Chamber Choir, the film captured Morris in his critically acclaimed roles, and brought the long famed dance sequences to motion picture and television audiences. How fortunate we are that we can revisit it at will!


Now, More Than Ever Full Playlist






Now, More Than Ever Spotify Playlist




Share This Story!
You might also like: