In this issue: Martha Argerich performing Beethoven's Piano Concerto No. 1 in C major, Op. 15; Lacrimosa from Jean-Baptiste Lully's De profundis performed by Cappella Mediterranea, Chœur de Chambre de Namur, and the Millenium Orchestra; cellist Pablo Casals' "El cant dels ocells"; a dance work by choreographer Dada Masilo as part of a William Kentridge exhibit; Ella Fitzgerald performing Jobim's "One Note Samba"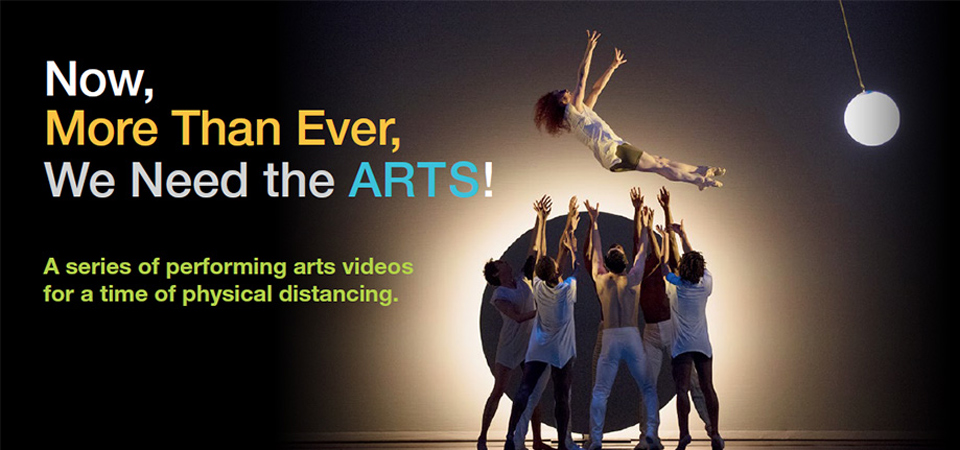 Now, More Than Ever: Issue 26
Beethoven: Piano Concerto No. 1 in C major, Op. 15
Martha Argerich, piano
Liszt Ferenc Academy of Music Orchestra
Gábor Takács-Nagy, conductor
After receiving so many enthusiastic comments about pianist Martha Argerich's earlier appearance in Now, More Than Ever (Issue 20, June 22), I'm delighted to return to her today. If you blinked, I expect you missed a short-lived (on YouTube, at least) video of her playing Chopin's B minor Sonata before an empty hall in Belgium, filmed in the early days of the coronavirus pandemic. I wasn't fast enough with that one but I'm excited to share another video of this great artist performing Beethoven's First Piano Concerto in Budapest last December, under the direction of Gábor Takács-Nagy, a founding member and former leader of the acclaimed (and Cal Performances favorite) Takács Quartet. 
It's hard to believe that Argerich was 78 years old at the time of this filming, so youthful, vigorous, and joyful is her playing. Check out the music that begins at 28:55; two images sprang to mind when I first saw this section—the Muppets' Rowlf the Dog playing honkytonk piano and the iconic Star Wars cantina scene. What's on display here? I think it's the absolute, all-consuming joy of making music,
Beethoven actually wrote his Second Piano Concerto before the Piano Concerto No. 1. The two works were published simultaneously, but the composer felt the extroverted quality of the C major concerto provided a better way to burst onto the scene. Beethoven's father had intended his son to be a celebrated pianist, but young Ludwig disappointed him, preferring composition to the itinerant life of a soloist. This music clearly springs from the classical tradition, with plenty of nods to Mozart and Haydn. Beethoven wrote the piano part for himself to play.
Make sure to stick around for the two encores, especially the Scarlatti, which no one but Argerich can play at that tempo.
Lully: Lacrimosa from De profundis
Cappella Mediterranea
Chœur de Chambre de Namur
Millenium Orchestra
Leonardo García Alarcón, conductor
Consider the unhappy fate of Jean-Baptiste Lully (1632–87), the Italian-born French composer, instrumentalist, and dancer now renowned as one of the preeminent masters of the French Baroque style. In a freak accident, the composer wounded his foot while pounding out time with his conducting staff; contracting gangrene, he refused to have his leg amputated (Lully wanted to continue dancing, although I can imagine other legitimate reasons for refusing surgery at the time) and ultimately succumbed when the disease reached his brain. It is our good fortune that he created so much beautiful music before his bizarre mishap.
Lully's grands motets (not to be confused with the more intimate, smaller-scale petits motets) are supreme examples of a highly popular genre of the period, employing two alternating choirs and massed orchestral forces. This particular example—a section from the composer's larger Dies irae— is particularly haunting, with its lovely prelude and subsequent interplay between beautiful orchestral music, the sections for large and small chorus, and the solo lines. It's so dense—its proportions are so large—that it feels much longer than it actually is.
You may recognize conductor Leonardo García Alarcón, his Cappella Mediterranea, and the Choeur de Chambre de Namur from Now, More Than Ever (Issue 21, June 25); the present performance also features fine contributions from vocalists Judith Van Wanroij, Amelie Renglet, Mathias Vidal, Thibaut Lenaerts, and Thomas Dolié.
(In case you're wondering, "millenium" is (or was) a variant spelling of "millennium," perhaps appropriate for an orchestra specializing in music of a period that embraced variant spellings more readily than we do today.)
"El cant dels ocells"
Pablo Casals, cello
A word about this video, which is slightly confusing; the audio of Pablo Casals' speech comes from his appearance before the United Nations in 1971, when he was awarded the UN Peace Medal at the age of 94. The music used with the film footage of Casals playing by himself features accompaniment by the Prades Festival Orchestra.
Having achieved an extraordinary degree of international fame, Casals decided to use his public platform to oppose Fascism, particularly as practiced by Gen. Francisco Franco in Spain. Always the proud Catalonian, Casals self-exiled to Prades in France, refusing to perform in countries (including the US) that recognized Franco's government. The only time he performed the cello in the US during the Franco regime was when, in 1961, President Kennedy invited him to perform at the White House. His is an inspiring example of an artist taking a powerful political stance and helping to move the needle in the process.
"El cant dels ocells" ("The Song of the Birds") is a traditional Catalan Christmas melody made famous largely through Casals' transcription and performances. Following his exile in 1939, the cellist regularly began his concerts with this song, thus transforming it into a potent symbol of resistance and national pride.
A side note: in 1960, Casals, who always loved teaching, gave a master class here at UC Berkeley, working with a very young Bonnie Hampton on the first movement of Haydn's Cello Concerto No. 2 in D major (Op. 101). I think you'll enjoy watching this historical footage.
Dada Masilo, choreographer and dancer
with Llwellyn Mnguni, dancer

South African artist William Kentridge is perhaps best known for his prints, drawings, and animated films. His Refuse the Hour is a chamber opera companion to his large video installation The Refusal of Time (jointly acquired by New York's Metropolitan Museum of Art and the San Francisco Museum of Modern Art) and features contributions by Kentridge's muse, the brilliant South African dancer and choreographer Dada Masilo. At the time this video was filmed, Kentridge's work was being featured in a retrospective in Amsterdam, and as part of those festivities, Masilo created this remarkable dance work for public performance. Well respected but controversial in the world of dance, her work combines both classical and modern features, along with elements of traditional African dance. Past projects have included gender-bending productions of Swan Lake and Giselle as well as works addressing issues usually considered taboo among many traditional South African ethnic groups. Here you see the interplay between classical, modern, and folk elements, between the expected and the unexpected. I found this performance simultaneously beautiful and shocking.
Jobim: "One Note Samba"
Ella Fitzgerald, vocals
Ed Thigpen, drums
Frank de la Rosa, bass
Tommy Flanagan, piano

There may be only "one note" in Antônio Carlos Jobim's famous samba, but that's the last thing you could say about this dazzling—and dizzying!—performance by the one and only Ella Fitzgerald. How much of this is planned, and how much is strictly spontaneous, is—I suppose—anyone's guess, but if everything here isn't going according to some master plan, it's hard to imagine how Fitzgerald's mouth can keep up with her mind. More than anyone—including Sarah Vaughan and even Betty Carter—Fitzgerald was the queen of scat singing, always in effortless command of songs, notes, and keys and how they fit together. Just imagine being able to improvise something this complex on stage—live—before both audience and cameras!


Now, More Than Ever Full Playlist






Now, More Than Ever Spotify Playlist




Share This Story!
You might also like: