In this issue: Cellist Sheku Kanneh-Mason guest curates this special edition of Now, More Than Ever.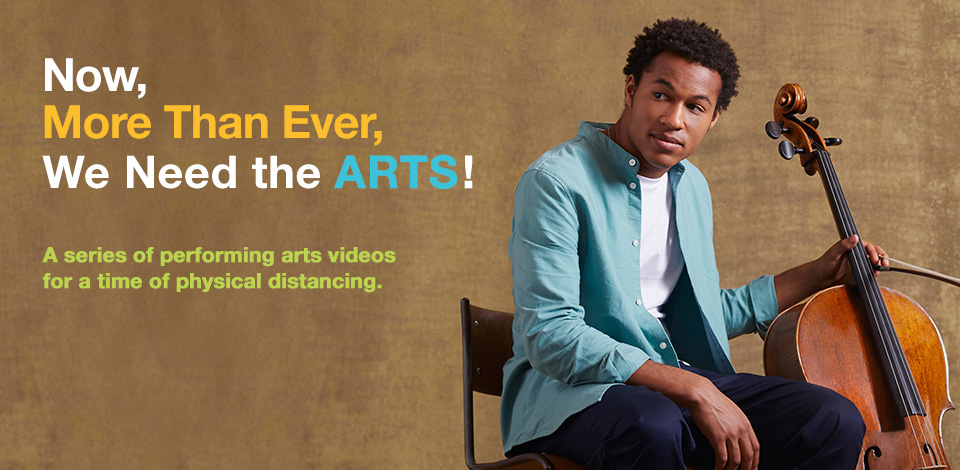 Now, More Than Ever: Issue 30
In this issue of Now, More Than Ever, I'm delighted to welcome a guest curator, cellist Sheku Kanneh-Mason, who—along with his sister, pianist Isata—made his Cal Performances debut in Zellerbach Hall last December. Describing the concert as "splendid," the San Francisco Chronicle's Joshua Kosman continued, "There were plenty of delights on offer… lively programming, a fresh and thoughtful approach to a range of music, even an encore that was charming and show-offy in an unexpected way. But perhaps the most striking aspect of [the] recital was to witness a performing partnership of such effortless unanimity."
The winner of the 2016 BBC Young Musician competition, Kanneh-Mason is already in great demand from major orchestras and concert halls worldwide. He skyrocketed to fame in May 2018 after performing at the wedding of the Duke and Duchess of Sussex at Windsor Castle, a performance that was greeted with universal excitement after being watched by nearly two billion people globally. 
We asked Kanneh-Mason to share some of his favorite performances, and he has responded with a marvelous playlist, including a musical performance recorded specially for this series. For more on this wonderful artist, please see Zachary Woolfe's recent profile in the New York Times.
—Jeremy Geffen
Saint-Saëns: "The Swan" from Le carnaval des animaux
Sheku Kanneh-Mason, cello
Isata Kanneh-Mason, piano
Including a special message to Cal Performances' audience.
J.S. Bach: Goldberg Variations, BWV 988
(Aria and Variations 1–15, arr. D. Sitkovetsky)
Pekka Kuusisto, violin
Lily Francis, viola
Nicolas Altstaedt, cello
I have chosen this because it's simply magical! I first watched this video—recorded at Austria's Lockenhaus Chamber Music Festival in 2016—only recently and it totally captivated me. The Goldberg Variations is one of my favorite pieces and when played like this, it's heaven. 
Mendelssohn: Andante con moto tranquillo from Piano Trio No. 1 in D minor, Op. 49
Jascha Heifetz, violin
Gregor Piatigorsky, cello
Arthur Rubinstein, piano
Heifetz, Piatigorsky, Rubinstein—three legends coming together to play unforgettable music from one of the greatest piano trios. What's not to love? Time somehow stands still when watching this. I could listen to the melody writing by Mendelssohn, and the singing quality in the playing forever. 
Bob Marley: "Redemption Song"
Bob Marley has always been one of my greatest inspirations. In this video, recorded live In Dortmund, Germany, you can really see how powerful music can be. Marley performs with such soul and genuine passion. It's very moving to watch and always lifts me up. 
Mstislav Rostropovich on Bach's Cello Suite No 2 in D minor, BWV 1008
This is such an insightful video, revealing the mind of a legend. I'm moved by Rostropovich's poetic use of language. These cello suites are true masterpieces, and I just love how he describes them in such a beautiful way. 
Bach: Air from Orchestral Suite No. 3 in D major, BWV 1068
Yehudi Menuhin, violin
Symphony Orchestra, Hollywood
Antal Doráti, conductor
It's incredible how Menuhin is able to fill this piece with meaning. It's as if each note he plays provides us with a look into his soul. There is also true vulnerability when he plays this, which is so human. 


Now, More Than Ever Full Playlist






Now, More Than Ever Spotify Playlist




Share This Story!
You might also like: